How To Build A Website That Attracts Qualified Clients For Your Fitness Business For Under $200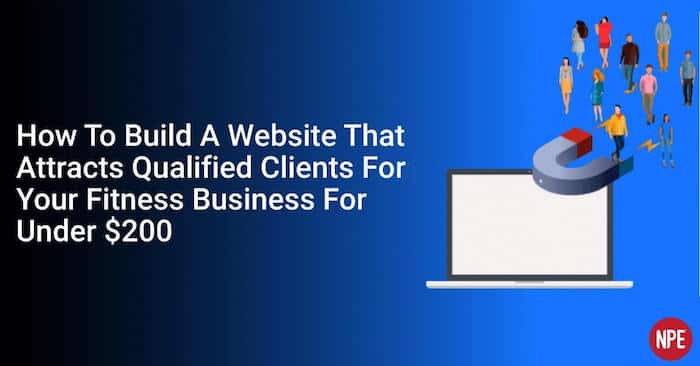 Too many fitness professionals and business owners waste months of time and thousands of dollars on building websites (and often working with marketing experts to do so!) that fail to deliver any results for their business. Our goal is to make it as simple as possible for you to get a website up and running within 3-4 hours, for under $200. This is all you need if you're currently in start up mode or serving less than 50 clients in your business. Read on to learn more. 
+++++++++++++++++++++++++++++++++++++++++++++++++
Not getting the results you want from your website?
If so, you're not alone. 
Many fitness professionals don't get results–and they feel frustrated because they're unsure where to invest time, energy, and money to get better results. 
Or they believe that success with online marketing requires learning some 'secret tricks and hacks' to hit their goals.
So they waste time chasing after one "shiny object" marketing strategy to the next that's supposed to drive in tons of great leads and prospects (but doesn't).  
Random actions and complicated schemes don't work. 
What you really need is a proven strategy to clarify your goals, define your website strategy, and then keep it simple when generating leads. 
1. Get the basic setup 
If you haven't done a personal training website before, start with the basic setup. 
You will need to: 
Choose your domain name

 (the web address where prospective clients will find you). This involves branding yourself. This is not something to do lightly; but often you can take your name, your niche, your location, and your industry and put something together. See the strategies below to get clear on what you intend to do. Whatever you do, don't let the availability of domain names choose your branding strategy. 

Register a domain name

 at services such https://domains.google/#/ or www.godaddy.com. You'll have to search for the availability of web addresses (also called URLs), and eventually choose your web address. The simpler, the better. Ideally, it should be your business's name. And use a .com if you can (or your country extension if you can grab it, like .ca (Canada), .co.uk (Great Britain), or .com.au (Australia) for example).

Choose a web hosting service.

 Your website needs to get on the Internet. You can often find a website-template service that also hosts your website, such as WordPress and SquareSpace. But before you take this step… consider if you really need a custom site or WordPress site OR would benefit from a simple all-in-one WYSIWYG (what you see is what you get) editor solution. We find for most businesses under 50-100 clients… the best time vs. financial investment vs. ROI solution often is a simple page editing solution like Clickfunnels, Leadpages, or even better… an all-in-one page builder/sales management/CRM solution like Ontraport or Keap. 
NOTE: We actually include done-for-you templates (and more) for all NPE clients included with all our programs.
Getting the tech solutions and strategy clear is the first step. But there's a lot more involved to  drive in new clients. So before you begin writing content to put on your website, take the following steps.
2. Clarify your messaging and positioning so your ideal client would be fools to do business with anyone but you!
Most fitness professionals struggle because they are trying to talk to everybody. 
Maybe the 80-year-old man who wants to recover from injuries. The kid after school who wants to improve athletic performance. The mom who wants to lose weight, lose inches, and regain energy. Or the guy who wants to get ripped. 
Fitness professionals think that they should take on working with anyone and everyone because they're afraid to turn down work. But the truth is, when you're trying to talk to everybody it's nearly impossible to get any traction. 
Prospective clients don't know what you stand for, how you can help them, and why they should believe you. Here's a better strategy: Get very clear on who you want to serve. 
What type of clients inspire you? Why did you get into this industry? Who do you really want to make a difference with?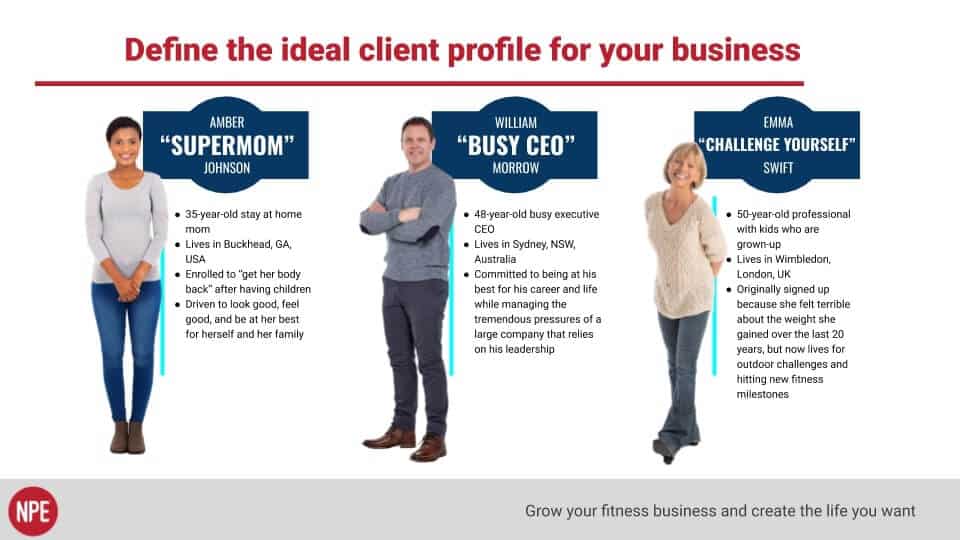 Choose clients you can help and who are profitable to help. To decide if your ideal client is correct, you'll need to do a "deep dive" into who they are (demographics), where they are (geographic), and what motivates them (psychographics):
Demographics: Their age within 10 years, their gender, income level, and whatever else defines them (Mom, busy professional, athlete, senior citizen). 
Geographic: Where do they live and work? Are there enough near your fitness business to fill your schedule and beyond? Be as specific as possible. 
Psychographics: Why do they buy? What do they want (their desires) and what challenges do they face? Why do they need your help?
Once you are clear on who your ideal client is and you know as much about them as possible, then it's time for you to craft your messaging. You want to make it clear who you are serving and what problem you will help them overcome–and show why YOU are the one they need to work with. This is your positioning statement: It answers the question, "Why should I choose you?"
There are six basic parts to a positioning statement: 
What is your thing? (category, e.g., kettlebells, nutrition, yoga, powerlifting)
Who is it for? (target client)
What does it do for me? (benefit)
How is it different? (differentiation)
What do you care about? (purpose)
Why should I believe you? (credibility)
This forms the core of your messaging on your website. Explain the problems they face, the benefits of the solutions you offer, and why you are different and better. 
Then you're ready for the next step.  
3. Define your website funnel strategy for converting visitors to qualified leads
Most websites are very confusing. Visitors don't know where they are and don't know what you're asking them to do on the page. It's not clear "Is this for them?"
But the truth is, you just need to keep it simple, strategic, and organized. All you need for a simple marketing funnel is this: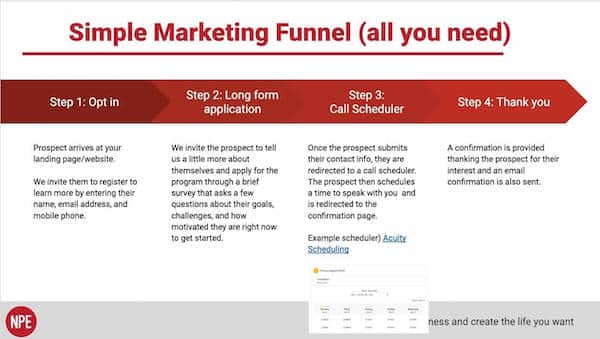 1. Opt-In. Someone arrives on your landing page/website, and you invite them to learn more by entering their name, email address, and mobile phone information. 
2. Long form application. We invite the prospect to tell us a little more about themselves and apply for your program through a brief survey that asks a few questions about their goals, challenges, and how motivated they are right now to get started.
3. Call scheduler. Once the prospect submits their contact info, they are redirected to a call scheduler. The prospect then schedules a time to speak with you and is redirected to the confirmation page. (For example, Acuity Scheduling has a call scheduler.)
4. Thank you. You provide a confirmation thanking the prospect for their interest and an automatic email is triggered confirming as well. 
Bottom line: You want to create a website user experience and path that is simple for your prospects to follow and guides them to schedule a call with you. Double-check your website by asking if users will know:
What are your goals of the site/page?
Where they are?
What are you asking them to do?
Is this for them?
4. Use simple lead generation strategies and tactics to attract the right people to your website
Excitement, passion, and energy are important for success in attracting new clients… but they do NOT equal success. Random actions and busy work never wins.
You need real SYSTEMS and a PLAN.
But most business owners overcomplicate things. They think they need to learn 20 marketing strategies in order to get 10-20 new clients, such as learning how to run Facebook ads, master social media, post content everyday and build a big "following." Or focusing on increasing followers, likes, comments, engagement… when NONE of that (really) matters.
Putting it all together
Ok so we've talked about theory, so how does it look once you've pulled this all together?
Let's walk you through NPE member Scot Prohaska's website. Scot is the owner of Procode in Irvine, California, USA.
Through the steps above we helped Scot gather his info, a few photos, and get this done in just a few short hours. He's also able to edit and update anytime as he's testing messaging, offers, and more.
You can see this most important section above the fold includes key elements like:
1. Business logo
2. Business phone number
3. A clear value proposition that explains WHO the business works with and the BENEFITS their services provide
4. A good photo of Scot working with clients with the facility in the background
5. A clear call to action (APPLY NOW)
6. We've leveraged the logos of websites where he's had articles and media featured to leverage credibility.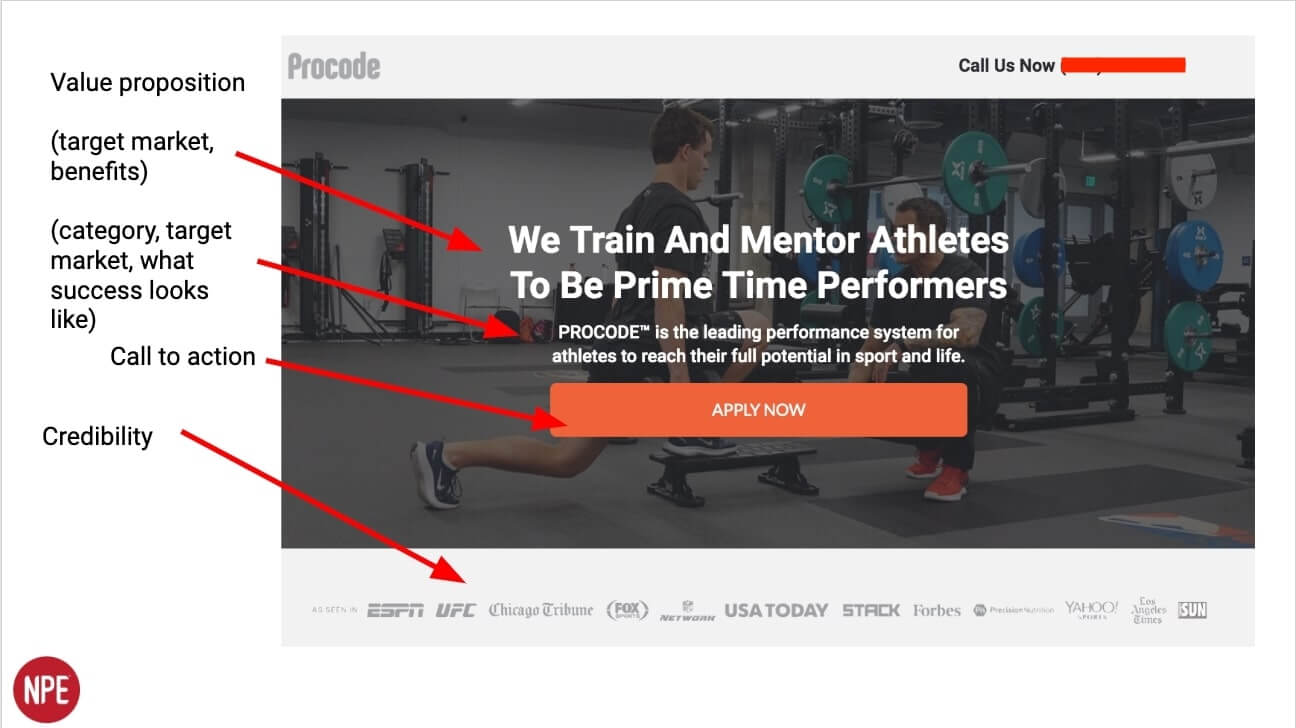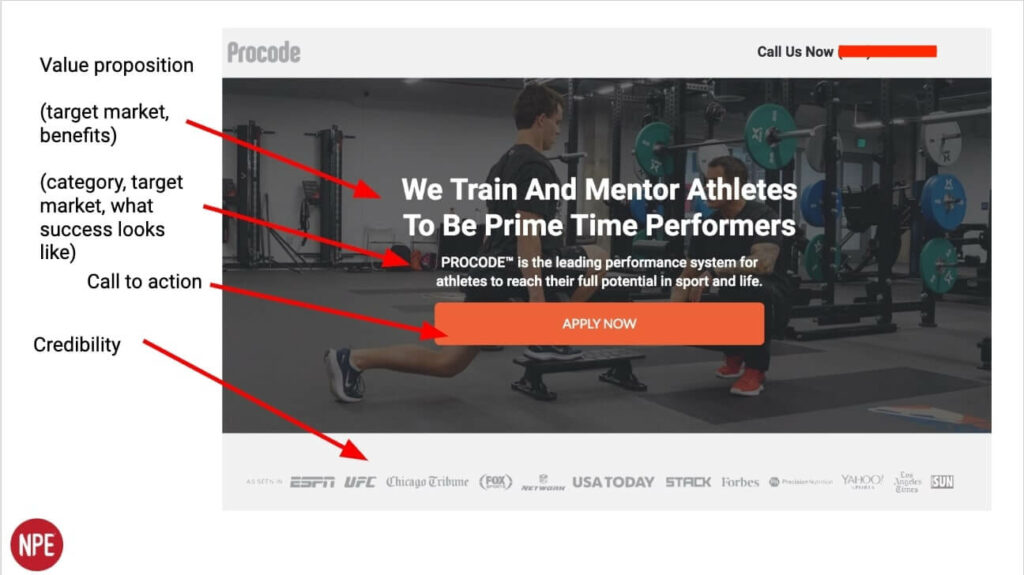 Scrolling down to the next section, we spell out "how to get started" in clearer detail. We make this as simple as Step 1, Step 2, Step 3. And we explain to the prospect what will happen at each step to reduce friction and improve conversions.
We've also included a photo of one of Scot's successful clients to further enhance credibility (this client happens to be a professional hockey player, and Scot works with a lot of amateur, collegiate, and pro hockey players).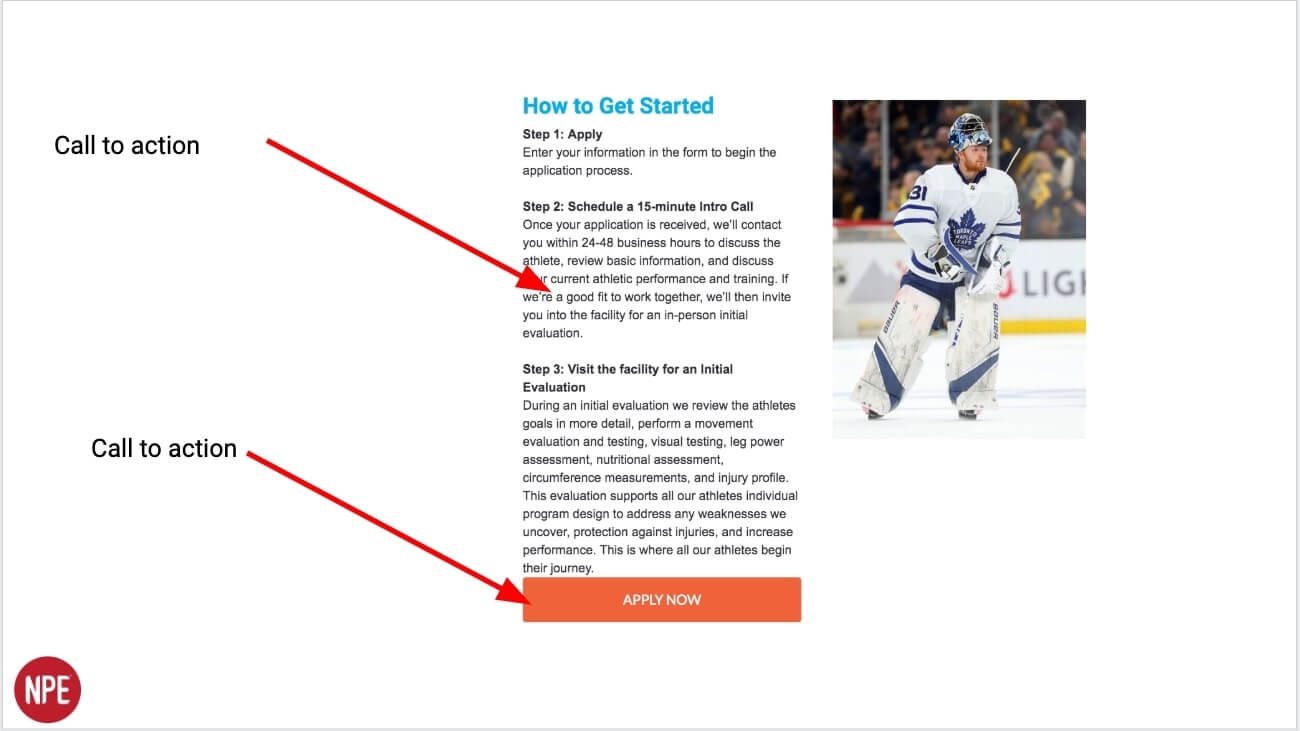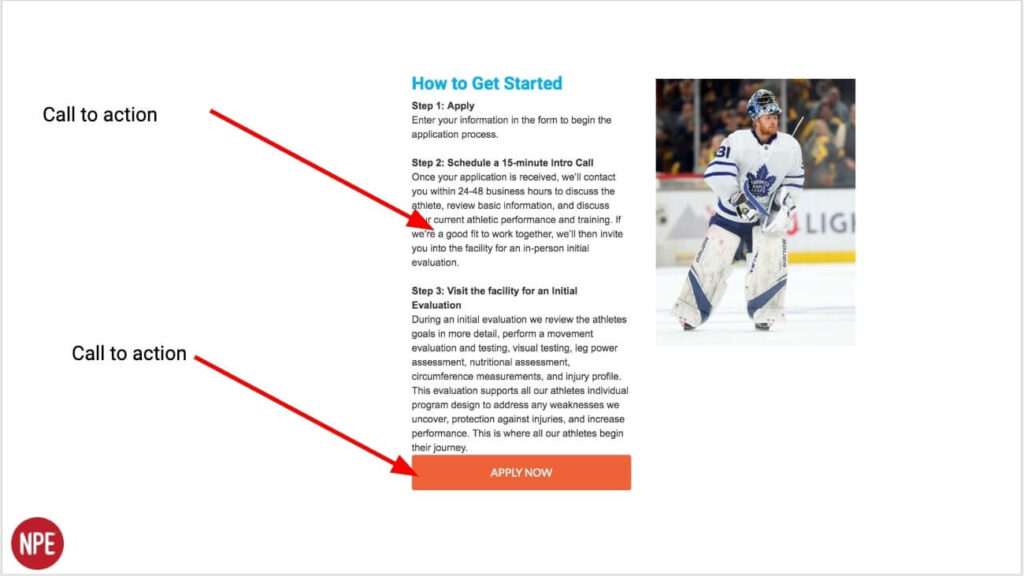 In the next section we've explained Scot's methodology. This answers the question "Why should someone do business with Procode?" If you don't have a clear point of differentiation yet, or aren't sure how to make yours strong, we can help you here. This is all part of what we cover in every single NPE Program.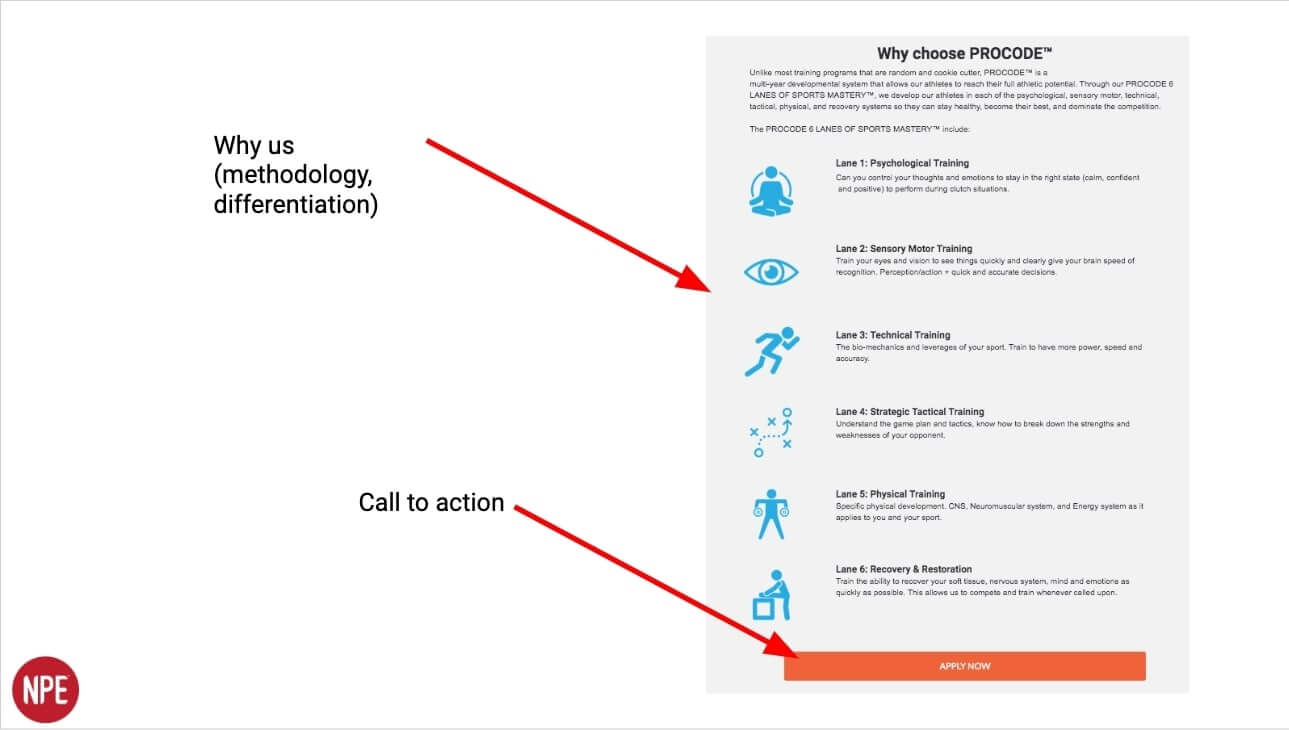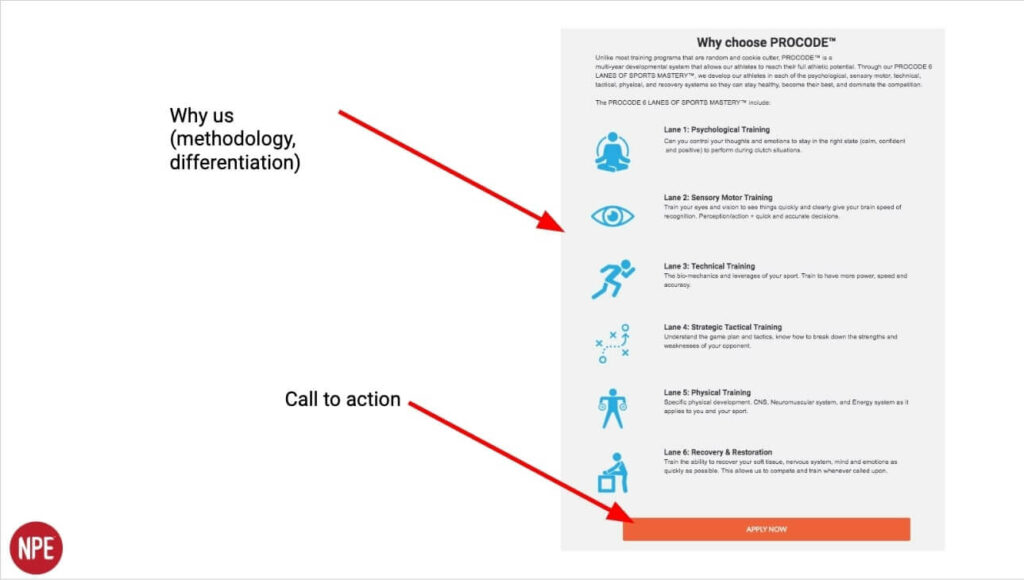 If you've got more success stories and results to share about your clients, then include them. Scot has a lot of successful athletes, so he's shown their images here and listed out a few of their accomplishments.
We've also includes a little bit of an expanded section on Scot's philosophy. This is recommended to help prospective clients align with your thoughts and beliefs on training, but not required.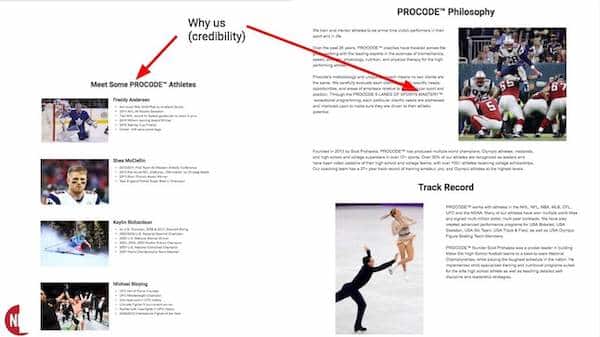 Then we have an "about the founder" section. This is simply a good photo and brief bio of the owner/operator/founder of the company. People want to do business with people, especially in a services based business like fitness.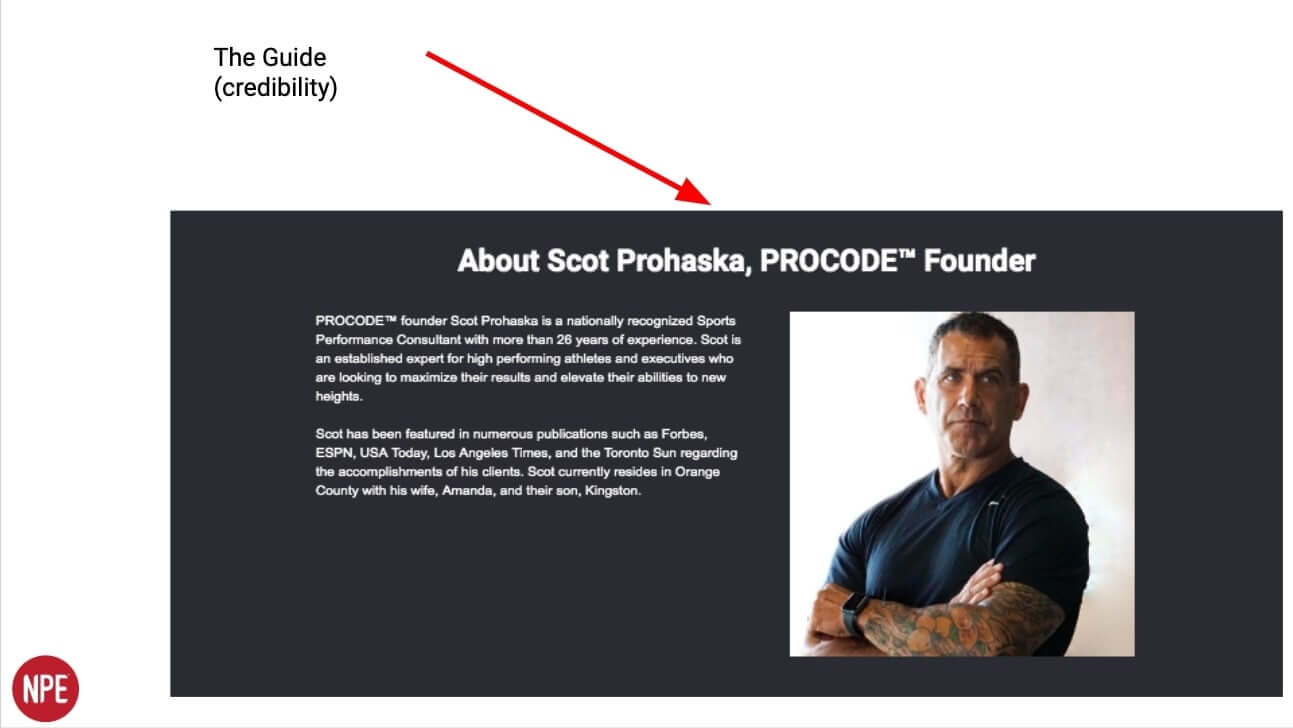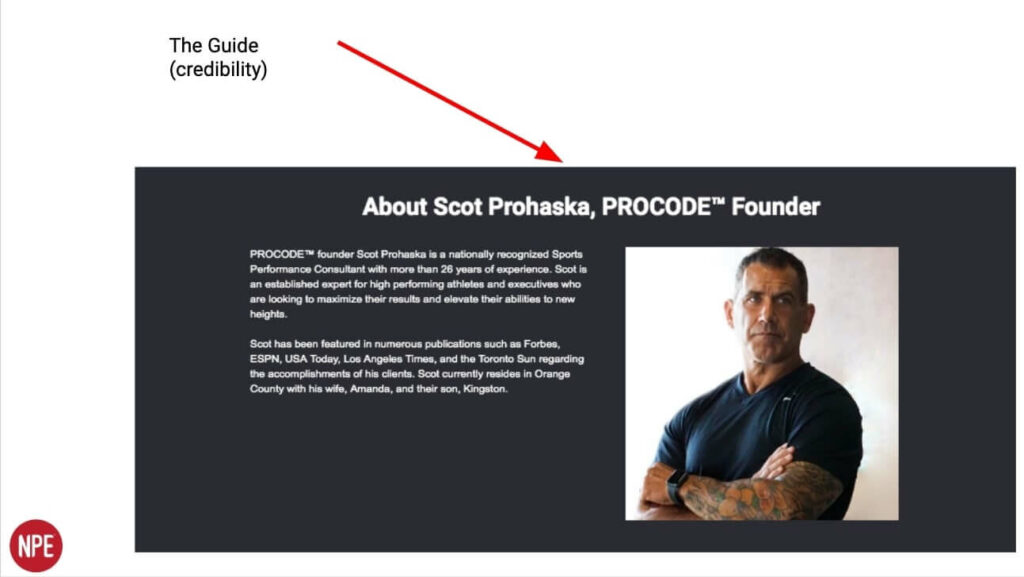 Lastly we finish off with a block that shows the location of the facility and directions on how to find it. And we repeat the big call to action button "APPLY NOW" throughout the page as you can see. We always want this button within close 'scrolling distance' on the page.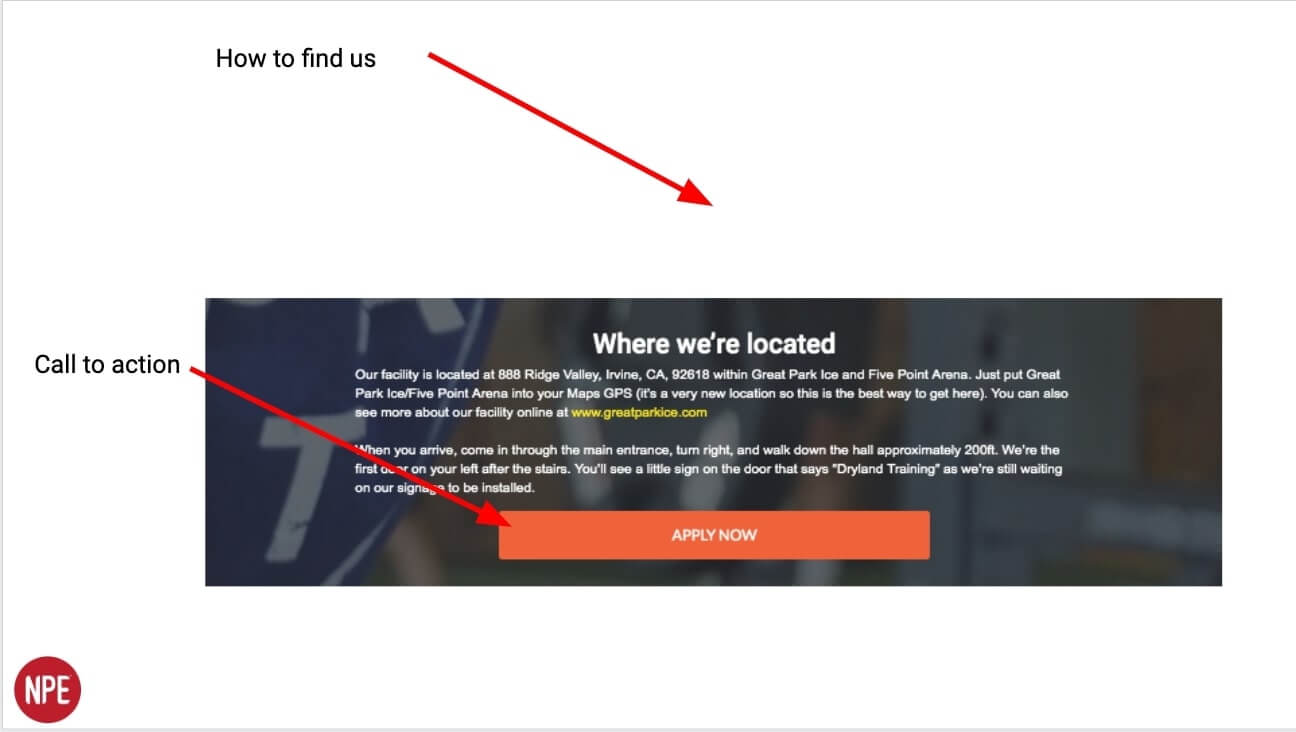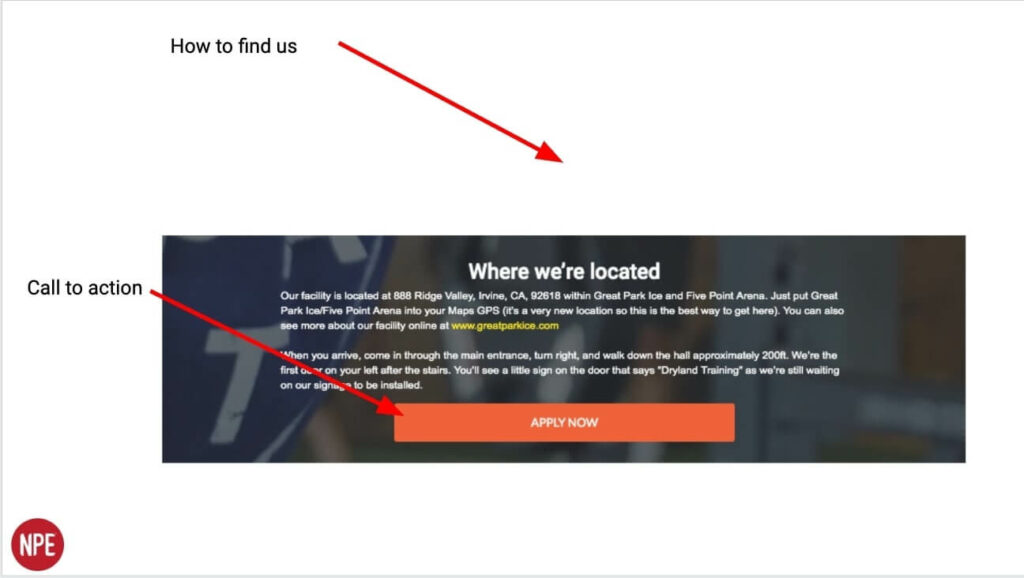 Once someone has clicked on the APPLY NOW button, we take them into an application page. We recommend a simple progress bar here as it keeps people moving down the path.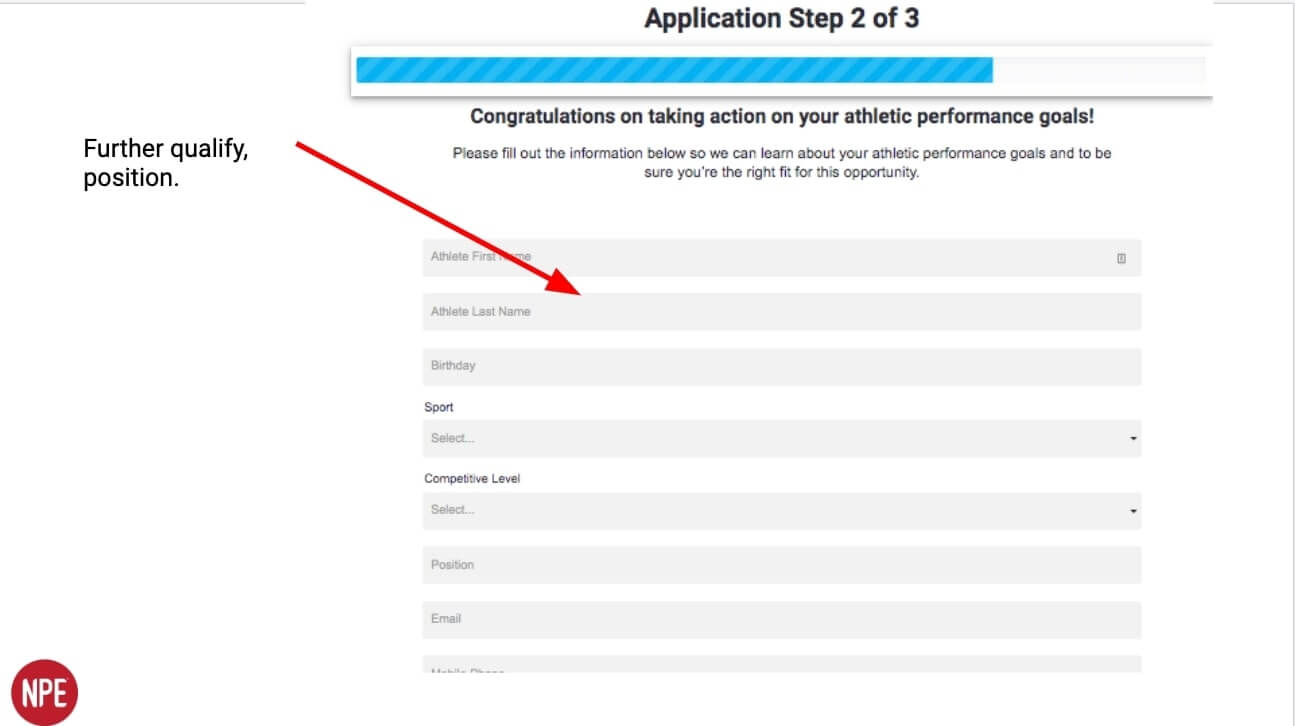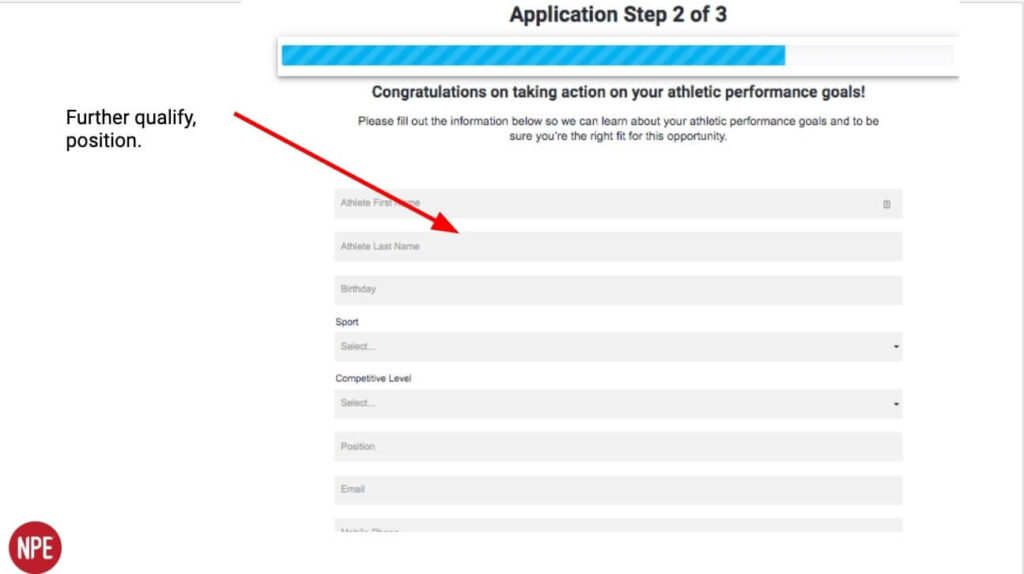 We haven't included the full application here, but as you can see it's a pretty straightforward design. Then prospects simply get taken to a thank you page following.
NOTE on the thank you page. We recommend this as an important place you set expectations about 'what's next' for prospects. You can tell them you'll be in touch in 24-48 business hours AND you can also invite them to call or text you for faster response (that way those who are itching to talk to someone today don't get lost by going elsewhere).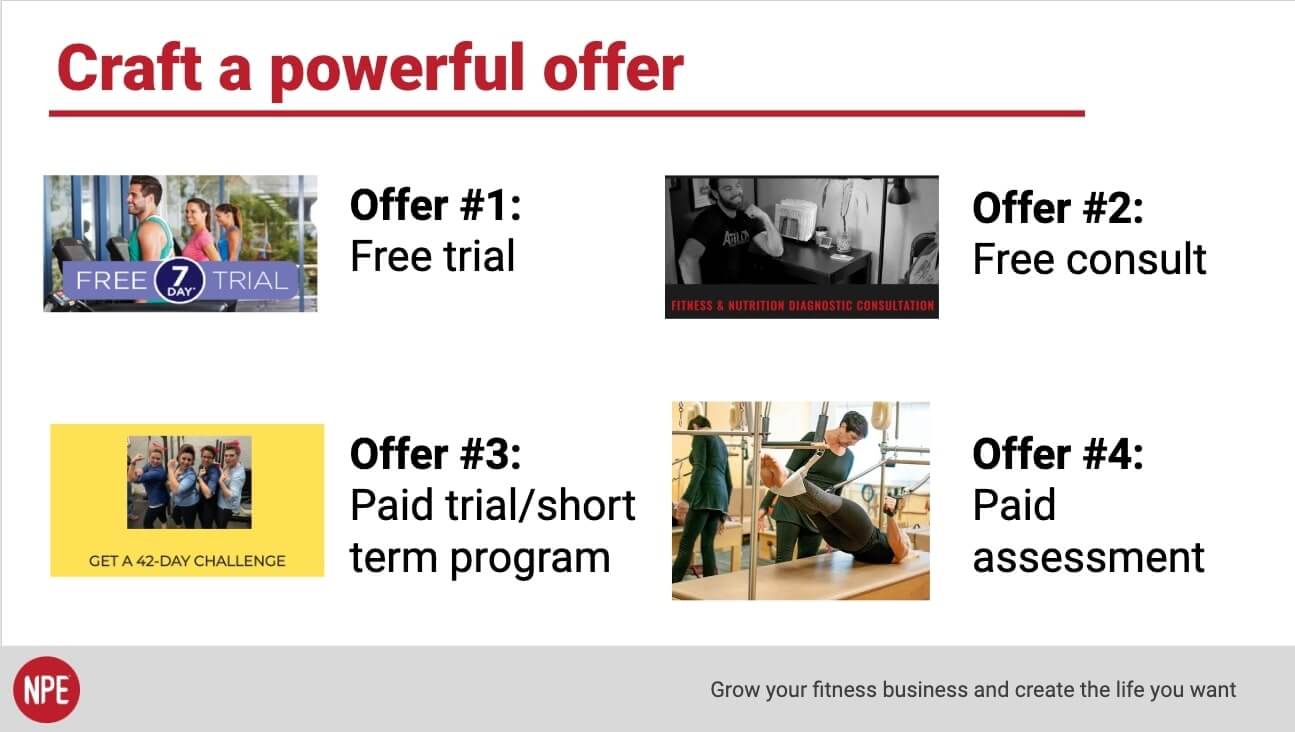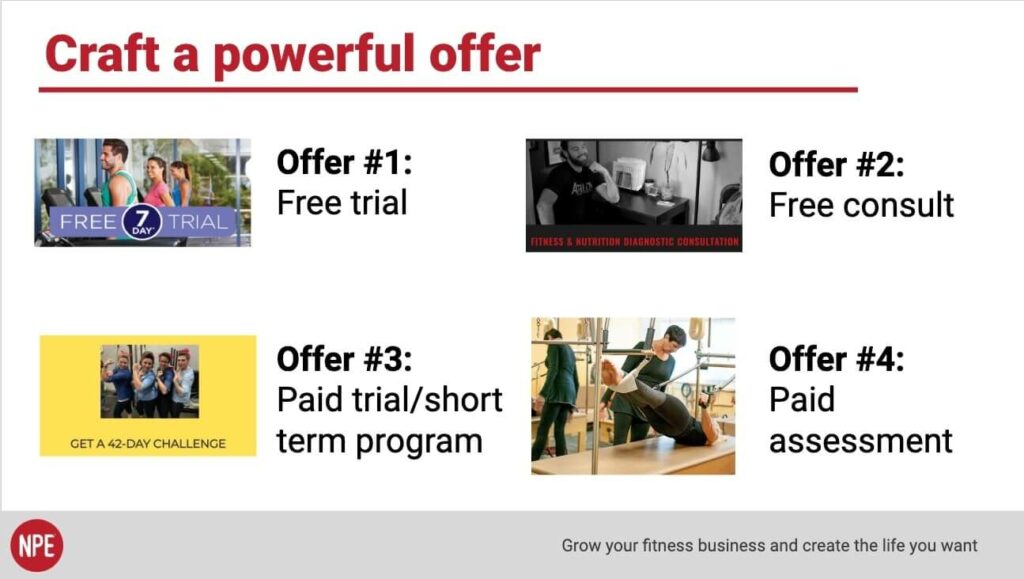 Craft a powerful offer:
Offer 1: Free trial. This works best for a group model, where you can have a prospective client meet others and experience your community, brand, and training "modality." You collect the contact info after the first visit and set up a sales conversation.
Offer 2: Free consult. This works best for private/semi-private, and allows them to meet you/your coaches and build trust as you present your solutions.
Offer 3: Paid trial/short term program. This works fine for any model, and allows a prospect to make a small initial commitment as they build confidence and experience your full service. "Kickstart your body transformation with our 30-day Jumpstart Program."
Offer 4: Paid assessment. Generally valued at the price of a single session, this works best for advanced private/semi-private businesses. It allows a prospect to understand your level of expertise and for you to build their problem in detail (so you can present your solution). 
Summary
Getting results from your website is not a question of magic tricks and hacks. It's about getting your branding, messaging, and strategy clear so you attract your ideal clients and helping them understand why you can help them achieve their goals. You do that by being strategic with your messaging every step of the way–from choosing your website address to making it clear exactly what clients should do when they arrive at your landing page. Once you have your messaging and positioning set up, move toward setting up your funnels and lead generation. Do this and you'll show why you are THE ONE for your target market right from the start. Turn your fitness passion into a profitable business doing the work you love! Register for our FREE online training and see how 45,000+ fitness professionals have earned a professional income doing the work they love while helping people transform their lives 
by going here.