The 6-Figure Fit Pro Roadmap™
Your 5-Step Plan to Build a Successful Fitness Career Earning $10K per Month
At NPE Fitness™, we've helped more than 45,000 fitness businesses grow to the next level by overcoming problems like these:
Not knowing where to get started or how to find your first 3-5+ paying clients
Not making enough money to meet financial goals
Feeling overworked and underpaid because you don't know how to price, package, and sell your services
The 6-Figure Fit Pro Roadmap™ is the framework we've used to get 1000's of fit pros like you results like these:
Start and/or grow a fitness business making $10K+ a month
Create a predictable system for generating high-quality clients for your programs that you love working with
Build a career doing what you love while earning a great living
Kelly Smith
6-Figure Fit Pro
ChiTown Fit
Chicago, IL, USA
Get Started with The 6-Figure Fit Pro Roadmap™
Follow the proven path that has helped 1000's of fitness professionals earn a great living doing what they love.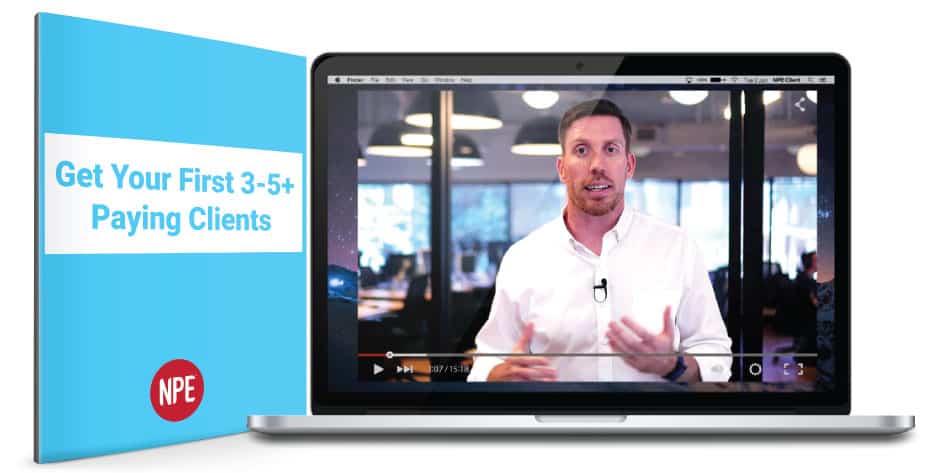 Access this free training to learn how to get your first 3-5+ paying clients and build confidence helping them get results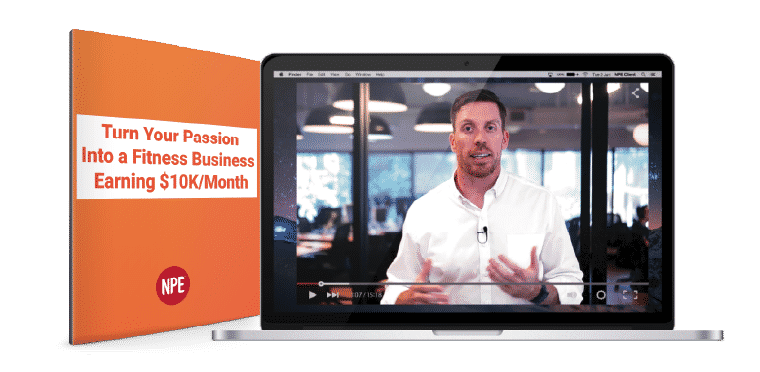 Access this free training to discover how to turn your fitness passion into a highly profitable business earning $10k/mo
You're not going to like this, but…
The ugly truth is over 50% of fitness professionals leave the industry within 18 months.  
Why? 
The short answer: They have very little (if any) business experience.
You may be a great personal trainer, but if you don't know how to market and get clients, you'll have no one to train.
Consider someone who is trying to lose weight but has no plan and no training. With no support and no idea how to reach their goals, they get discouraged and quit. 
It's no different for you. You need support and you need a proven plan that you can follow to grow your fit pro business. (Key word: BUSINESS).
NPE is here to support you and this is THE proven plan that you need to grow your fitness business so you can build a career doing what you love.
What is the 6-Figure Fit Pro Roadmap™?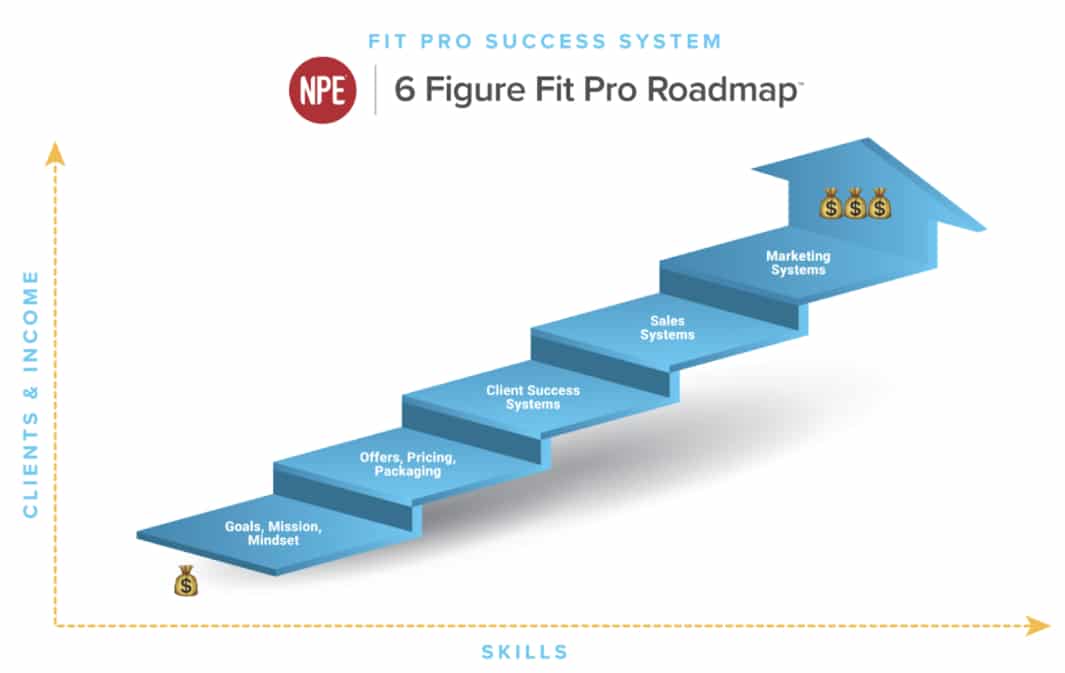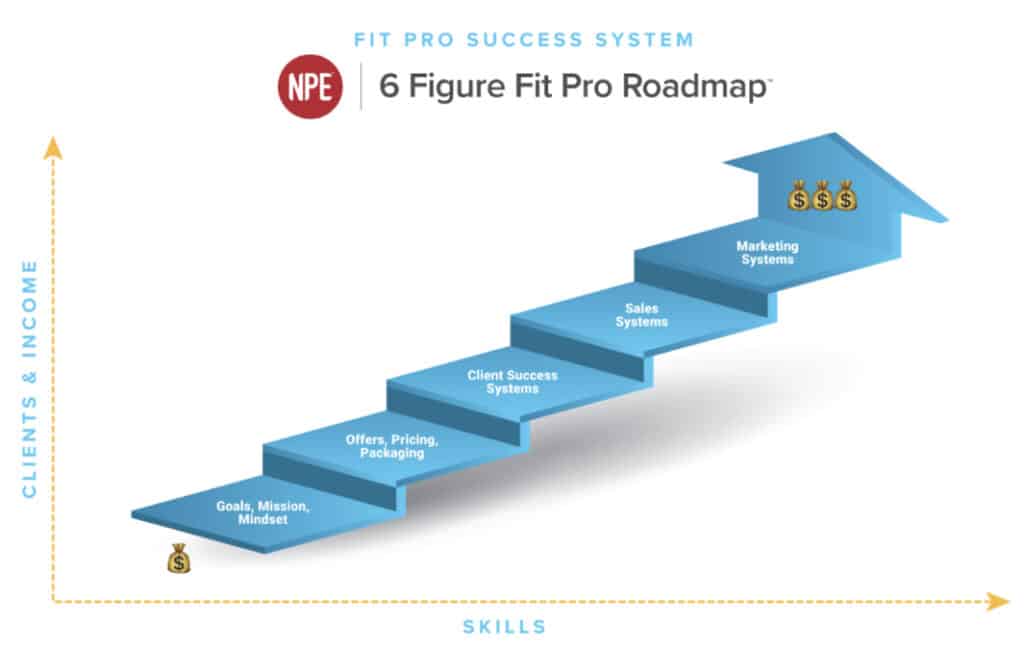 The NPE 6-Figure Fit Pro Roadmap™ outlines five core skills to take your passion for fitness and turn it into a sustainable career earning a predictable 6-figure annual income.
The 5 skills you need to grow your fitness business:
Skill #1: Winning Goals, Mission, and Mindset
Being a fit pro means being a business owner. 
If you become skilled in pricing, selling, marketing, and client success, you'll not just survive in this industry but thrive.
But most fit pros believe that knowing their way around the gym is enough to make money in this business. Bad news: it's not.  
The good news is that with the proper training and support, you will separate yourself from those not committed enough to truly succeed as a business owner.
Winning in business is no different than winning in the gym. 
It begins with the right mindset:
Know your WHY

: Why are you doing what you do?

Know your OBSTACLES

: What is standing between you and what you want? 

Know your GOALS

: What does success look like for you? (Did you know that with a goal of $8,333 per month, you will earn $100,000 per year?) At NPE, we have helped 1000's of committed fit pros reach this goal.

Know your GAP

: What support do you need to reach your goals?
Where is your gap?
Do you need

help with pricing and packaging your services so you can attract clients that will pay you what you're worth? 

Do you need

a sales system that will make you comfortable selling so you can close more long-term clients?

Do you need

a proven plan to generate leads? 

Do you know

how to keep the clients you already have so you're not constantly scrambling to replace them?
With a clear set of goals, an understanding of the obstacles in your path, and a plan to overcome them, you will be unstoppable.
Skill #2: Pricing & Packaging for Maximum Profit
We've been helping fit pros achieve a six-figure income since 2006, and the first thing we help them fix are these common mistakes: 
Undercharging

– Working hard but not being paid what they are worth 

Discounting

– Offering cut-rate services and attracting uncommitted bargain shopper clients

Poor packaging

– Selling small bundles of 5, 10, or 20 sessions rather than selling the results the clients want (This is an easy fix.)
We often see that the greatest fit pros in the world will slave away at getting amazing results for their clients, but because they aren't charging enough, they have to leave the industry and retreat back to a 9 to 5 or big box gym.  
At NPE, we teach fit pros two different ways to package their services:
Paid trial offer

– This is where we start with newly certified fitness professionals. The goal is to get your first 5 clients on 4 to 6-week training programs.

 

Consultation offer – We teach you to sell long-term (3, 6, and 12-month) training programs that meet the needs of the client. This is where you will reach the scale to hit $100,000 per year in income and more.


We want you to price yourself in the mid to higher tier of the market using our "Good, Better, Best" pricing model. That's how you will attract higher-quality clients and get paid what you are worth.
The "Good, Better, Best" pricing model has been used at NPE since 2010 and has helped thousands of fitness professionals earn the money they deserve.
6-FIGURE FIT PRO 💪 CASE STUDY
How Kim Went From $2K to $8K/Month (Without increasing her client base)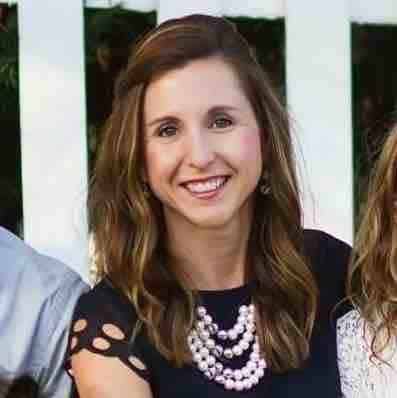 Kimberly Curran, K.I.M. Keep It Movin'
Milford, OH, USA
NPE Client Since 2020
In 2019, Kimberly Curran decided to leave nursing after 20 years to start her own business as a personal trainer.
Her goal was simple – earn enough money to replace her nursing income.
But, like many new fit pros, Kimberly made two mistakes: 
Blindly accepting any client that would hire her

Undercharging for her services

Her efforts resulted in a handful of uncommitted clients paying well below what she was worth. 
Kim was busier than ever but not making enough money to survive.
Kimberly began to feel the brutal effects of starting a business with ZERO business experience, ZERO plan, and ZERO help. 
Kim recalls,
"I felt terrified, sick to my stomach, and very doubtful of myself."
It was clear that her business was not sustainable.
A game-changing step
Kim was out of ideas and feeling defeated, but she wasn't ready to give up.
While attending the NASM Optima conference, she went to an NPE training session on growing a client base and increasing income.
At that moment, she knew NPE offered the solution she needed – she joined the NPE AUTO-CLOSER® program.
With the help of her NPE coach, she was able to identify the obstacles keeping her from enjoying success: 
Undercharging for her services

Selling pay-per-session with no contracts 

Attracting and accepting less-than-ideal clients
Equipped with heaps of NPE tools and newfound confidence, Kimberly started building the right skills and habits and executed the plan.
Kimberly notes: 
"The program made a huge impact. I learned how to talk to clients, what to say, and there were processes – a way to do things. You don't have to invent anything."
Full steam ahead 
Today, Kimberly is confidently attracting clients and earning over $8000/month in recurring revenue.
Kim found she didn't have to work harder or put in more hours to earn more. She just had to price and package her services properly so she was paid what she was worth to her clients.
With the hustle and commitment Kim brings to her business plus the tools she needed to price and package her services profitably, Kim is winning.
As Kim puts it,
"If you're not taking action, you're not doing anything. You have to invest in yourself and move forward. Just do it."
Book Your Business Growth Game Plan Session
Schedule time with an NPE Success Coach to build your personalized Business Growth Game Plan Session today.
Skill #3: Client Success Systems: Keeping the Clients You Have 
The successful fit pro builds systems that create clients that stay, pay, and refer them new clients. 
Most fit pros fail because they lose clients faster than they can sign up new ones.
A winning client success system extends well beyond making your clients stronger, faster, or more fit.  
In fact, there are four key components of client success:
Roadmap

: Where are they going, and how will you get them there? Confused clients fall off the wagon and quit.

Delivery

: What are the processes for Assessment, Programming, Session Delivery, Nutrition, and Coaching? This is where you show the value of what you do.

Tracking

: What are you measuring, and how do you measure it? Keeping a scoreboard will keep your clients engaged and motivated, so they keep working with you.

Renewal: What process do you use to avoid losing a client at the end of their contract? We teach a renewal method called the 7 R's of Renewals to keep clients motivated and moving forward with a new program.


The smart fit pro knows that their success hinges on their ability to keep the clients they already have.
Skill #4: Sales Systems: Employing the 7-Step Sales Process
Let's face it: You didn't get into fitness training to become a pushy salesperson.
It can feel uncomfortable, and with the wrong process in place, it can be a waste of precious time talking with unqualified prospects.
But the hard truth is that selling is a crucial skill you must develop to run your fit pro business.
The good news is that with the right system in place, selling transforms from a necessary evil to an enjoyable conversation with prospective clients that desperately need your services.
At NPE, we teach the NPE AUTO-CLOSER® 7-Step Sales Process.
This is a step-by-step selling system that has generated billions of dollars in sales for our clients over the last 16 years:
Step #1 Pre-qualification – This is a critical step. Can they afford your services? Are they the decision maker? Why are they taking action now? (We have a proven script you can follow to get these answers before wasting your valuable time.)
Step #2 Rapport – People buy from people they KNOW, LIKE, and TRUST. Create a safe space, build trust, and lay the foundation for a great relationship before entering the sales conversation.
Step #3 Set agenda – Your prospective client wants you to lead them through this sales conversation. Set the tone by leading this session with confidence and setting clear expectations.
Step #4 Discovery – This is the most pivotal step of the sales conversation. You will pinpoint what a prospect needs and uncover what's preventing them from achieving success. Get this right, and you are just minutes from signing a new client.
Step #5 Presentation – In Step #4, you uncovered the problem. In this step, you will simply present the process and programs you offer to solve that problem.
Step #6 Close – At this stage, it's time to ask for the sale. At NPE, we teach a simple yet powerful technique we call the Alternate Choice Close.
Step #7 Objections – When a prospect does not agree to hire you, there's a reason. Use open-ended questions to get to the real objections, provide clarity, and ask again if they'd like to make the commitment to get what they want.
Since 2006, the NPE AUTO-CLOSER® sales system has been used by 1000's of fitness professionals to increase their sales.
It's the Fitness Industry's #1 Sales System. It just works.
6-FIGURE FIT PRO 💪 CASE STUDY
From 3 Clients & Broke to $14,700/Month With a Powerful 7-Step Sales Strategy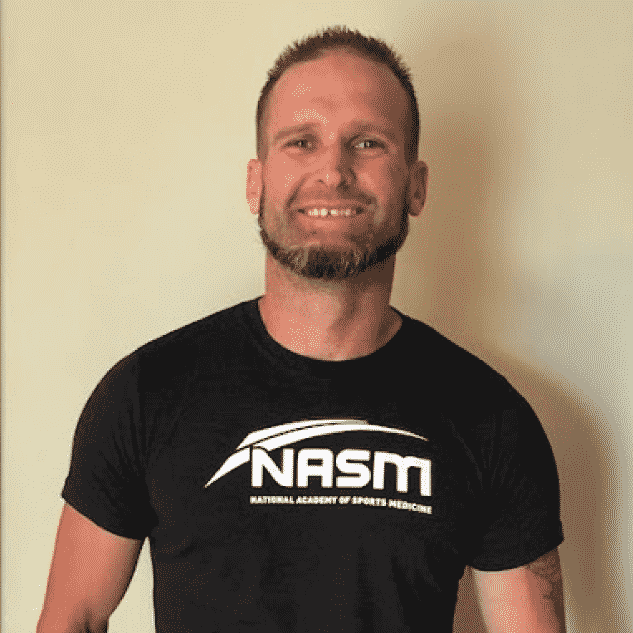 Aaron Raney, Iron Therapy Training
Great Bend, KS, USA
NPE Client Since 2020
After getting laid off from his job as a pipeline welder during COVID, Aaron Raney's time, money, and luck had run out.  
He had a family to feed, bills to pay, and with COVID lockdowns limiting his options – there was no income in sight. 
During this dark time, Aaron poured his heart and soul into a life-altering body transformation that took him (as he puts it) from beer belly to six-pack.
Inspired by his transformation, Aaron started a new career as a personal trainer to help others achieve the same success. 
Knee-deep in self-doubt
With no experience running a business, Aaron struggled with the usual issues:
Pricing his services so he could make a profit

Generating enough leads to keep food on the table
But most of all, Aaron struggled with selling his services to the leads he was getting.   
Aaron just couldn't crack the code that would inspire potential clients to hire him.
Aaron makes an investment (in himself)
Aaron was unwilling to accept defeat, but he knew he didn't possess the tools or knowledge he needed to run a successful fitness business. 
Although he was broke, Aaron took a leap of faith and invested in the NPE FAST-TRACK™ program.
Aaron recalls,
" You have to have the right tools to do your job…or the quality's [not there]. I had no paycheck coming in… family, kids, bills. I had a lot of trust in this program."
Aaron's decision paid off.
As Aaron dove into the NPE 7-Step Sales Process, everything he was doing wrong while selling became crystal clear.
He had to forget everything he thought he knew about selling.
As Aaron began applying the NPE AUTO-CLOSER® 7-Step Sales Process, his confidence grew, and so did his business.
5X revenue growth in just one year
Aaron worked NPE's 7-step selling system and began signing more clients. 
In just one year, he jumped from 3 to 12 clients, increasing his monthly income from $2,371 to $14,700.
Today, Aaron's business, Iron Therapy, is not only thriving but setting the bar for other personal trainers in his community. 
He's continuing to build his skills with the help of NPE and is already pursuing his next goal of opening his own gym.
If you want to learn more about how we can help you get results like Aaron, click below to book a Game Plan session with an NPE Success Coach today.
Book Your Business Growth Game Plan Session
Schedule time with an NPE Success Coach to build your personalized Business Growth Game Plan Session today.
Skill #5: Marketing Systems: Generating Qualified Leads
Perhaps you're wondering why we address marketing last.
With the right mindset, pricing, packaging, client retention system, and sales process, you now have every element in place to scale your business to $100,000 in sales and more. 
Think of marketing as the gas pedal you'll press to ramp up your business when you're ready. 
The key to marketing is creating a system to predictably generate qualified leads for the NPE AUTO-CLOSER® Process we covered above.
At NPE, we teach our clients how to use social media to find and engage new leads.  
Social media is an easy (and free!) tool you can use to communicate who you are, what you do, and how you help people.
However, spending hours posting content or doing social media activities without a plan can be a complete waste of valuable time.
Instead, we teach our clients to find leads and move them through the 7 stages of our SOCIAL LEAD GEN PIPELINE™. We even have a software tool that plugs directly into Facebook to help you generate even more leads.
Our proprietary Social CRM tool manages your pipeline from start to finish:


With the right system, tools, and plan in place, you'll find that social channels like Facebook and Instagram are all you'll need to fill your calendar with high-quality prospects.
Now that you know building a 6-Figure Fitness Business is not only possible, there is a clear roadmap to follow to get there, we've got a simple questions for you... Are you ready to become a 6-Figure Fit Pro?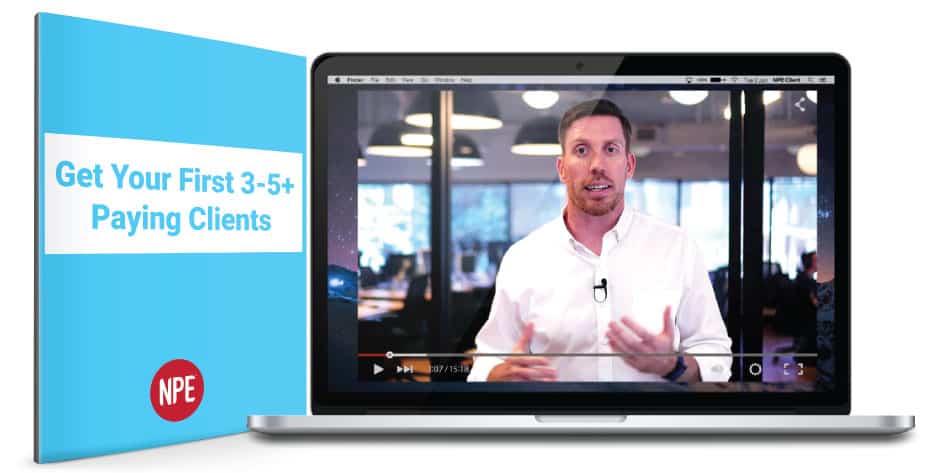 Access this free training to learn how to get your first 3-5+ paying clients and build confidence helping them get results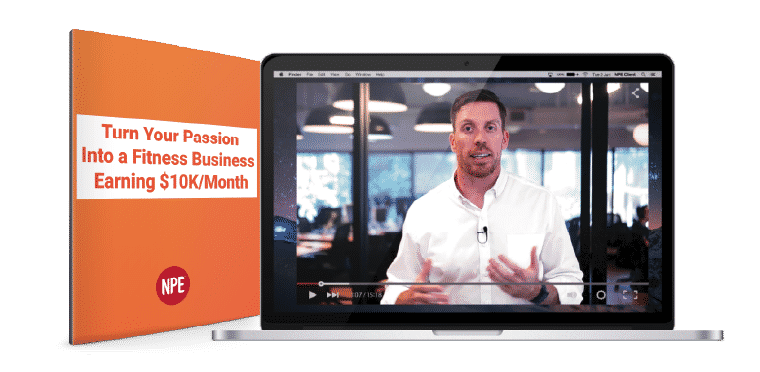 Access this free training to discover how to turn your fitness passion into a highly profitable business earning $10k/mo