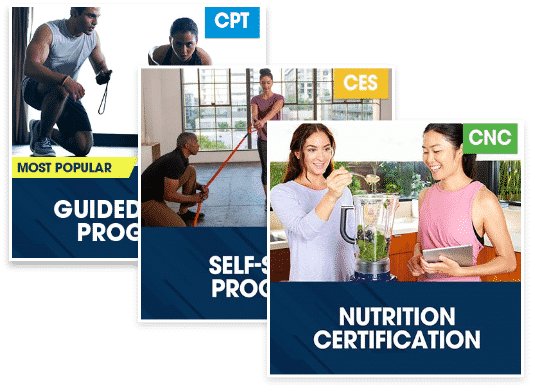 National Academy of Sports Medicine (NASM)
Athletics and Fitness Association of America (AFAA)
Download Your FREE Webinar: Corrective Exercise Myths and FAQs
The Most Respected Name in Fitness Certifications
For over 30 years, the National Academy of Sports Medicine (NASM) and the Athletics and Fitness Association of America (AFAA) have led the way in certifying personal trainers and group fitness instructors around the globe. They have helped thousands of people in over 100 countries establish fulfilling careers in health and fitness, and positively impact the lives of millions. They also enjoy partnerships with some of the world's top fitness brands, health clubs, and academic institutions.
Explore some of NASM/AFAA's most popular programs:
How NASM Can Help Your Business
NASM and AFAA provide progressive career pathways to elevate today's fitness professionals.
Their courses were developed using the proprietary Optimum Performance Training™ (OPT™) model, a system based on scientific, evidence-based research, empowering trainers to maximize their skills and abilities and help their clients excel beyond their expectations, all while improving their career opportunities.
NASM develops the most successful personal trainers in the fitness industry. Their CPT  program provides the most scientifically accurate information, all delivered on their new, revolutionary digital learning platform. To become one of the best, most respected, and highest-paid personal trainers, it's as simple as getting certified online with NASM. 
When you enroll in an AFAA Group Fitness Program, you're gaining the benefit of decades of experience in preparing the best instructors in the industry. For generations, they've provided those in their programs with the practical skills and hands-on experience needed to inspire and motivate class participants to lead happier and healthier lives. As times have changed, AFAA has too – adopting a world-class online learning platform for studying and getting certified.
Adding a fitness specialization to your body of knowledge can positively shape the future of your business. Advanced credentials are a great way to share your passion for fitness with others. It also has the potential to increase your client roster, your employment opportunities, and your income. In addition, specializations provide valuable CEUs for recertification.
As an NPE member, you can save 40% on the NASM/AFAA education program of your choice* using promo code NPE40! Explore your options at nasm.org or call 1 (800) 460-6276 to discuss a customized education plan.
*Terms and conditions apply. Excludes NASM Elite, AFAA Elite, NASM EDGE, Life Time Academy programs, Master Trainer Summit, Recertification, & Exam Only programs. Cannot be combined with other offers.

Exclusive Offer to the NPE Community
Save 40% on NASM/AFAA Programs with promo code NPE40
Looking to accelerate new customer acquisition and lifetime value?
Find High-Quality Prospects and Add More Value to Your Customers through the NPE Partner Program!