Looking to accelerate new customer acquisition and lifetime value?
Find High-Quality Prospects and Add More Value to Your Customers through the NPE Partner Program

Attract High Quality Leads

Develop New Channels for Lead Generation

Offer The Support to Your Customers Need to Succeed
You want to grow your business... but there's a big problem
Many B2B companies serving today's fitness industry are struggling. High-quality leads seem few and far between. You may struggle to find multiple channels to generate enough leads … and it's easy to fall into the trap of over-relying on referrals or paid advertising. 
And then there's the issue of customer churn … because your customers' lack of business skills means they are struggling to succeed … so they fail to generate enough revenue and cancel outside services. That reduces their lifetime value to you and creates customer churn. 
That's frustrating because you're not growing. You have too much client churn. And you don't have enough leads and sales. 
It's easy to believe the problem is the fitness industry is just going through difficult times, so it's not possible to grow your business right now and you should just focus on keeping your current customers. 
That won't work. Because you succeed when your customers succeed. That's where we can help as partners.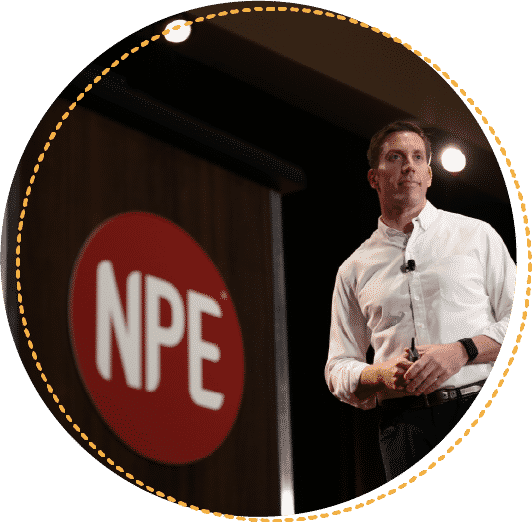 Hi. I'm Sean Greeley, founder and CEO of NPE. 
NPE is globally recognized for delivering the #1 suite of business growth systems, tools, and coaching for fitness entrepreneurs to grow 6-, 7- and 8-figure businesses.
Since 2006, NPE has helped over 53,000+ fitness businesses in 96+ countries grow to the next level, and is responsible for driving over $1.1 billion in client revenue. NPE has been featured 8x on the Inc 500/5000 list of fastest growing companies, and has a global team based in the USA, Canada, UK, and Australia.
Working with NPE through the partner program will allow you to generate more high-quality leads, establish a powerful channel for new customer acquisition, and lower customer churn because customers succeed more (and stay longer) with your business. 
Sound promising? Then let's find out how we can help each other with a discovery call now.
"Ever since partnering with NPE, the entire team has worked diligently to offer not only the best education for our audience but the most dynamic and relevant topics. Many of our members who've invested in NPE programs cite significant growth due to the overwhelming support of NPE's leadership team and constant desire to stay on top of the latest trends. We couldn't be more excited to have NPE as our exclusive coaching partner."
"Partnering with NPE has been a game changer for our business. It has given us the opportunity and platform to show up as experts in our field, in front of clients who can benefit from our expertise. Providing training as an NPE faculty has allowed us to get new clients who not only subscribe to our tool, but also use it and continue to buy because they get results. That is due to the quality of clients NPE has. We are so honored to be part of the NPE team through our partnership!"
Our Track Record of Success at NPE
Ready To Learn More About The NPE Partner Program?
Let's Discuss How You Can Generate More Leads and Add More Value to Your Customers' Businesses 

Click the big orange button below to apply for NPE's Partner Program.

If we determine we're a good fit to work together, we'll schedule a discovery session identify partnership opportunities, and customize a partner agreement.

Launch partnership to start generating new leads and offering greater value to your customers.
Meet Our Partners and Hear What They Have To Say
Learn How To Grow your business with Partnership marketing
Join The Partner Connection Newsletter, our bi-monthly newsletter that teaches businesses like yours how to start and grow a partner program that drives high-quality leads and increases your customer lifetime value.
Subscribe today and start getting strategies, tips, and real-world examples delivered straight to your inbox twice a month.