How to Write a Simple Fitness Business Plan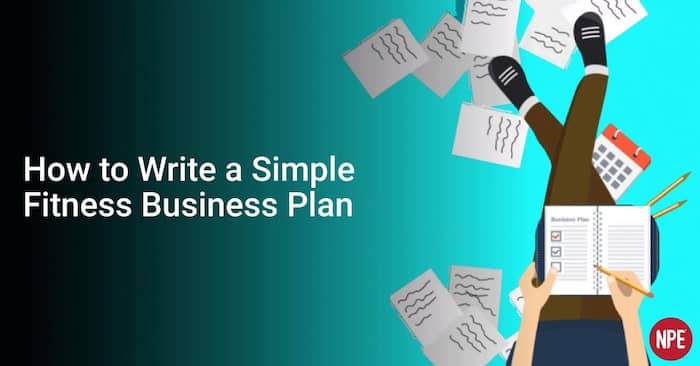 Got passion?
Great. But that's not enough.
In order to succeed in the fitness industry, you need more than just a professional certification… you must have real business skills and a PLAN for success. 
And that means you must regularly invest time and money to increase your business knowledge, skills, and systems. 
Thinking about all you need to learn probably feels overwhelming at times. And maybe you're afraid you might fail… and the time, effort, and money you've invested up until this point will have been meaningless. 
If that's the case, then congratulations! You're just like everyone else out there trying to start and grow a business… and you're in the right place. 
That's when it's time to take a step back, THINK about your business strategy, and create a PLAN for your success.
Here's 3 steps to get you moving in the right direction FAST:
1. Create a 'platform for success' with the right business STRATEGY
Most fitness professionals do a little bit of everything … such as trying to grow three (or more) different business models all at the same time. 
They'll try to serve any client that comes their way: an 80 year old recovering from injuries; a 40 year old mom who wants to lose weight; a 25 year old who wants to get ripped. (All at the same time.)
They're afraid to turn down work and don't feel they have enough leverage to pick and choose who to work with. But if you don't choose who to serve, you can't get any traction!
You need to get clear on your business strategy, and that means getting yourself in a place where you can answer these questions: 
What does success look like for you with your business? (Your Owner Intent)
What metrics measure success with your business? (Your KPIs)
Who is the ideal client you want your business to serve? (Ideal Client Profile)
How much do you charge and for what? (Pricing and Packaging)
What are your fixed and variable costs? (Cost Structure)
What's your thing? Do you serve via group, semi-private or private training? (Modality & Model)
How many clients do you need to hit your revenue and income targets (given your cost structure)? (Business Goals)
Regardless of your chosen or preferred modality, the structure of the business still has to follow some basic rules to be successful. It takes a lot of focused energy to get a new business off the ground. You must choose ONE client, ONE modality, and ONE business model, and put all your energy behind it, to get a client base built up and grow. 
Here's a way to figure it out: Every fitness trainer has one specific THRIVE ZONE. That's the overlapping area between the business model that ensures you make a profit, the problems you love solving, and the clients you love working with. 
2. Clarify how you will deliver unique and powerful VALUE to the market
You can't out-market a bad service. There's no magic formula, whether Facebook ads, marketing software, or trying a million new tactics that will ever cover up poor service delivery. 
The foundation of ALL success in business is VALUE CREATION for the customer.
The best fitness businesses don't need to market. They grow exponentially by referral!
Commit to serving the heck out of your clients. Lead people to achieve their goals and overcome challenges standing in their way – whatever it takes. Your goal is POWERFUL RESULTS.
The growth questions you need to ask include:
What does success look like for your client and how do you get them there? (Successful Results)
What metrics will measure progress in leading your clients to their goals (Client Metrics)?
How do you deliver more value to the market than alternative solutions? (Differentiation)
3. Learn how to inspire prospective clients to COMMIT to their goals 
Enthusiasm, excitement, passion, and energy are important for success in attracting new clients … but they do not equal success. Random actions and busy work never wins. You need real systems and a plan. 
Don't overcomplicate things, such as thinking you need to learn 20 marketing strategies to get 10-20 new clients … or thinking you need to build a big online following. Likes, followers, engagement online really don't matter … UNLESS they convert into your getting the right clients enrolled in your programs. 
You must get VERY clear on how to best sell before you start marketing. The questions you need to answer at this stage are: 
What's your message? (Value Proposition)
What's your front-end offer? (Offer)
What's your sales process? (Sales System)
What are your strategies and sources for finding and connecting with new prospective clients? (Lead Generation Strategies)
Summary
Answer the growth questions to get clear on your specific, unique business strategy, value, and messaging. Your answers will add up to the simple business plan you can use to get on the right path. And as you execute your plan, refer back whenever you find yourself losing focus during day-to-day operations. Your plan will keep you on the right course, and update it as needed.