Erika Surma & Brittany Clark - "Got Focused On The BEST Clients For Their Business And Grew Revenue 2.5x In 14 Months!"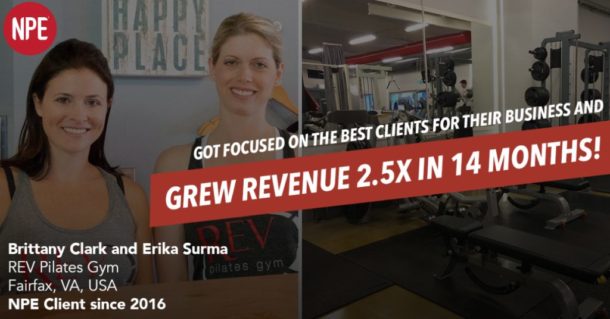 What happens when you try random acts of marketing … hoping that one of them *might* bring in new clients for your fitness business?
Hope is not a strategy in business. And when you leave things to chance, you'll never be able to predict success or profitability.
You'll waste time and money on bad advertising campaigns. And if you aren't using a clear strategy to bring the right people through your door… you'll get needy and desperate. Which leads to allowing ANYONE to enroll in your programs… even clients who aren't aligned with your core values, drive you crazy, and aren't committed to their goals.
Simply put… bad marketing kills businesses!
So if you want to attract and keep clients you love working with, you've got to get your marketing focused on attracting the "right" prospects to your website, phone, or door.
Brittany Clark and Erika Surma of REV Pilates were guessing at marketing when they first opened in October 2015. They knew the type of clients they wanted to work with (and the one's they didn't!) but their marketing wasn't focused on targeting and messaging to those clients. The result? They allowed anyone who could pay to enroll in their classes.
Many of those clients caused problems in the business, couldn't afford their services, and would quit the program after just a few sessions. That was doubly a problem because they really needed their business to grow quickly. They weren't paying rent and they weren't paying themselves.
They signed up for the NPE Coaching™ Program, and with the help of their NPE coach, they rapidly progressed toward their goals. They were able to better target their marketing, put a solid foundation in place for growth, and find (and sign up!) the right clients they love to work with. And in terms of growth, their monthly sales are now 2.5 times where they were a year ago.
Working moms with strong backgrounds who felt boxed in …
Brittany and Erika are both working mothers and Pilates instructors who worked together at a studio in northern Virginia for several years.
Both women felt boxed in at that studio, feeling they were stuck teaching only Pilates' classes, when they had broader interests. Prior to Pilates, Erika had been a professional dancer and ran her own non-profit dance company for seven years. Brittany worked and traveled full time as a Six Sigma consultant before moving into personal training. Her passion for Pilates was to overcome personal injury.
They dreamed of opening their own studio together, where they wouldn't face limitations on what kinds of classes they wanted to lead for their clients. They would teach Pilates, yes, but also TRX®, SURFSET®, barre workouts, golf conditioning … they were extensively cross-certified, so they were experts in many areas.
And they had a specific idea of what kind of client they wanted–and who they didn't want. They wanted their studio to be welcoming, open, and inviting. They didn't want a sense of one-upmanship and even snobbery, and they didn't want stuffy clients with a sense of personal entitlement.
So they made their plan, and in October 2015, went out on their own. They respected their non-compete agreements, and located their new studio about 12 miles away. In northern Virginia's traffic, most people will consider five miles a deal-breaker. That meant they brought no one with them. So they opened up with zero clients, but lots of energy. REV Pilates was in business.
"It was horrible," laughed Brittany.
"In hindsight, we didn't have much direction," adds Erika. "We were wondering why we did this. We were guessing what we should be doing, especially with marketing."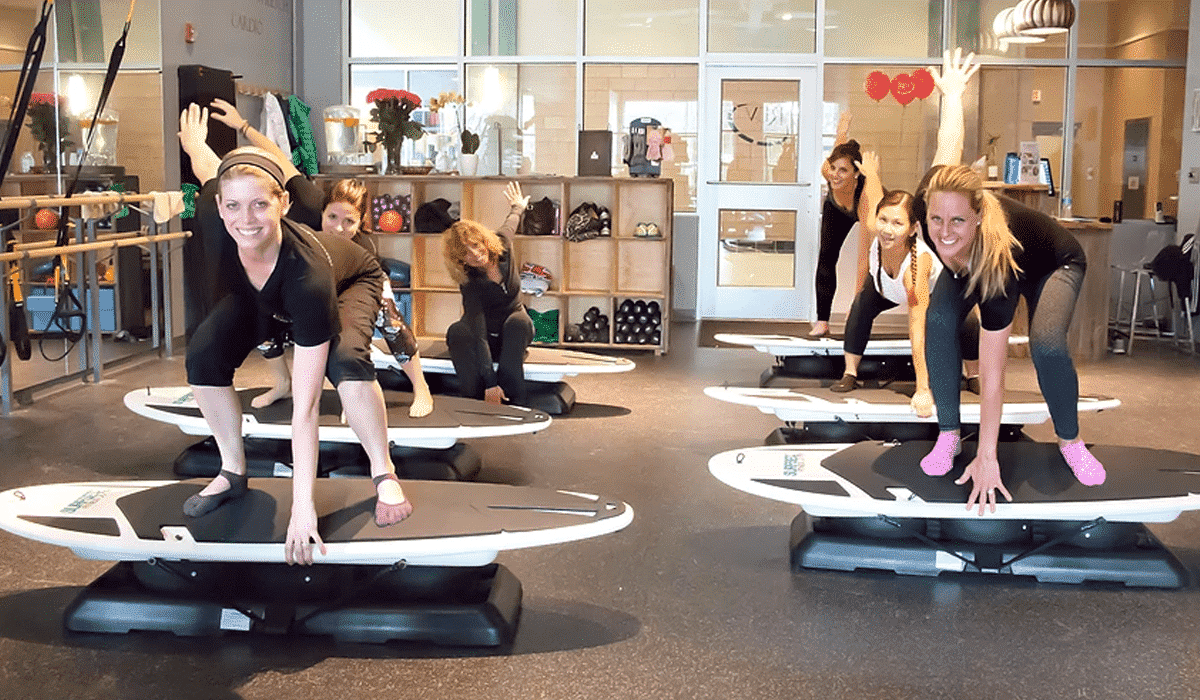 When your marketing attracts the right clients for your business, you can relax more and have the kind of fun Erika Surma (front left) is having teaching this SURFSET® class.
Losing money every month and put the bills on credit cards
They had made up some flyers and Facebook ads. Thankfully, for the first three months, they didn't have to pay rent. But, they didn't pay themselves either. They were able to pay the utility bills during their startup phase. "We could keep the lights on," said Brittany. But that was about it.
They were second-guessing themselves like crazy. They'd try one marketing piece, and see the results (or not) and then decide in a week whether or not to try something else. They felt they weren't reaching their target market, and they were swinging wildly trying to find the clients they wanted to work with.
They had considered hiring a consultant to help, even before opening the studio. They had sidelined the idea because they felt the consultant was too expensive. NPE was even more expensive, so they sidelined that idea, too.
"We thought that there was not very much competition, and people would just find us," said Brittany. "And that was very naïve."
Fast forward six months. They were in "dire straits" financially. They were losing money every month. They put more and more of their bills on credit cards, and they were concerned that they were digging themselves into a hole they wouldn't get out of. "We were quite worried where we were going to be in a few more months," said Brittany.
They were even doubting their ability to accomplish their goals. Erika said, "The worst case scenario is the debt collectors taking all our belongings. I thought, 'This can't end this way.'"
Brittany added, "I lost a lot of sleep. I was just burdened all the time. I felt I had to spend every hour [at the studio] just waiting for someone to walk by. It was horrible. It was like dark clouds forever. I'm sure I was really grumpy."
Brittany and Erika attended an IDEA Health & Fitness Association conference, where they saw NPE CEO Sean Greeley give a presentation. Afterward, they spoke with an NPE success consultant.
Fitness business coaching sounded like a good idea, but Brittany's and Erika's big objection was the cost.
"The money back guarantee was really appealing to us, because when we signed up we were upside down," said Brittany. "We had a substantial amount of credit-card debt. It was a do-or-die thing and we thought we'd give it a shot. If it doesn't work, we thought, at least we'd get this money back."
That was in April 2016. Their monthly gross was $12k. They thought they'd feel really good if they could bring in $14k.

Want to do best by your clients? Build a strong fitness business for them, so they can rely on you for a long time.
A new plan
Their NPE coach noted they had strong qualifications and a strong service offering. He gave them a new plan, designed to strengthen their sales and marketing while making the business profitable:
AUTO-CLOSER® fitness sales system training
Adjust pricing to become profitable, and
Hold steady when implementing marketing plan–wait for campaigns to work before changing direction.
Probably the biggest immediate impact: pre-qualification.
"Pre-qualification has been helpful to weed out people that we don't want," said Erika.
"Pre-qualification was one of the main improvements," agreed Brittany. "I don't know how many times I got off the phone with someone after just giving someone our price. No name, no appointment and no plan for follow up. A pre-qual changed all of that."
They raised prices and paid staff in accordance with what was required for a profitable business. They didn't believe that was going to work, but they "followed the instructions."
It worked. Staff didn't leave. Brittany and Erika captured more leads from the types of clients they wanted, who were willing to sign up for higher prices and longer packaging commitments. Brittany and Erika also developed confidence in executing the sales process and managing the sales pipeline, and asking for the higher prices.
Marketing grew more targeted. They installed a huge sign out front to get noticed by all the traffic nearby. They used more focused Facebook ads. They used pre-qualification to bring in the people they wanted.
"We're on every social media platform," said Erika. "We have an annual calendar, so we are implementing a challenge or promotion every month. And our members get the word out."
And they created the kind of exciting, welcoming, and fun environment they wanted. No stuffiness. No one-upmanship.
Erika says, "We've found a good group of people who are easy to be around and people like coming here."

With a strong business foundation in place, you'll grow in confidence and really love working in your studio.
Finally…Financial Success and Stability
With the new plan in place, they began to hit "best month ever" sales again and again. They started out in April 2016 thinking they'd be happy with $14k. Once they got their systems in place, they began to grow. By October 2016–six months in–they broke $15k.
And their monthly revenues went up from there. They crossed $24k in monthly revenues in March 2017, and hit $30k May 2017.
Their financial success and stability has improved their enjoyment of their business, and they're focusing on continued growth.
"We have less stress, but we're not stress free," said Erika. "We're still wondering what's going to happen in our third, fourth and fifth years, because there's that saying, within five years, most businesses fail. We're being conservative with the money, so we do have a safety net, in case things do not go as perfectly as they have been."
They'd like to continue their growth. To that end, they took a step up in the NPE Coaching™ Program from NPE ACADEMY™ to NPE PRO™ program. They're committed to doubling their revenue again. That will allow them to continue re-investing in the business to provide an even greater quality of service to their clients.
Erika and Brittany also are getting closer to achieving the personal financial goals they'd set for themselves before they started their business. That will allow them to save even more for retirement. And they're also considering a second location.
Lessons learned:
"If I were going to advise someone about starting a business, I'd tell them it's the first, uncertain period that takes years off your life… with NPE we learned a lot about putting in a better foundation, and how a business should work. It's not just 'Build it and people will show up,'" Erika said. "You have to have the foundation in place before anything else can flourish. If I could do it all over again, I would hire NPE before we ever opened our doors."
If you're interested growing your business and creating the life you want, then request a complimentary consultation to learn more about NPE's fitness business coaching programs. We'd love to learn more about you, your business, where you are right now, and more importantly… where you want to go. We look forward to speaking with you!
[/vc_column_text][/vc_column][/vc_row]