Fitness Australia and NPE Continue Partnership To Support Fitness Business Owners With Building Effective Businesses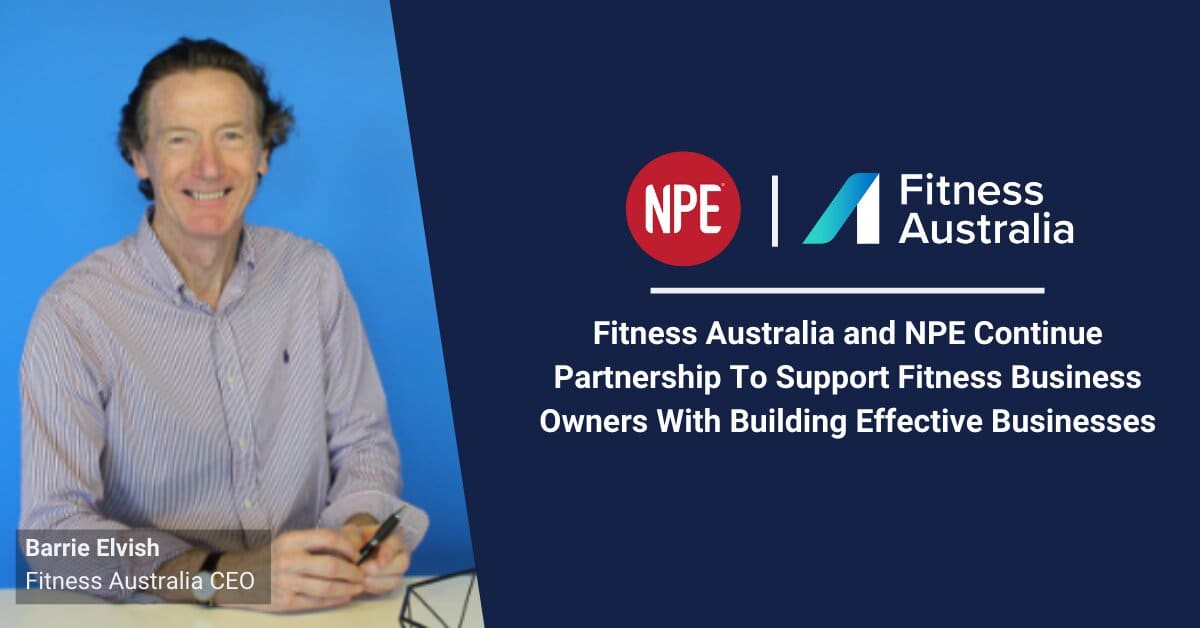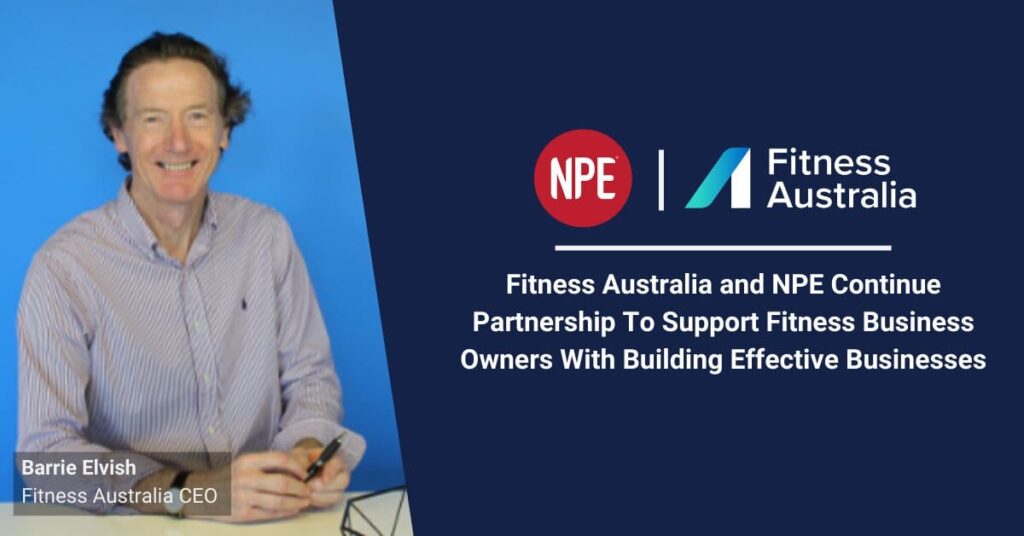 Fitness Australia, the peak industry association, are thrilled to announce their ongoing partnership with NPE, the top business school for fitness entrepreneurs to increase their profit, revenue, and happiness with their business.
With their aligned passions to help fitness professionals and business owners grow and build credible and sustainable businesses, Fitness Australia CEO Barrie Elvish shares in the enthusiasm of the partnership knowing that NPE is an avid supporter of what the Association stands for.
"We are excited to continue our partnership with NPE – they are key contributors to our Grow Your Fitness Business initiative and provide business coaching both to our members and Fitness Australia itself," says Barrie.
"NPE is the exclusive sponsor of the Boutique Fitness Business of the Year award in the 2020 Australian Fitness Awards because they believe in recognizing excellence."
NPE CEO Sean Greeley says "We're passionate about celebrating big and small wins with our clients, so being part of the Australian Fitness Awards is definitely an extension of that and allows us to celebrate the achievements of business owners and managers."
"We can't wait to find out who the finalists of the Boutique Fitness Business awards are, and look forward to celebrating the National winner at the Awards gala dinner on 1 May 2020!," says Sean.
As a special benefit for Fitness Australia's Sole Trader, Boutique Business, & Fitness Business members, NPE is providing complimentary fitness business strategy sessions. Book in a session and get clarity with a path forward to achieve your goals in 50 minutes (or less). Start by taking your free Best-Month-Ever Blueprint Quiz at: www.NPECoachesCorner.com/FA
To learn more about NPE visit https://www.npefitness.com/ 
About NPE
NPE is the leading business education and coaching company for fitness entrepreneurs to increase their profit, revenue, and happiness.
We teach you (the race car driver) everything needed to build a high-performance race car (your business) and lead a powerful pit crew (your team) so you can win championships year-over-year and hit your goals.
The fitness industry is littered with quick-fix sales and marketing programs that can permanently damage your reputation, brand, and business. At NPE, we take a different approach. Through the NPE 5 CORE DISCIPLINES™ we relentlessly focus on increasing profitability, revenue, and happiness with your fitness business to create long-term success.
We empower fitness professionals and business owners to grow their business and create the life they want.
Since 2006, we've helped over 45,000+ fitness entrepreneurs in 96+ countries grow to the next level. We've been listed 8x on the Inc 500/5000 list of fastest growing companies, and we're a global team with offices in Los Angeles, London, and Sydney.
About Fitness Australia
Fitness Australia is a not-for-profit industry association, that exists to professionalise the fitness industry through engaging in partnerships, advocacy, delivering education, quality and accreditation. Fitness Australia supports the industry to deliver an environment for more Australians to adopt a healthy, active lifestyle. Learn more at https://fitness.org.au/