NPE and IFA Announce Partnership To Create a Pipeline of Highly Qualified, Well-Mentored Personal Trainers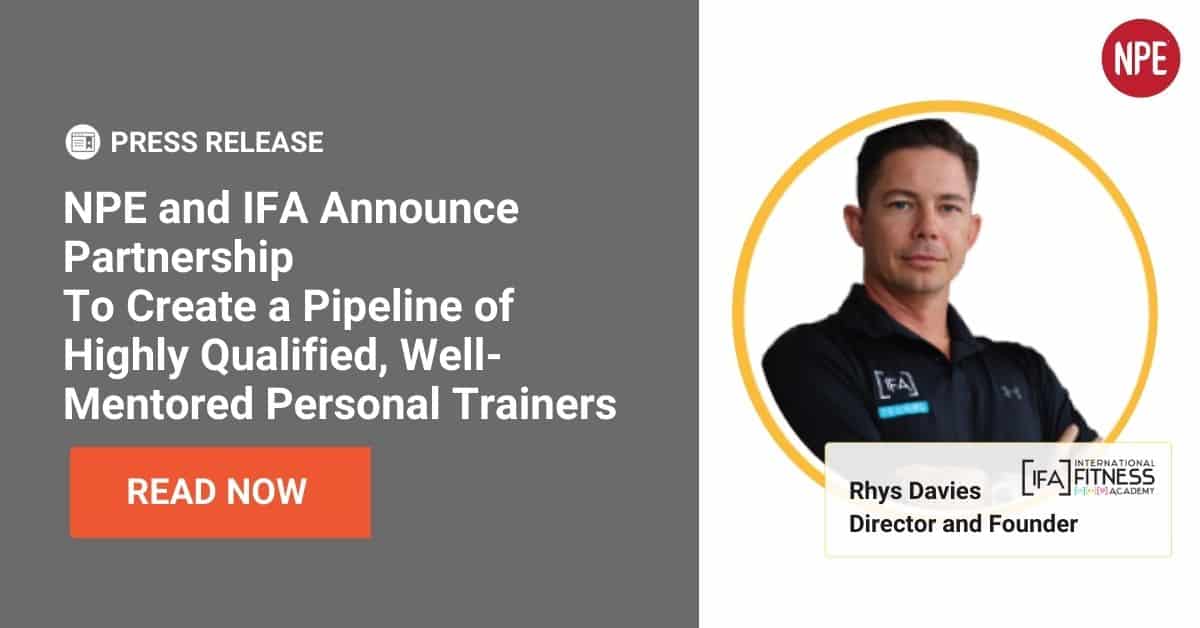 BRISBANE, QLD, Australia – Responding to a need for personal trainers who are highly trained and have been mentored in the practical environment of a studio or gym by expert coaches, fitness education company International Fitness Academy and fitness business education company NPE are announcing a new partnership.
IFA and NPE are working together to offer Trainer Academy, a program to allow studio and gym orders across Australia the ability to certify personal trainers within their own facilities. 
Student-trainers will get practical, real-world experience by learning how to apply their knowledge with real clients–and get expert mentorship in gyms on their way to attaining full certification as a personal trainer.
Studio/gym owners will have an opportunity to create a pipeline of outstanding personal trainers they can develop to become part of their own teams.  
IFA members will learn how to build an amazing pipeline of interns, part-time, and full time staff… all while further positioning their businesses as market leaders in their local area and generating more revenue along the way!
"Too many fitness business owners get stuck because they don't have enough trainers, or the right team of coaches, to support continued growth," said NPE Founder & CEO Sean Greeley. "They struggle to grow because they don't have a talent bench to draw from as their business is growing.This partnership solves that problem and helps IFA members to make money doing it.

"Also, too many newly certified personal trainers leave the industry because they don't have the right mentorship to support their career. Together, we're here to change that."
IFA members will learn how to recruit from their local area potential trainers and fast-track them through a Cert 3 and Cert 4 program–while also delivering additional programming and methodology on the studio/gym owners specific systems of training clients. 
"The bar for quality, knowledge and practical-based fitness professionals in Australia was high – and getting higher." It is not enough to simply complete a personal training qualification in Australia anymore, the standards have changed, and people are expecting more from qualified trainers than ever before," Mr Rhys Davies, IFA founder and CEO, said. "An industry recognised personal training qualification is crucial, but it also the hands-on, knowledge and practical-based skills that will set someone apart."
Learn more about the free business-building NPE training and tools available to IFA trainers.
Learn more about IFA's Trainer Academy program.
About IFA
As a leading global education provider, International Fitness Academy (IFA) is reshaping and rethinking the fitness and wellness industry now and for future generations. In the face of COVID-19, IFA is at the forefront of education technology, developing innovative solutions to broaden the scope of online education and breaking down the barriers of isolated learning. At IFA, you can study Australian recognised and approved SIS30315 Certificate III in Fitness and SIS40215 Certificate IV in Fitness, or look at one of its International Master Trainer certificates all while gaining industry knowledge and on the job training through our Australian partners, like NPE.
About NPE
NPE provides systems, tools, and coaching to grow fit pros into 6- figure business owners. 💪 And studio/gym owners into 7-figure business leaders. 
Since 2006, we've helped over 45,000+ fitness entrepreneurs in 96+ countries grow to the next level. We've been listed 8x on the Inc 500/5000 list of fastest growing companies, and we're a global team with offices in Los Angeles, London, and Sydney.