WellnessLiving And NPE Announce Partnership To Strengthen Fitness And Wellness Companies' Profitability Through Education And Automation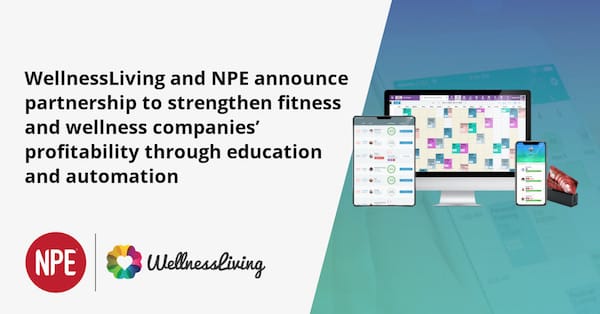 LOS ANGELES (May 8, 2019) – Starting and growing a fitness business is hard and the most valuable resource service providers have is TIME.
Yet too many business operators are losing hours each week trying to manually complete (and often forgetting!) so many of the day-to-day operational tasks required to run their business.
That's why NPE is very excited to announce a new partnership with fitness and wellness business management software provider WellnessLiving–to help more fitness business owners leverage powerful technology to automate and strengthen their profitability.
Together, WellnessLiving and NPE will offer fitness and wellness business owners the management software and business education they need to grow their client bases, revenue, and profits month-over-month.
WellnessLiving becomes the Global Membership Management Software Provider for NPE. Through this partnership NPE is now able to offer their community an exclusive 50% off WellnessLiving's Professional Plan plus 3 months FREE of a custom branded app.
Click here to request a FREE WellnessLiving demo now
The partnership pairs two premium industry leaders to provide strong and immediate benefits to fitness and wellness business owners.
"We're very excited to partner with WellnessLiving because they offer the most comprehensive and affordable solution in the marketplace for managing all the operations that keep your fitness business running efficiently and on track," said NPE Founder & CEO Sean Greeley.
"From the normal functions of client-billing and scheduling, to advanced functions such as client loyalty and rewards programs that are proven to improve client retention–and even tools to support capturing client reviews and publishing them to Google My Business listings. These are must-have tools for every fitness professional and business owner to grow their businesses to the next level today."
WellnessLiving's dynamic business management software was built by fitness professionals, for fitness professionals, and allows fitness and wellness business owners to:
Update schedules from anywhere and take payments on the go with a mobile staff app
Bring in more clients and keep them coming back with built-in marketing tools and a customizable rewards program
Keep clients connected to the business and brand with a personalized client app that allows them to schedule and shop 24/7
Automate workflow with easy revenue reports, digital client waivers
And much, much more.
These programs and tools offer the kinds of rewards that strengthen client loyalty, motivating clients to stay longer, refer their friends, and achieve their health and fitness goals.  
"We're proud to partner with NPE," said Len Fridman, the co-founder and CEO of WellnessLiving. "NPE's business education will help fitness and wellness business owners to increase their client bases, revenue, and profits. With their proven track record of serving over 45,000 fitness professionals and business owners in 96 countries in the last 13 years, NPE is the leader in fitness business education and we are really excited about the opportunity to work with them to help business owners achieve their goals."
NPE becomes WellnessLiving's Official Business Education Partner to provide the business skills, tools, and coaching needed to build and grow profitable companies. NPE's education programs show clients how to:  
Choose the business model that offers the highest chance of success
Price and package services for profit (while best serving clients)
Define the ideal client profile for the business
Get specific strategies and systems to find more of the best new clients (where they are and how to attract them)
Build a portfolio of client success stories and reviews
Grow a business to earn a professional income
And much, much more.
This powerful partnership will help entrepreneurs effectively automate their operations and strengthen their entrepreneurial skills. Together, WellnessLiving and NPE will give business owners the tools they need to make their businesses more profitable.
About WellnessLiving
WellnessLiving is a business management software company that offers complete solutions to business owners in the health and wellness industry. Its software is cloud-based and easy to use, allowing businesses to attract, engage, and retain their clients. WellnessLiving currently boasts thousands of satisfied customers and 7.1 million users worldwide. It is a customer-focused company, with employees who are genuinely passionate about helping make running and growing your business easy.
The company was founded in Toronto, Canada by two childhood friends who ran an outdoor boot camp and fitness internet marketing company from a small home office. As their business grew, they quickly realized that they needed software to help manage it. Their fitness studio clients complained that all the existing software on the market was extremely difficult to use and lacked the key features that they wanted in an all-in-one business management solution. So, the two friends set out to make a change and WellnessLiving was born.
About NPE
NPE is the leading fitness business education company for fitness professionals and business owners to build and grow profitable companies.
Unlike traditional methods of higher education that are slow, broken, and expensive (a barely positive return-on-investment can take 10+ years) or other courses that only teach specific skills such as running Facebook ads or selling six-week challenges, NPE teaches everything needed for long-term business success (and profitability) and does it faster, better, and cheaper (often with a 10X+ ROI in under 12 months).
Since 2006, NPE has helped over 45,000+ fitness professionals and business owners in 96+ countries grow to the next level. NPE has been listed 8x on the Inc 500/5000 list of fastest growing companies, and has a global team with offices in Los Angeles, London, and Sydney.
To learn more about NPE, visit www.npefitness.com or call 1.888.866.4998.
For more information or for an interview opportunity with NPE Founder & CEO Sean Greeley, contact:
Sandra Norris
Executive Assistant
Sandra@npefitness.com