John Berardi's Strategy For Growing A Successful Fitness Business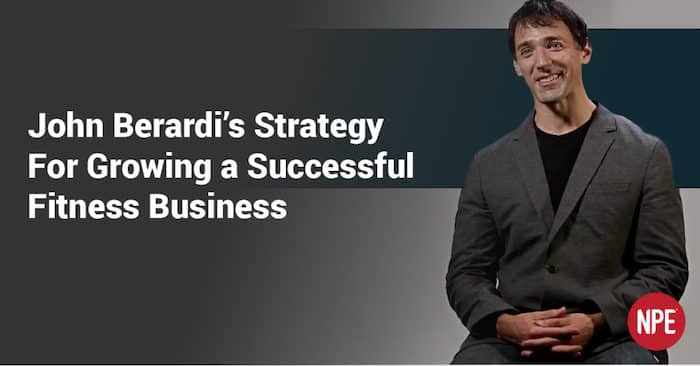 Today we're excited to share a great interview with John Berardi, co-founder of Precision Nutrition. Precision Nutrition is one of THE top fitness education companies in the world today. They set a high standard in our industry and if you've never heard John speak on their company and business success, he's got a LOT to share.
In terms of performance, Precision Nutrition makes over $10 million in revenue, was named one of the Most Innovative Companies In Fitness, and has been featured in The New York Times, Men's Health, Women's Health, and more.
But one of its cofounders, John Berardi, wasn't always on the path to success.
As a teenager, John got arrested several times and skipped school to get drunk and smoke weed.
When he and his friends were driving drunk and high one night, they wrecked the car and John saw his life flash before his eyes. He saw his funeral, he saw himself being lowered into the ground, and he saw his parents' faces.
"It changed me. I couldn't go back. That night I walked away from the car alive, thankfully. I walked home and that was the end of that life. I did die in a way that night."
John started working out at the gym and one day the owner gave him some tips and invited him to work out the next morning. Over the next two years, the gym owner pushed John to read books, get his certification as a personal trainer, and go to community college.
(John Berardi starting his fitness career as a personal trainer)
"He was my first, greatest, and most influential mentor. It was like he had a success plan in place for me. That changed my life and made me see the value of giving and receiving mentorship."
John and another college student named Phil Caravaggio started a business called Science Language when they were just college students. John had a background in exercise nutritional biochemistry, and Phil had a degree in systems engineering.
Science Language started as a passion project. They built a website and started publishing health and fitness information.
"We knew nothing about business and we knew nothing about monetizing. We weren't doing it for money – just out of the love for sharing."
They put a newsletter signup on the side of a webpage, and within two years, they had 30,000 subscribers. But they still were just sharing free information.
Someone pulled John and Phil aside and told them that if they started charging for products and services, they could have a business and never get a "real job."
After that discussion, John and Phil decided to rebrand their business, create a new website, and Precision Nutrition was born.
"When you look at the growth over the years, it looks like a beautiful ski slope – we've grown and done well, but the graph doesn't show the trials and challenges we had along the way."
Precision Nutrition's first challenge happened within the first week of being in business. They had been making a little bit of money from personal coaching, but decided it was time to finally create a digital and print informational product.
John and Phil sent out their first product offer to their list of 30k subscribers and the response was huge. Within the first week, they made $140k in sales and weren't slowing down. They increased their monthly sales from $14k to $60k.
But there was a major problem. The merchant services company decided to withhold all the funds for six months because of this radical increase in sales overnight. Precision Nutrition made about $400k in sales over the first six months but they didn't see a dime of that until after the six-month period ended.
Although Precision Nutrition had great success and tremendous growth, they had to fulfill thousands of orders and had no income. John had to sell his apartment and borrow money from friends and family just to get through the six-month phase, which he says was the most stressful part of his life.
"At the time it was really difficult but now I see it as a blessing in disguise because we learned one of the most important lessons in a business: protect yourself against things like this and set up your business you can give yourself the opportunity to continue. I learned that in week one."
Over the years, Precision Nutrition has evolved into a company that provides nutrition coaching to people who want to be coached themselves and certifications to fitness professionals, nutritionists, and other health professionals who want to learn the way Precision Nutrition coaches.
(John Berardi speaking at the Perform Better Summit in Long Beach, California)
Although Precision Nutrition is a leader in the fitness industry, John knows what his business model is and sticks to it.
"Someone asked me recently if I would be willing to come talk to a business owner and help them but I said no – it's not what I do. I don't have that experience. I don't do business coaching because there are other people that do, and they do it as well as I do the nutrition. That's why I refer fitness professionals to NPE – they create a personalized system for businesses to learn how to grow, step by step, just like we do with nutrition."
The one piece of advice that John can offer when it comes to growing a business is that he started out in the exact same place as many people who are still struggling to find success. Precision Nutrition grew out of a basement with a belief that he and Phil could do awesome work.
Now they have educated more than 200,000 people in almost 100 countries, increased from zero dollars to eight figures in revenue, and continue growing every year, which John attributes to his belief in how fitness can change lives and the mentorship he's received throughout his journey.
"I think most people in fitness get into this because of a passion or a belief. It changed their lives too and I feel like if you stay authentic to that, you can't go wrong. Once you have that passion and belief, it can take you a good distance, but not all the way. At that point, you need coaching, you need mentorship, and you need systems. That's what we do on the nutrition front and that's what NPE does on the business front. At a certain point, your thoughts, ideas, passion, and commitment aren't going to be enough. You're going to need to learn from other people who have built the wheel before you. Take that opportunity as soon as you can. That coaching can be the advice that takes you to the next level."
John Berardi knows that Precision Nutrition is not a business-coaching model. But they've evolved their business from offering free information to a nutrition coaching and certification business model.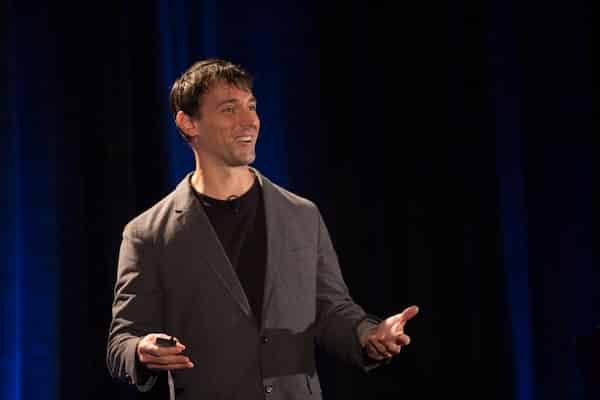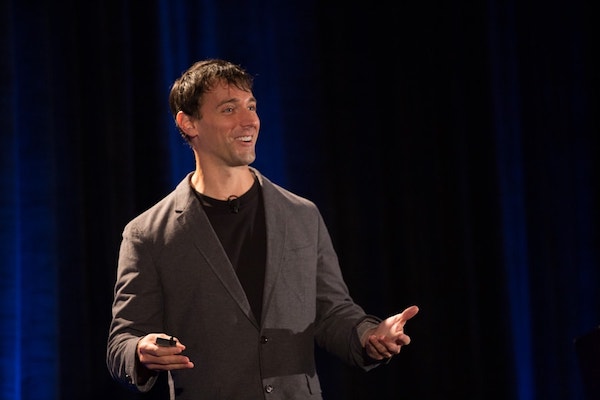 (John Berardi speaking at NPE's 2015 Mega Training in Orlando, FL)
YOU can start evolving your business too.
If you're stuck in your business right now or want to grow your already successful business, adding a nutrition model to your line of business is one of the easiest ways to increase your income and provide another benefit for your clients.
But is it separate, should you charge for it, and how do you handle it in your business?
We give you step-by-step blueprints on how a nutritional services model works and what you need to know in order to succeed in our new 20+ page workbook on 9 Fitness Business Model Blueprints For Success.
Plus you'll learn how to choose the best business model for YOUR passion and goals.
Get the plans you need to structure and run your business so you can grow faster and increase your income in 2016 (and beyond).
The Precision Nutrition System has helped more than 200,000 clients and is the most industry-recognized, career-changing, nutrition system anywhere.
For more information about Precision Nutrition and how it can help you become a better coach and grow your fitness business, click here.