How Much Should I Charge for My Fitness and Personal Training Programs?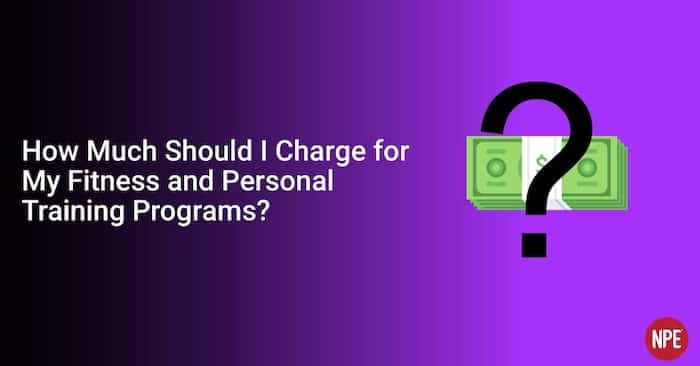 There is ONE MISTAKE we see far too many fitness business owners making that's incredibly painful to watch.
And in many cases, their business is going under (they're currently broke) because…
They are vastly UNDERCHARGING for their services.
Undercharging can take many forms… charging too little, poor packaging, and incorrectly structured margins are just a few of them.
But ALL these mistakes lead to slim to zero PROFIT in your business.
If you're working your butt off… and aren't finishing with more money at the end of the month than when you started… then THIS is an area needing your attention.
So, how do you know if you're currently undercharging?
And more importantly, how can you "recalibrate" and make changes once you've identified them to ensure your continued success?
Well, let's dive into that…
Price = the MOST Important Component of Your Business Success
Pricing is the first step in getting PROFITABLE and having FREEDOM.
If you don't get it right, it's impossible to have much of either.
Don't keep scraping by every month or discounting your services.
If you value yourself, your business, and serving your clients, you MUST charge what you're worth.
And once you get your pricing and packaging right, you're well on your way to closing bigger sales, delivering what your clients need, and growing a profitable fitness business… FAST!
Two MAJOR Packaging and Pricing Mistakes
1. Your client doesn't commit to the length of time required to hit their goals.
It's very likely that 5 or 10 session packs won't get your clients to their goal.
As a fitness professional, it's YOUR responsibility to recommend a realistic program to your client to best serve them.
And your clients will be much more committed to achieving their goal if they invest in a long-term package.
We call that "having skin in the game."
You have to constantly resell your services.
Many trainers get psyched when they sell a 5 or 10 session pack. But when the sessions are used up, they have to sit down with the client and sell them again on their services.
That's NOT an effective use of your time and can quickly turn into a major problem.
The more clients you get, the more time you'll spend chasing them, tracking them, and reselling them. And it's not easy for a client to maintain that initial enthusiasm that comes after first signing up.
After a couple months, fitness is less glamorous…and more about consistently doing the work.
That's not as "sexy" to sell.
Restructure Your Programs to STOP Selling a Set Number of Sessions
For best results, both you and your clients are best served by creating packages that are tied to solving the prospect's problem and achieving their goals in a specific timeframe.
This is critical because it also helps give your business predictable cash flow.
And you deliver what your clients need to achieve their goals… which is the whole point of your service!
Regardless of the type of programming you offer, the best packaging we have ever tested (it's been the "control" since April 2010) is 3, 6, and 12-month commitments for all of your training services (and when you're really advanced, our top clients are selling 6, 12, and 18-month packages).
How Did You Get Here?

Before we talk about how to fix your pricing, let's figure out how and why you created your current pricing.
Many people base their current pricing model on:
What they've seen their competition charging
What they've always charged (many still have clients on billing plans from 3, 5, and even 10 years ago!)
Or they've got no idea how they came up with their current rates.

None of those are good strategies to base your business (and personal income) around, ESPECIALLY when you're scraping by each month.
STOP Discounting Your Prices

Many fitness professionals and business owners resort to discounting their rates in a race to the bottom of the market.
"Oh, the other guys are now charging 120/month for unlimited classes? Let's charge 105/month!"
If you are doing this, you are committing business (and financial) suicide! There is NO profit at the bottom.
Correct pricing is the first step in getting profitable and having freedom!
Know Your Margins (Revenue) – (Coach Pay) / (Revenue)
Margin equals profitability. It's the difference between what a client pays you for training and what you pay a coach to fulfill that service.
It's expressed as a percentage and is found by this equation:
Revenue – Coach Pay/Revenue
What's a Good Margin?

Example: If your private training sessions are priced at 75 per hour, and you set the coaching pay at 25 per hour, the margin would be 67%.
That's a good margin. There are margin guidelines for each type of training, which we discuss more in our coaching programs, but for now just know that for private training, your margins need to be over 60%. It's nearly impossible to make the economics of a fitness business work with less margin than that.
Don't Have Coaches Yet?
NOTE: You still need to calculate margins even if you don't have coaches working for you yet!
Unless you plan to be a one-man or a one-woman show forever, you must hire coaches to continue growing at some point.
Plan and set your pricing from the beginning so that when you do hire, you don't have to change the entire business model. Use your best guess of what you're going to pay them.
How To Fix Bad Margins

If your margins are below where they should be, you can either decrease coaching pay or increase your session rate.
Those are the two variables you can play with.
Business success starts with margins, so fix yours NOW if you're struggling and avoid backsliding in the months ahead!
Nail Down Your Business Model
Your business model plays a HUGE role in your pricing. You must match your price point and service offerings to the clients you wish to serve.
Get this right and you'll be set up for success. Get this wrong, and it's difficult to make the economics of your business ever work right.
The Right Value Mindset

If you think your clients would never pay the rate that will give you healthy margins, you need to change your mindset on value.
Maybe you assume that you know what the market will pay based on your own views and experiences. But there's one MAJOR thing you have to overcome if you want to succeed…
You Are NOT Your Client!
It doesn't matter what YOU would pay. You're a fitness professional so you know how to achieve your health and fitness goals. Therefore, the value you associate with paying money for that type of service isn't there.
A prospect is coming to you looking for a solution to their problem or a path to achieve their goals.
YES – You Really Are Worth That Much!

Why will some people pay a few bucks more for a cup of coffee from Starbucks instead of a cheap cup you can buy from a gas station?
While there is a difference in the quality of coffee in each cup, the true difference is in the VALUE.
Just because you would or wouldn't pay for Starbucks doesn't mean that other people share that same value system. The same thing is true when it comes to your services!
What Do People REALLY Pay For?
They aren't paying for you or your time…
What do you think they're really paying for?
Your qualifications?
Your location?
Your equipment?
Your brand?
Your brilliant marketing?
Nope! They are paying for VALUE.
The Value Equation

How can you quantify and define value in a service business?
We use this equation to break down how value is perceived by the prospects and clients (who are the judge and jury of your value proposition!):
VALUE = CE + R + R
Client Experience plus Relationship plus Results you deliver.
The Value Proposition

When you're delivering MORE value than people expect for their investment to work with you, well then you have a great value proposition… and THAT is everything in sales!
Focus on delivering value and price becomes irrelevant. Serve your clients so they LOVE doing business with you and couldn't possibly imagine going anywhere else!
How to Fix Your Rates (and Your Margins!)

If you haven't been charging what you're worth and your pricing for your services is incredibly low, you have to raise your rates in order to grow a sustainable fitness business.
Remember, you're selling on value, not price. If you don't feel like you're providing that value yet, then give more first.
Over the years, we've helped THOUSANDS of clients implement the Raising the Rates campaign to fix their rates and their margins.
Summary

The average personal trainer with a master's degree and advanced qualifications earns about 20.00-28.00/hour, but there are A LOT of fitness professionals and business owners who charge as much as 250.00/session or up to as much as 350.00 for small group sessions.
Don't EVER compete on price or race to the bottom.
Understand that margin equals profitability, and profits will give you the freedom (and funding!) to take your fitness business to the next level.
When you focus on delivering value, price becomes irrelevant, your clients will love doing business with you, and you'll start crushing the competition.
And once you get your pricing and packaging right, you'll start closing big sales, delivering what your clients need, and growing a profitable fitness business… FAST!