Introducing Spartan SGX: Premier Small Group Training Program Advancing the Sport Of Obstacle Racing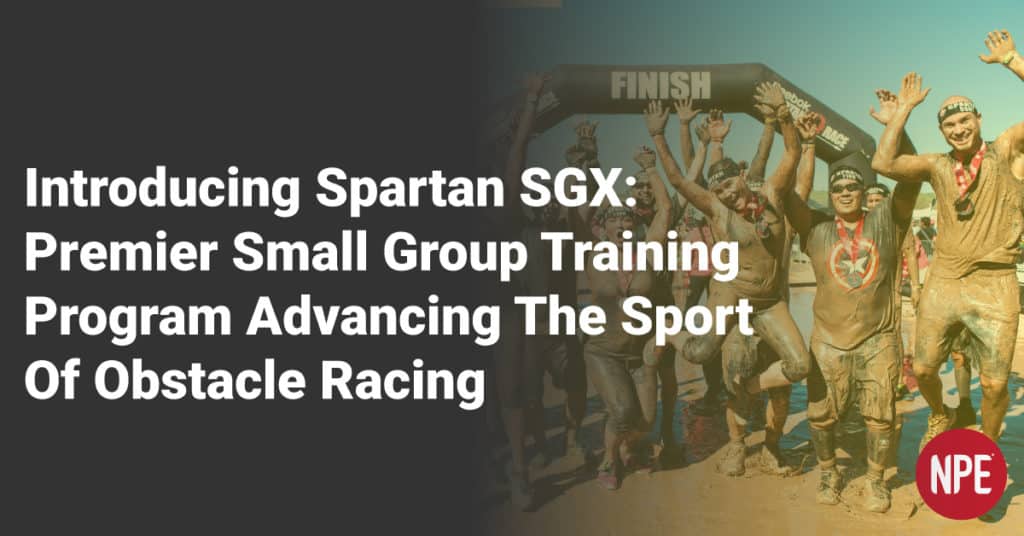 A global movement quickly surpassing the popularity of marathons, half-marathons and triathlons, obstacle racing is the world's fastest growing participant sport.
Did you know that enthusiasm for obstacle race training is growing just as fast? Men's Health calls it a top fitness trend, and we agree.
After getting countless questions about how to train for a Spartan Race, Founder and CEO Joe DeSena declared that Spartan must build a training system. It would systematically evaluate fitness professionals, their knowledge of fitness, and their ability to help people make often challenging behavioral changes, to ensure these professionals were true life-changers.
And so, Spartan SGX was born.
DeSena hosted the first workshop to certify coaches to teach Spartan training classes at his Vermont farm in Spring 2012. It was a 2-½-day sufferfest, a physical and mental ultra-endurance event that commenced with a 300 question written exam, which 50 percent of the participants did not even finish. After a total of six hours of testing, eight hours of practical exams, a month's worth of exercise and six hours of interviews, no one ended up earning the training certification.
Fast forward to 2015. The program has come a long way in a short time, and it remains absolutely true to DeSena's guiding principle that "I only want the best of the best trainers and coaches representing the Spartan brand."
Spartan SGX is holding dozens of workshops, in the United States, Australia, Canada, France, Great Britain, Italy, Mexico, Spain and Switzerland. The program has coaches from all of these countries, and trainers from 20 other nations have traveled to attend a workshop. In total, nearly 1,000 people have attended a certification workshop, and hundreds have now earned the title of certified Spartan SGX Coach. They are the members of the first Spartan legion, an army of top coaches who have the knowledge and skills to rip 75 million people off the couch and help them get Spartan Fit.
Spartan SGX is the world's first certification specific to obstacle race fitness.
Master workshop instructors teach trainers how to coach participants for Spartan Races in a way that is embedded with Spartan principles. The programming system, built on functional bodyweight movements, is uniquely constructed on three progressive four-week phases covering:
Function – Focused on fundamental movements, coordination, nutrition and building an aerobic base.
Fitness – The addition of strength and high intensity interval training along with more complex, coaching-intensive exercises.
Performance – Which models the intensity and specificity of training to a Spartan Race so athletes are optimally prepared.
Workshop participants also learn about the foundational Seven Pillars of Spartan training:
Endurance
Strength
Mind
Athleticism
Recorvey
Nutrition
Code of Conduct
And they learn how to apply these principles to help anyone lead a high-performing, Spartan way of life.
The educational experience does not end at the conclusion of the two-day workshop either. Certified Spartan SGX coaches have the privilege of branding a fitness offering using the "Spartan SGX" name, and enjoy a whole slew of ways to promote it through Spartan. Chief among them, the Spartan Race Website prominently lists Spartan SGX-certified coaches. Following the event, the Spartan coaching team also provides coaches with programming tools and business resources, on which coaches can build successful boxes, classes, gyms and studios.
++++++
Challenges Spartan SGX Solve for Gyms
A Spartan SGX class can solve many challenges a gym may be facing. An accessible, inclusive, social and experiential small-group training class, Spartan SGX is a fresh bodyweight-focused program that naturally complements other popular small-group training classes, such as CrossFit and yoga. It can also stand alone, as the core offering underpinning an entire facility, serving Spartan Racers and individuals who just want to get "Spartan Fit." Because Spartan Race is the leading obstacle race series globally, and Spartan SGX is the leading training brand, a Spartan SGX facility will be top on the list of consumers looking for a familiar and trustworthy training class.
+++++
If you aspire to be a true life-changer, join the exclusive community of Spartan SGX coaches, and let's do this.