Bianca Sainty – "Overcame Depression, Started Her Own Business, And Won The Freedom To Spend More Time With Her Family"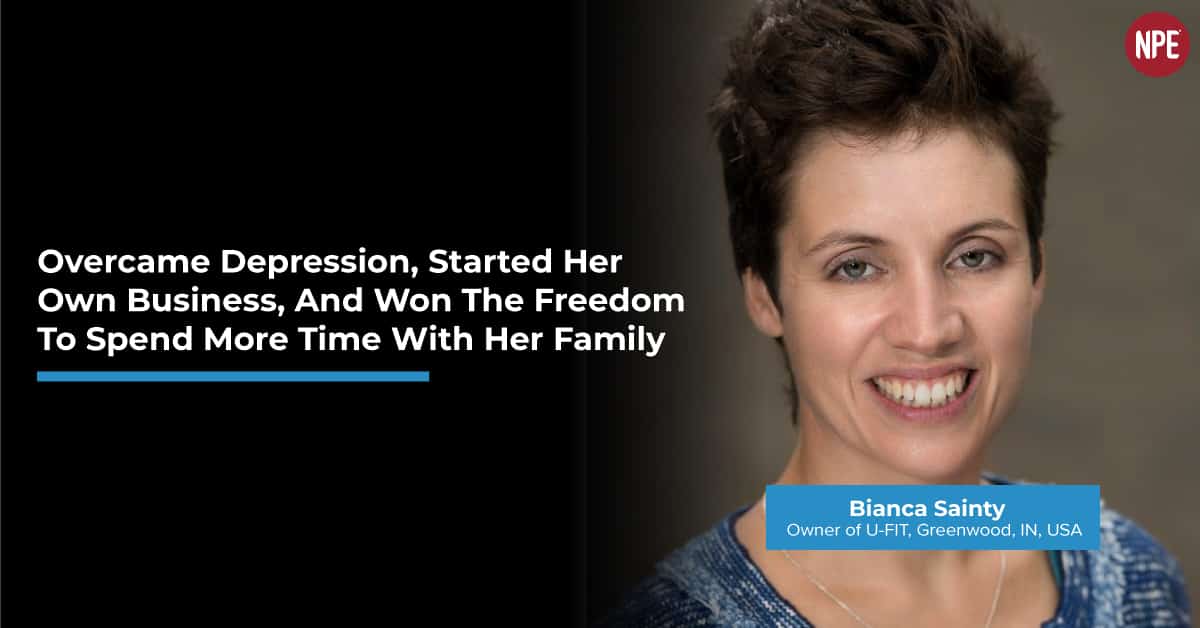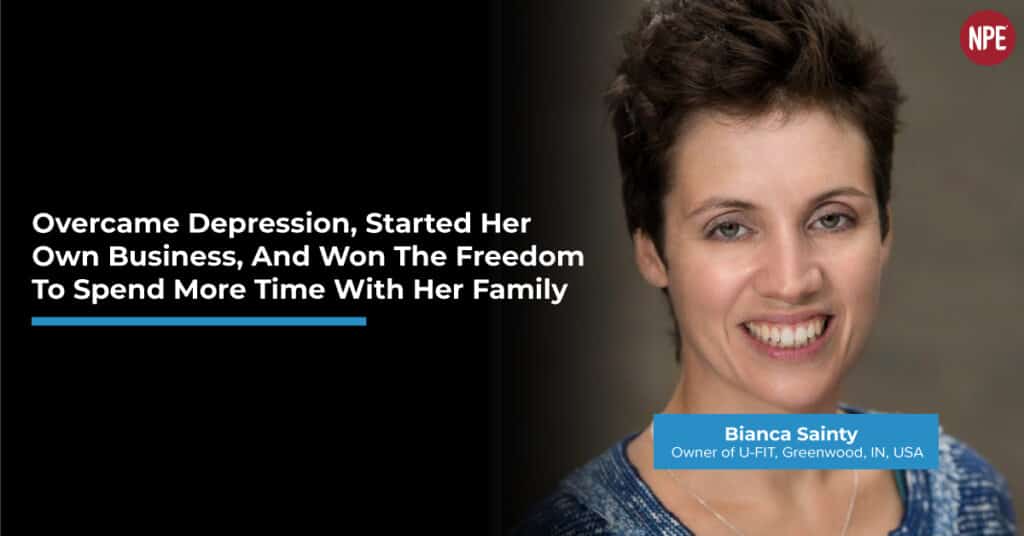 Bianca Sainty was miserable.
After spending 10 years as a television producer, she began to feel like there was something missing in her life.
"I've always loved the sport and it was something I was good at. It provided an identity for me. When I moved to London, I lost contact with that."
After having her second child, Bianca started suffering from postnatal depression, and she knew she needed to make a change. In 2011, she began training for and ran her first marathon.
"I sort of ran myself back to feeling good again. That was an amazing opportunity and experience and it made me realize that sport had to be part of my life again. That led me down the path of getting my PT qualification and setting up the business."
Bianca left a career that gave her amazing opportunities. She was able to meet lots of people and travel across the globe. But after having her own children, she realized that it didn't provide her with the one thing she wanted most: the freedom to spend time with her family.
She began working towards earning her personal training certification… but it wasn't easy.
"It was hard juggling all the studying with looking after two small children and having the self-belief to put myself out there. It took quite a lot of guts."
Her dream was to create a schedule where she could work during school hours and then spend the rest of the day with her kids.
Bianca also wanted more time for herself – something that had been missing in her life – so she could focus on her own mental and physical health.
"My 'why' is not really about material things. Obviously, we need to be making money. But it's really about freedom for me, and the kids, and so I can do my health and exercise stuff."
A glimpse of Bianca coaching her clients around London.
In June of 2013, Bianca opened her business. The local schools had auctions and she put some training sessions in as prizes and they quickly sold.
"It was amazing because people were bidding and spending quite a lot of money. It felt like 'They believe in me, I need to believe in me!'"
For the next two years, Bianca gradually built up her business. Eventually, she hit a plateau with about 20 clients and was only earning around £2K per month.
"I was kind of on a hamster wheel. It was just session, planning, session, planning. Weeks were blending together. I thought it was good because I was so busy, but I was also exhausted."
Bianca was working crazy hours and missing time with her family. She wasn't sure if she could keep going with the way things were, so she decided to invest in herself.
She attended FitPro in London, heard NPE CEO Sean Greeley speak, realized that she needed business knowledge, and joined the ACCELERATOR™ program. It wasn't long before she was crushing it in her business.
Bianca loves that she can help her clients gain confidence and achieve their fitness goals.
"That was all about the mindset. Still today I swear by 'I'm strong enough, I'm smart enough. If I can't do it, then no one can.' I never really realized that before and it's just so important. If I ever get stuck, I just think about that and everything gets better."
In September 2015, Bianca hired her first admin and in November she decided to #RiseUp and joined NPE ACADEMY™ Program.
"It was really scary for me but I'm glad I did because it's just brilliant. I love the unwavering faith that NPE has in its clients. I'm aware that I'm quite a small fish compared to some of the other businesses on board with NPE, but I've never been made to feel like I'm inferior to anybody else."
In January 2016, Bianca was able to bring on her first trainer. In March, Bianca and her family were finally able to go on holiday while her team ran the business.
Bianca has increased her monthly revenue to over £4K per month, doubled her client base, and by July of 2016, she had already earned more than she did during the entire previous year – all while only working 10 hours a week!
"Now we've really come into our own. It's crazy to think that it's been a year because the learning process has been so rich and dynamic. One of the most valuable things was bringing onboard the admin and the trainer. It feels counterintuitive when you feel like you can't afford it. But you can't go anywhere without it and once you realize that, it's massive."
When she ran her first marathon in 2011, Bianca had a motto that was put up on a banner at mile 15. Prior to the race, she won a mini-competition and the race organizers asked her what she'd like to see at that point in the race. Bianca chose her motto: "Head up. Be proud. Believe."
Banner inspired by Bianca Sainty at the 2016 London Marathon.
"The irony is that while I believed that when I was running my marathon, in terms of the business, I never really had that self-belief. And now I do, and that's really thanks to NPE."
Now Bianca's business has given her the freedom to do more of what she loves – spend time with her family. She drops her kids off at school, works for several hours, and then picks them up and spends the rest of her time with them. Her next goal is to allow her husband to step away from his job.
"He's been a huge supporter and absolutely essential to the success of our business. He's had a more conventional job his entire career, and I'd like to bust him out of that so he can have more quality time with the kids too. That's my dream, and we're getting there!"
The business has also allowed her the to pursue her own fitness goals and she finally feels fulfilled every day.
"I've just done a triathlon over here – the business allowed me to go and train for that. I would never have had the time to do that. I've realized that I really do feel passionately about exercise and how it can help people, I just never really had an outlet for it before. Now, my career is just really fulfilling."