FITREC and NPE Announce Partnership To Help Fitness Professionals Grow Their Income and Build Successful Careers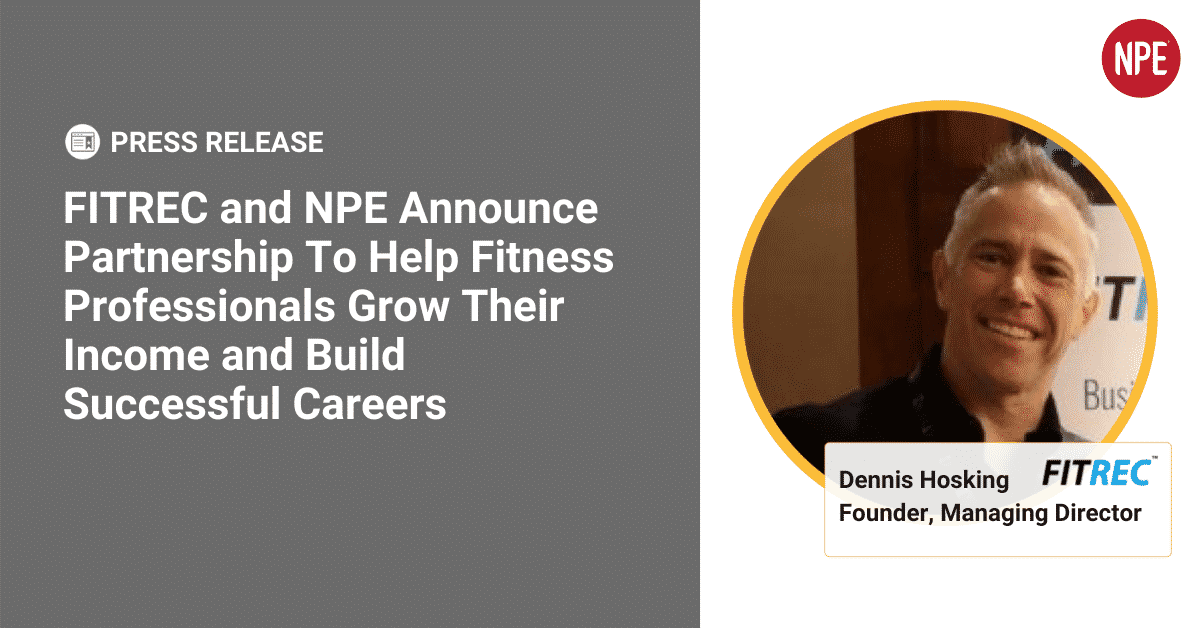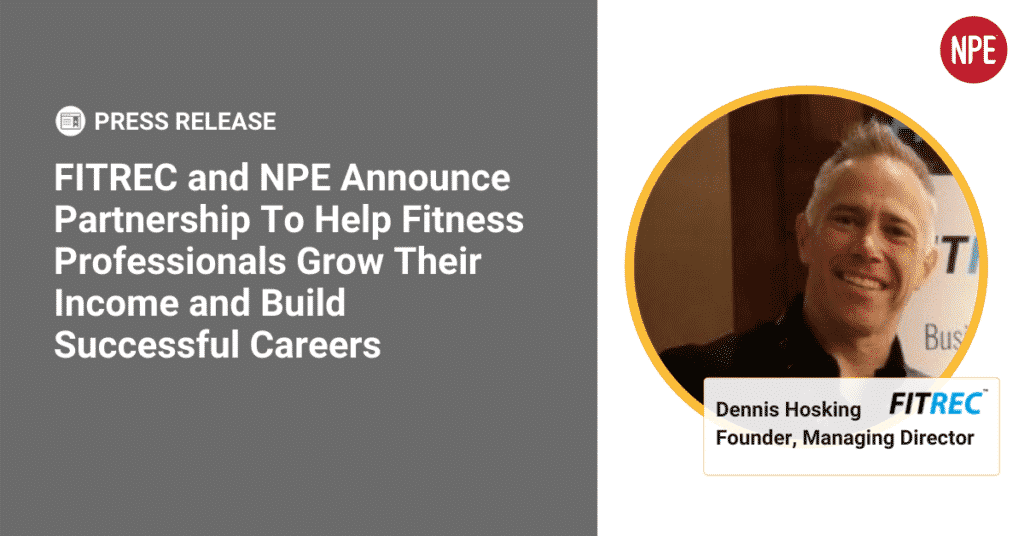 Fitness registration service FITREC and fitness business education provider NPE have announced a partnership to assist fitness professionals increase their business skills and grow their income. 
Many fitness professionals lack the business skills and training in how to turn their passion into a profitable career or business. They don't know how to consistently find new clients. And they don't know how to price and package their services. 
As a result, fitness professionals often struggle to earn the money they need to support their goals.
FITREC and NPE are partnering to bring business education and support to fitness professionals. FITREC will be sharing NPE's exclusive business education courses with its registered professionals. 
"The fitness industry's helping people recover their health, energy, and strength after a tough year," said NPE Founder & CEO Sean Greeley. "That's why we're on a mission to help 10,000 fitness professionals and studio/gym owners grow again. 
"A big part of our mission is to help fitness professionals get the skills they need to grow their client base and income. That way, they can continue doing the work they love and helping more people transform their lives. We're excited to be partnering with FITREC to help Australian fitness professionals and studio/gym owners."
When professionals join FITREC, they'll receive two free on demand courses from NPE: "Make Money as a Personal Trainer: How to Find Clients and Earn an Additional $1-3k+/Month" and "Start Your Own Fitness Business: Turn Your Passion Into a Business Earning $10k+/Month". Current FITREC members will receive additional, ongoing business training from NPE.
"FITREC is very grateful for the resources provided by NPE," adds Dennis Hosking, FITREC's Founder & Managing Director. "We're pleased to connect with a group whose values are so closely aligned with ours. We look forward to a partnership that is of enduring benefit to both our registered members and NPE."
For more information about joining FITREC, please visit their website at www.fitrec.org
About FITREC
FITREC provides the fitness industry's most transparent and accountable platform for the registration and recognition of fitness professionals. A platform that gives employers, allied health professionals and the general public with the greatest possible insight into every registered professional. 
For professionals, FITREC provides unmatched support, information and community to help them enjoy longer and more successful fitness careers.
About NPE
NPE provides the systems, tools, and coaching for fitness professionals and business owners to grow their business, take home more money, and have the freedom to enjoy it.
The fitness industry is littered with quick-fix sales and marketing programs that can permanently damage your reputation, brand, and business.
At NPE, we believe in building lifetime relationships with clients (not short-term transactional ones) with the NPE 3X Method™.
The NPE 3X Method™ is made up of three frameworks–each with its own step-by-step process to solve revenue, profit, and leadership capacity challenges.
Since 2006, we've helped over 45,000+ fitness entrepreneurs in 96+ countries grow to the next level. We've been listed 8x on the Inc 500/5000 list of fastest growing companies, and we're a global team with offices in Los Angeles, London, and Sydney.