Word-of-Mouth Marketing for Your Gym Business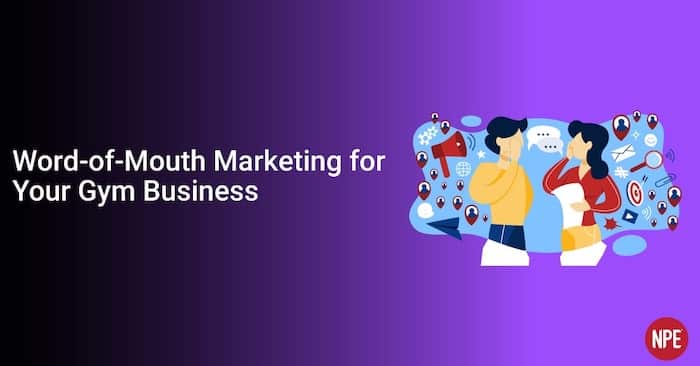 According to a study by Nielsen, 92% of consumers trust recommendations from friends and family over all other forms of marketing.
When you combine this with a 2010 Yankelovich study that found that 76% of Americans don't believe advertisements, then you have a pretty good case for word-of-mouth marketing.
Encouraging word-of-mouth marketing within your fitness business is also a lot less expensive than most traditional marketing campaigns.
A recent study by the American Marketing Association and the Word of Mouth Marketing Association revealed that 64% of marketing executives believe that word of mouth is the most effective form of marketing.
But here's the thing…
Only 6% say they've mastered it.
So how do you improve your word-of-mouth marketing?
Here are 13 strategies you can start using immediately that encourages people to talk about your fitness business:
Always over exceed expectations – I know this would seem to be a no-brainer, but you should continually think of ways to exceed your client's expectations. Always go the extra mile for your customers. This will differentiate you from your competition and instantly ignite conversations about what great service you provide.
Setup a referral system – It's nice when you receive a referral out of the blue, but don't wait for referrals to come to you. Let your prospects and clients know that you have a referral system in place and explain how it works. Incentivize people to use the system by offering them a discount or bonus for each person they refer to you.
Encourage your email subscribers to forward your message – If you send useful, relevant content out to your subscribers on a regular basis, add a small note to each email encouraging them to forward the email to friends and family.
Stage contests and draws for prizes – Both contests and draws encourage your prospects and clients to engage with your business on some level.
Get active in your local community – Sponsor and participate in community events. Pick a fitness and nutrition topic and give a talk about it at your local Chamber of Commerce. Make yourself visible in your community at every opportunity.
Spread the word among your family and friends – Do your friends and relatives know what you do? If they don't, let them know. When you word your message right it won't come off as a sales pitch. Let them know when you introduce a new product and service. They might not need it, but they might have a friend or relative who does.
Make gathering testimonials from customers an ongoing business strategy – Don't just wait until you need testimonials for a marketing campaign. Have a system in place to collect them so you always have a steady stream of new faces. Here's another reason why testimonials are so powerful. When a client gives you a testimonial, they are putting into words how they feel about you. Because they've verbalized it, studies show they become more committed to the position they've taken.
Provide a forum for your clients to share information – Facebook is perfect for this. Encourage your clients to post reviews, their success stories, before and after pictures and so on.
Engage your customers both online and offline – Get to know them, ask them questions, be interested in people. Genuinely make each customer seem special and they will feel the same way about you.
Provide shareable information on your website – Provide an ongoing stream of relevant and usable information on your website and encourage people to share it with family and friends.
Stage events where you encourage clients to bring family and friends – Throughout the year, hold fun events where your members can bring family and friends. Provide both parties with a discount or bonus to encourage participation.
React to unhappy customers quickly – Part of having a good word-of-mouth strategy is nixing bad word-of-mouth marketing in the bud. Unhappy customers give you a way to learn how you perhaps should be doing things differently plus they provide you with an opportunity to turn these customers into raving fans of your business.
Always ask customers how they heard about you – The answer to these questions allows you to determine what's working and what's not when it comes to marketing and overall market exposure.
The great thing about fitness businesses (especially one's that offer nutrition) is that they are a natural breeding ground for word-of-mouth marketing.
Why do I say that?
In our line of work whether it's adding muscle or shedding pounds, our clients generally go through a physical transformation, so other people they know are naturally going to comment on their transformation.
When you use as many of the 13 points as you can in your business, you can't help but boost your word-of-mouth marketing and heighten your business exposure in your community.