11 Keys to Choosing the Right Space for Your Fitness Studio and Negotiating a Lease Agreement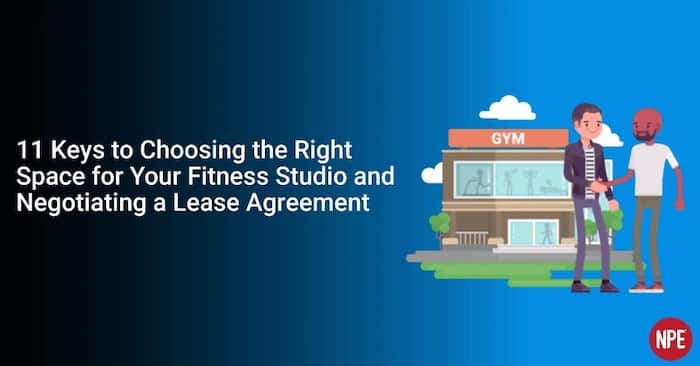 Do you want your own fitness studio space (or lease better space)? Then welcome to the world of commercial leasing. If there's one thing too many fitness business owners try to rush through and get frustrated with (and omit crucial details), it's getting the right space for their business and for the right terms. Read on to learn more. 
+++++
Many fitness professionals are excited to open their own studios and gyms– but simply don't do enough planning to set their new facility up for success. 
Since 2006, we've coached thousands of fitness studio owners through the process of opening up their first facility, expanding their current one, and adding additional locations to their brand. 
We've also coaches many through the process of purchasing commercial property and making great investments, to build assets and create wealth.
There are many keys to success including your strategy, budget, location, brand, layout, equipment, design, lease (or building purchase). And it's critical that you invest time in getting each of these right from the start.
There's a list of critical questions you must answer: 
What is your facility strategy? 
2. What is your budget?
3. What research will you need to do to find the best locations? 
4. Should you lease a retail unit or an industrial unit?
5. What is the location (as in "location, location, location") that your clients can easily access?
6. How will your brand be reflected in the space?
7. What layout is required for maximum client value and ease of operations?
8. What equipment will you need?
9. What facility design will bring more energy to the space?
10. What about safety measures?
11. How should you best negotiate a lease?
I know it's a lot of questions, but this is a pressing issue and you have to go very hard–harder than you think–to make sure you get the right space.
1. Start with your strategy
What is your facility strategy?  
Many fitness professionals and business owners start out by asking a few of the basic questions, such as size, equipment, and location, but don't really address the strategy. 
But before you just call up a commercial real estate agent and see what's available, you need to get clear on your goals.
What space will you need? How much administrative space? How much space for clients? 
How will this space fit your modality (how you get results with clients) and with your business model (how you make money)? If you need space for group classes, do you have it? 
How will your ideal clients likely react to it?
All this needs to be thought through ahead of time. 
A LOT of fitness professionals skip this step when they're opening their own fitness business, but it's one of the most important.
Take some time to envision the facility that you want – but don't just use your perspective. Walk in your prospects' shoes as they enter the facility for the first time.
What does the facility look like? How does it make them feel? What sounds, smells, etc. are they experiencing? What attracts them to your facility?
Remember, you are not your client. What might appeal to you might not appeal to them.
Keep this in mind as you're looking at different spaces. 
2. Look at your budget
Too many fitness professionals and business owners don't properly budget facility studio expenses. 
You'll need to start with the base-rate lease terms, that is, "the rent." Then there's utilities and insurance. Problem is, most people don't budget much beyond that. 
But there's the issue of renovations and soundproofing (may be required in retail space so you don't disturb neighboring tenants)  — who will pay for it and under what terms? 
Renovations have a tendency to go way over-budget and cause delayed openings. In one client case, a studio owner spent almost her entire small business loan on renovations because they went way over budget and delayed her opening several months. She "opened broke" instead of having a couple of months cash to keep going. 
Another of our clients spent a good portion of the working capital they'd saved up for years on renovations, and found themselves "broke" only a few months after they'd purchased their studio. 
Plus there's the issue of costs you may not expect. Who is responsible for HVAC repairs? Whose insurance pays if vandals break the front window? 
Once you have your list of expenses, make sure that your facilities budget matches your business plan–that is, you know the money math in your business so your facility cost doesn't sink you. 
3. Find locations that fit
What's the single most important consideration when opening a new facility?
Location, location, location. 
You need to put your facility in a place where you can acquire the best clients to keep it busy. Because without clients, there's no point in having a facility at all!
Seems like common sense? The majority of fitness businesses get this dead wrong. They look for the cheapest rent or a space they think will be cool.
But they fail to do their research and look at the data on demographics, households, age ranges, etc… which are crucial to the success of your facility.
When it comes to business, you can't "create" demand for a product or service. You've got to find people who already want what you have to offer… and get in front of them in a way that makes it easy for them to do business with you. 
Do market research: 
Average market rent in retail or industrial area you're investigating 
What kinds of rent?
Check review of landlords
Fixed percentage rent increases per year
Types of lease terms 
Any incentives
Vacancy rates
4. Decide retail units vs. industrial units
There are basically two kinds of fitness studio options: retail units and industrial units. 
Retail units are high visibility; more likely to get foot traffic; and can be more convenient for clients. On the downside, retail units are typically more expensive for less space; fewer parking spaces; potentially have to block sound for other retail tenants, which can cost more money.
Industrial Units are often less expensive for more space; more parking spaces; typically have more flexibility for making the space your own. On the downside, industrial units can be more inconvenient for clients depending on location; less visibility; less likely to get foot traffic. 
5. Choose the perfect location 
In order to find the perfect location for your business, you need to answer one very important question: Are your clients going to be there?
You could find what you think is the most perfect space for a facility, but if your target market isn't there, it's NOT the right location for your business, no matter how inexpensive the rent is or how convenient it is.
Opening your own facility is a big investment, which means it's up to you to do research and use data – not just emotions – to make your decision. 
Nail down the geographic and demographic data for an area where you're considering opening a facility:
How many households are in your business area?
What's the gender balance of that area?
What's the age spread in that area (you need to know this to market effectively!)
What's the average household income?
How many homes are owned (compared to rented)?
Once you gather that data, review it and ask yourself if your target market and potential clients are in this area. If they are, great! But if not, try a different area until you find one that's right for YOUR business. 
6. Defining Your Brand
If you haven't nailed down your branding yet, it's time to do so before you open a facility.
And even if you think you're clear on this… now is the perfect time to review your branding and ensure it's right for your target market.
Your brand has a massive influence over your facility. You'll be painting walls, putting up your logo, and more. Get it right now so you don't have to waste time or money redoing it all in the future. The main items you'll need to make decisions on include:
Your logo – a professional logo is crucial to your branding; it should be instantly recognizable, and resonate the quality or qualities of your brand. 
Colors – Your colors will set a certain tone for your brand and again, be instantly recognizable
Fonts – Fonts have a personality, just as you do and your brands do. Select fonts that reinforce the same look and feel that you are creating with your logo and colors.
Messaging – This is where you tie it together. All of these things should align to communicate very clearly what your company seeks to do. 
Your studio, your website, your external and internal signage, your gear, swag, marketing materials and advertising, and even what you and your staff wear all should be on brand and on message. 
7. Choose layout
Whether you have a big or small space, you should map out specific zones within the facility to utilize the space well.
Ideally, the training zones should naturally extend out from the reception area. And the reception area (and control desk) should have visual control over as much of the fitness space as possible.
Fitness Spaces – This is typically the heart of the facility and includes the following components:
Various types of equipment (depending on your training philosophy and modality)
Stretching/warm-up/cool-down spaces
Changing Rooms/Bathrooms/Toilets – These spaces are typically separated by gender and accommodate the basic functions of changing rooms, lockers, showers, and toilets.
Administrative and Support Spaces – These staff spaces accommodate the operation and administration of the facility and include the following:
Office:
Storage
Reception
Staff room
Keep in mind that you'll need to figure out the electrical and entertainment feed placement, which has an impact on the layout!
PRO TIP: The most IMPORTANT space you'll need to plan out carefully (that most people completely forget about) is WHERE YOU WILL TAKE THE MONEY when someone signs up to work with  you!
If you're not selling low cost gym memberships over the front counter/check in area, then you'll need to have a more intimate and private space where you can sit down, close the door to have some privacy, to perform consultations. This room you'll have to have well designed, free of clutter, good lighting, comfortable seating, good social proof on the walls, and more.
8. Choose equipment
You don't have to start out with a massive facility full of cardio and weight machines. Many of our clients have started in a one-room facility with just a few pieces of equipment and have expanded as their business grows.
In fact, depending on your training protocols… generally we'd recommend not packing your space with machines – be sure to allow enough free space for your clients to move around.
There are tons of choices when it comes to equipment, but ask yourself these questions before you make a decision:
What equipment best serves your target market and the results they're trying to achieve?
Are you going to buy or lease the equipment?
How much can you afford to spend on equipment for your facility opening?
Remember: Don't focus on what other people have in their gyms or how many pieces of equipment they have. Choose what's best for you, your clients, and your business.
NOTE: If you're interested in seeing innovations in strength training equipment, be sure to check out our partner ARX Fit to learn more about how they are transforming the technology that drives training and adaptation.
9. Design
How your facility looks has a huge effect on your clients and community.
For example, if someone walks into a gray, overcrowded space with blank walls, do you think they're going to be pumped for a workout? Of course not! That's called prison. 
Try to incorporate these design tips to bring more energy into your facility (and your clients!):
High Ceilings – These can make a small space feel larger and are scientifically proven to be better for health, improve brain connectivity, and feel more beautiful all around.
Natural Light – Sunlit environments increase productivity and comfort. Plus utilizing natural light can help you save on energy costs.
Color Scheme – This should be consistent with your branding and establish a sense of activity.
Motivational Décor – Your facility should inspire and motivate your clients. Hang posters, quotes, etc. that will resonate with your target market.
10. Measures
Even if your facility has the perfect location, an awesome layout, and great equipment, it's NOT ready for your clients yet.
Your clients' safety should be of the utmost concern and it's your responsibility to create a space where they can work out safely and comfortably.
Here are some important considerations to give your clients a sense of security and help prevent injuries:
Provide visual access to all potentially dangerous, unstaffed space
Invest in proper impact flooring to reduce stress on joints and bones and help decrease the chance of injury from falling or running (plus, impact floors can help absorb sound!)
Ensure good indoor air quality, lighting, and ventilation.
11. Negotiate your lease 
When it comes to negotiating your terms, you need to put all these factors together to get the best deal possible.  Here are the key points to be mindful of:
1. Understand your budget and your strategy. Too many fitness professionals and business owners stretch themselves here. Your space has to fit what you can afford, but your leasing terms needs to fit your business strategy. 
2. Get an agent/lawyer/solicitor. Don't go it alone. You'll need a guide for the details and to the market.  
3. Don't put all your eggs in one basket. Look at several locations at the same time. That way, you'll have leverage and won't feel the necessity to make concessions. 
4. Watch out for paying the asked-for price for rent. Commercial lessees expect to negotiate. Knowing the vacancy rates and what others are paying will let you know if this is a good deal. 
5. Check the square footage and the space. Believe it or not, square footage changes, especially in retail, and you want to make sure it's accurate. 
6. Balance long-term lease v. base rent. In general, commercial lessors will want to offer reduced base rent for 
7. See if there is free rent, discounts, and/or extras/perks. Landlords may be willing to sweeten the deal. Ask and you'll find out. 
8. UNDERSTAND EVERYTHING in lease. No one wants to sit down and read the lease. Even if you have a lawyer, you have to get out the reading glasses and a cup of coffee, turn off the music, and read the fine print, even if you need a magnifying class. If you have questions, ask your lawyer or agent, not the landlord. 
9. Clarify maintenance, HVAC, damage, and more. Know who is responsible for paying for repairs. HVAC, plumbing and the like can be expensive to maintain and fix. Negotiate a "cap" on your expenses if you are expected to pay for maintenance. If there is damage, also know who is responsible and under what conditions. 
10. Determine or negotiate a cure period / grace period and late fees: Late payments technically put you in default of many contracts. But most have a grace period and they may waive late fees. Make sure you know if they do.  
11. Negotiate early termination fees. What happens if you decide to break the lease? All that will be in the contract, so negotiate it. 
12. Confirm if you can sublease. Can you sublet space to someone else? If so, what are the terms?
13. Learn if there's a co-Tenancy clause. Many retail spaces have an anchor store that generates foot traffic. Do the terms of the lease change if the anchor leaves or shuts down? 
14. Determine if you want a non-compete clause. This clause states that the landlord can't rent to a competitor in the same building. Know if that's the case and whether a non-compete is important to you. 
15. Negotiate the renovation/fixturization period. Negotiate enough time for you to do renovations; you don't want to be paying rent while fixing up your studio. 
Summary
Opening your own facility can give you great control over your future. You get to be your own boss and call the shots, make your own schedule, and continue growing your income. But too many fitness professionals take the plunge without getting clear on their strategy and creating a plan to succeed.
Don't let this happen to you… and don't put off pursuing your dream just because you don't know how to do it all just yet. Learning and growing through the process is what the adventure and journey is all about!
With the right plan, we've seen thousands of fitness professionals open their own facility and get profitable in as little as 90 days (or less)… and in some cases, new owners have completely paid off their build out and equipment expenses through strong pre-sales and marketing campaigns!
Follow these steps to open your own facility whether you're new in the fitness industry or you're already a business owner looking for a better space.