NPE Partners with Lean Nutrition Tech to Help Personal Trainers Grow Their Business & Coach Nutrition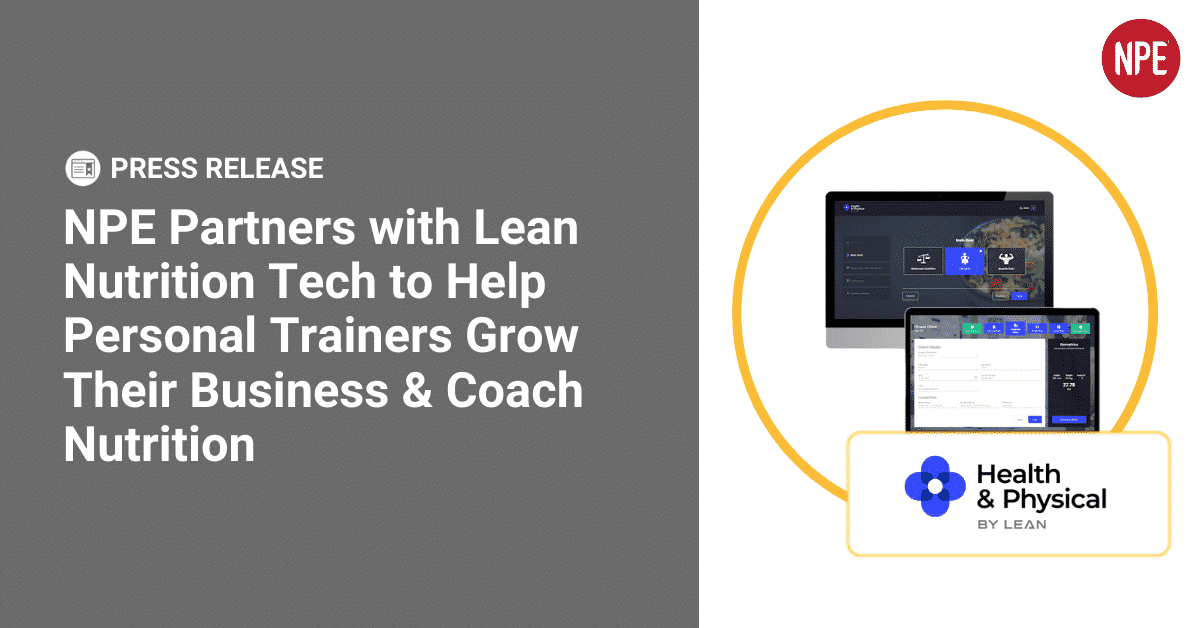 BRISBANE, Australia, 21 January, 2021 – Lean Nutrition Tech and NPE are pleased to announce a new partnership to help personal trainers in Australia offer their clients meal planning and nutrition coaching AND grow their business. 
Lean Nutrition Tech offers personal trainers a platform to provide their clients dietitian-approved nutritional advice, meal planning, and recipes. NPE delivers the #1 suite of business and marketing systems, tools, and coaching to grow fit pros into 6-figure business owners–and studio/gym owners into 7-figure business leaders.  
Together, they offer Certified Fitness Professionals in Australia the ability to both expand their services through Lean Nutrition Tech's platform and expand their business through NPE's programs, systems, and tools.
"We're excited to assist personal trainers in Australia to both grow their businesses and offer meal-planning and nutrition coaching," said NPE CEO Sean Greeley. "Lean Nutrition Tech fills an important gap in the scope of practice of personal trainers. The result of this partnership will be more Australians will enjoy greater health and fitness."
Meal planning remains outside the scope of practice for Certified Personal Trainers in Australia. Through Lean Nutrition Tech, personal trainers can access a registered dietitian's help. Personal Trainers can plug in their clients' information and the software then reports back meal plans, recipes, info sheets, info videos and shopping lists. All automated, all backed by Australian dietitians and all sent directly to your clients to get started on. 
Further, Lean Nutrition Tech offers a course for personal trainers to learn how to coach their clients to follow the meal plans and get results. 
NPE clients will receive a special discount for Lean Nutrition Tech's platform. 
LEAN's CEO Mike O'Sullivan added: "We believe meal planning and coaching is crucial to get the best client results but also a great means to improve a personal trainer's revenue stream. We are here to help trainers provide a comprehensive nutrition service, seamless, high quality and in scope. We are very happy to partner with NPE, who are leaders in helping fitness professionals and gyms succeed and thrive in their businesses. I believe our partnership will help advance and boost the careers of many Australian personal trainers." 
About NPE 
NPE delivers the #1 suite of business and marketing systems, tools, and coaching to grow fit pros into 6-figure business owners. 💪 And studio/gym owners into 7-figure business leaders. 🚀
The fitness industry is littered with quick-fix sales and marketing programs that can permanently damage your reputation, brand, and business. 
Unlike those who offer only "bits and pieces" of knowledge and support, the NPE Suite of Fitness Business Systems and Tools™ delivers comprehensive training and support for every aspect of growing your client base, profits, and team. 
Since 2006, NPE has helped over 45,000+ fitness entrepreneurs in 96+ countries grow to the next level. We've been listed 8x on the Inc 500/5000 list of fastest growing companies, and we're a global team based in the USA, Canada, UK, and Australia.
About Lean Nutrition 
LEAN is an advanced online platform where personal trainers and fitness professionals can connect their clients to custom-built meal planning and supporting material which are developed and backed by qualified dietitians. Users simply need to enter: 
Details and biometrics

Select their clients goals 

Screening questions and risk assessment 

Choose meal plan preferences 

Select nutrition method 
The platform then manages all the technicalities of meal planning using the most up to date scientific evidence and provides you with a list of suitable nutrition methods to choose from, 7 day meal planning, shopping list, recipes, information sheet, FAQs & dietitian video explaining the plan – All sent automatically to the client.