NPE Assembles a World-Class Lineup of Fitness Industry Experts for its New Faculty Program to Support Fitness Business Growth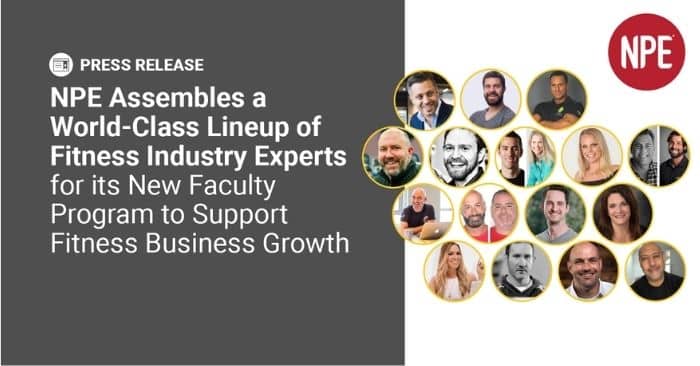 Fitness business education and coaching company NPE is proud to announce the launch of a powerful new resource for fitness professionals and business owners, the NPE Faculty Program. NPE has assembled the fitness industry's leading experts to offer their insights and actionable strategies for those seeking to start, grow, and scale a fitness business and improve their quality of service to their clients. These subject-matter experts will each share their knowledge in their own particular areas. From marketing to finance to operations, fitness professionals and business owners will have the opportunity to learn from the fitness industry's leading experts how to successfully operate a profitable fitness business. "The fitness industry has been hit hard in the past year," said NPE Founder & CEO Sean Greeley. "We're on a big mission to help 10,000+ fitness businesses rebuild and grow again. That requires bringing together the best experts across the world to make that happen. That's why we're excited about the experts we've assembled and for the tremendous value they'll bring to the NPE Community." Meet the NPE Faculty:
Timothy Sarazen, CEO of 97 Display: Expert in fitness websites.
Len Fridman & Sasha Davids, Founders of WellnessLiving:

Experts in business management & growth strategies

.
Chris Ronzio, Founder & CEO of Trainual: Expert in staff training and onboarding, process documentation.
Dan Ritchie, CEO of Functional Aging Institute: Expert in serving the aging population and functional training.
Eric Killian, Founder of The Fitness CPA: Expert in bookkeeping, taxes, payroll, and CFO advisories.
Paul McIlroy, CEO of Amazing 12: Sports scientist, strength & conditioning specialist, and body transformation expert.
Colin Harris, Owner of NXTLVL Training: Expert in social media marketing.
Sherry Bonelli, CEO of early bird digital marketing: Expert in local SEO and Google My Business.
Rebecca Flint, Owner of RebeccaFlint.com: Expert in branding and design.
Dom & Melony Dos Remedios, Founders of PT Academy: Experts in trainer recruiting, development and retention.
Joel Jamieson, Founder of 8 Weeks Out: Expert in conditioning, recovery, and fitness tech.
Stefan Ianev, Head of Research & Development, Clean Health Fitness Institute: Expert in nutrition.
Alex Chisnall, Founder of Podpreneur: Expert in podcasting.
Michael Cardwell, Founder of Digital Brew:

Expert in video production.

Liz Germain, Founder of Vidfluence:

Expert in YouTube organic strategy.

Jason DeBruler & Mike Pullano, President & CXO, ARX: Experts in bio hacking and fitness tech.
And more to come!
You can learn more and meet the experts online at
www.npefitness.com/faculty/
About NPE
NPE provides the systems, tools, and coaching for fitness professionals and business owners to grow their client base, take home more money, and have the freedom to enjoy it. Since 2006, we've helped over 45,000+ fitness entrepreneurs in 96+ countries grow to the next level. We've been listed 8x on the Inc 500/5000 list of fastest growing companies, and we're a global team with offices in Los Angeles, London, and Sydney.