Aaron Cook - "Break Through The Cash Ceiling And Break Free Of The Grind"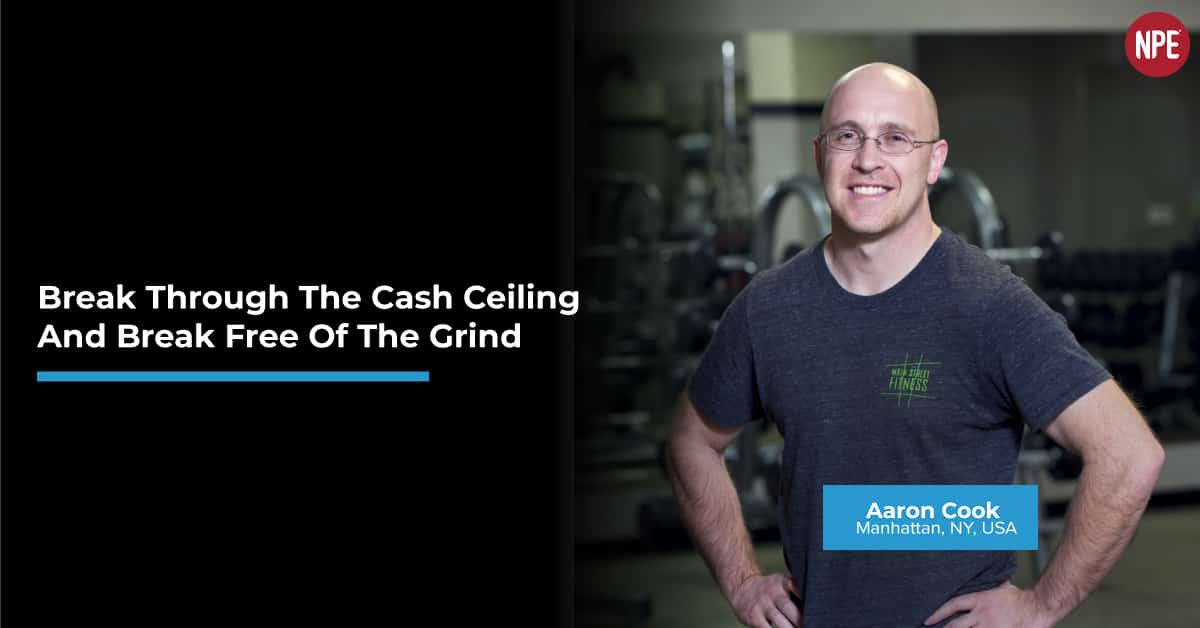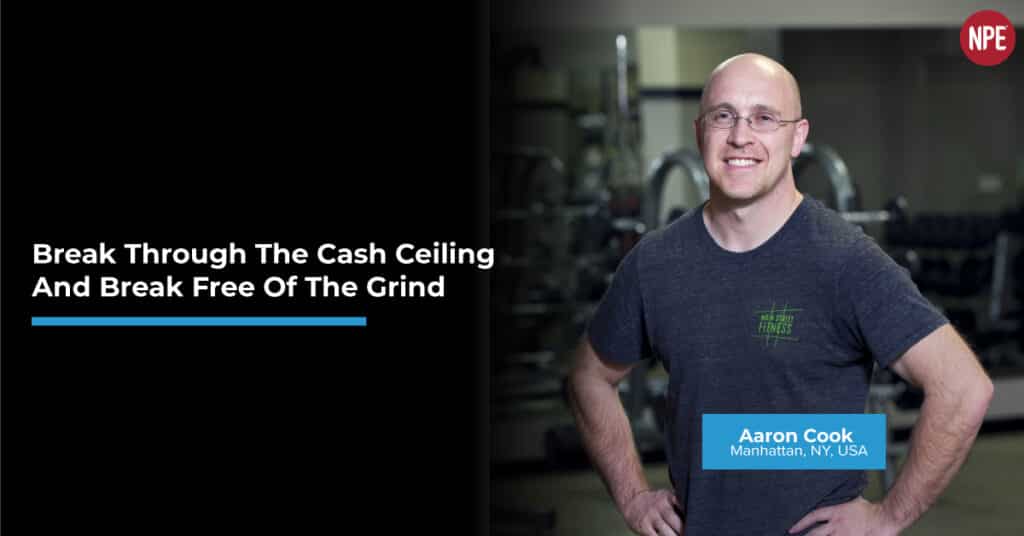 Aaron Cook knows what it means to hit the cash ceiling.
The Manhattan, MT-based fitness entrepreneur had been about three-quarters of the way to his dream of a six-figure income when he crashed into the cash ceiling ($70k). There were no more personal-training shifts Aaron could work. He was at the limit of his energy, too.
Then loved ones fell ill, which required his immediate attention. Almost at the same time, a business opportunity presented itself.
Aaron was left with no way to take time off to care for loved ones without sacrificing income and he possessed no leverage to borrow to seize the opportunity. He needed time, energy and borrowing-power he simply did not have.
The good news: He was able to overcome these challenges—with help. He grew his business to nearly four times that $70k ceiling and is still growing.
How He Started Out
Aaron Cook was used to learning to overcome challenges. He first felt the calling of the fitness industry in high school. He loved working out, and possessed lots of teenage enthusiasm for lifting "heavy and often." His enthusiasm was untempered by knowledge of proper balance and form. He wrecked his shoulder, and that required surgery. His post-surgical rehab workouts sparked his interest in fitness. When the time came for college, he studied exercise science and earned a degree from Montana State University.
Post-graduation, unsure what to do, he began landscaping. That turned into steady work for about three years. Sometime during this period, he caught the entrepreneurial bug. He wanted his own business. He didn't like the investments required for his own landscaping business; instead, he back to his love of fitness to try his hand at personal training.
Slow start, then took off, then plateau
Aaron began renting space in a gym in Manhattan, MT, and scared up a few clients. His first year brought in $12k his first year. He thought, OK, let's try another year. But he was not growing. This was not producing income he had expected; like a lot of personal training businesses, sales were hit or miss. His biggest concern was getting new clients.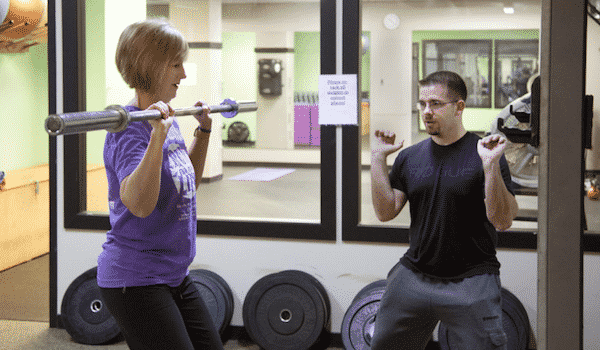 One of Aaron's trainers working with a client
He researched sales help for fitness businesses. That led him to NPE, and he signed up for the AUTO-CLOSER® program. Using the sales methods NPE taught, Aaron doubled income ($24k) in one year. The next year, he hit $40k. His goal became six figures. And he made a great effort: He got to $70,000.
Crash: He hit the cash ceiling.
At that point, Aaron was training clients 45-50 hours a week. Coaching personal training sessions had maxed out his time. He didn't have time for marketing. So sales would slump. Then he'd market again and get more clients. He knew he could keep himself busy, but there was no further upside, but plenty of risk for a downside.
Life intervened. He had a son born with spina bifida. The birth defect required extensive treatment in Salt Lake City. Aaron took time off from his job.
Reflecting in the hospital waiting rooms, he realized that providing for his family with a successful business required more than just filling up his schedule with work. Staying with his family in Utah required him to walk away from his business. After his son's treatment, Aaron had to restart it. His income dropped from $70k to $55k. And Aaron realized the most his business would ever generate was around $70k, which was short of his goals.
Soon, life intervened again. He had the opportunity to purchase a gym in Bozeman, MT. However, he had to significantly increase his revenues before the bank would finance a purchase. Being stuck at $70k would not cut it.
He needed to grow his business to have more freedom to care for his loved ones and grow his income, and he felt this gym purchase could serve as a base to build his business, and thus provide for them in the future. And the gym would not remain unsold forever.
Getting help
"I could keep myself busy, but I was all by myself," explains Aaron. "I had no leverage. I knew I needed to hire people, but I didn't know how. I had just learned a hard lesson that I am going to lose money if I can't keep the marketing going. Then it was about faith. I hired a trainer. It's a whole new story when someone else is depending on you."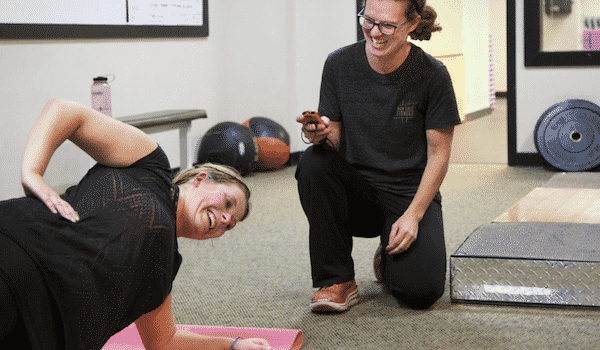 Trainer assisting a client at Simplicity Training 
This was in 2014. He looked at NPE for help. "The NPE  Program investment had gone up over the years since I had first learned about it, and I thought, I can't afford it," said Aaron. "I had the wrong mindset. I realized at this point that I had a poor mindset. I needed help."
But there was a delay as Aaron tried to set up the gym deal on his own: "There was a young man who owned the gym, and his revenue had been cut in half. He wanted out. I thought this is a great opportunity. It's a one-on-one training environment, kind of boutique type of setting, and I thought this is what I need to do if I am going to leverage out … and that's where the courage and faith kicked in. I'm like, this is a once in a lifetime opportunity. I came in, tried for three months by myself, and I didn't get the response I wanted. That's when I joined the NPE Program."
The first four months of NPE Program were very lean. Aaron put the NPE Program investment on his credit card. He knew he was taking more and more of a risk, but felt that NPE Program was showing him things that would pay off in the long term. This was a more difficult road, but he believed in it.
"During this time, I was changing my mindset," said Aaron. "NPE coaches were teaching me how to grow the right mindset. So I stuck with it …"
A New Plan
Like many trainers, Aaron found letting go of personally training his clients difficult.
"When you run your own business for a long time, and you do all the training yourself, it's really hard to pull yourself from that," said Aaron. "I was doing 40 to 50 hours of training. And to give those clients over … it was more, 'What would the client think if I put something else in place of me?' I just did it one day. One of my NPE coaches said, 'You have to cut back on your training or you're not going to grow.'"
What happened when he let go of the clients? A surprise.
"What I learned was the client was just as excited for us to grow as we were. I just had to get past the mindset that I was going to hurt their feelings," said Aaron.
"Now our mindset is that we are a team of trainers. The client knows that a specific trainer may be here, but another may substitute in, and they are comfortable with a team of trainers. We conditioned them to have the right mindset coming in. It's not Aaron anymore. It's a team of trainers."
With Aaron willing to free up his time, NPE laid out a time-tested growth plan.
Action Steps
Aaron's next step was to tighten up his market niche.
"My clients at that time were 'whoever can breathe.' If they could breathe, I would train them," said Aaron. "I just wanted to make money doing something I loved."
But his coach advised his marketing plans would be more effective if Aaron targeted a specific niche. Aaron chose people who may be intimidated coming to a gym. They are people over 35 who needed accountability to continue training.
In the first few months of NPE Program, life delivered to Aaron's family its downs and ups. Aaron's mother suffered brain cancer. Aaron's wife and he had a second child! The stakes were higher.
Growth did not happen right away. Aaron had some savings and put that into the business. Aaron's wife wondered if this business would work; Aaron felt the pressure of coming through for her and their family.
What happened was a long, steady process of growing into a business owner. He turned to his coach, and they worked on the mindset. Aaron realized his vision of "six figures and stay there" was not going to grow his business large enough.
He stayed at it. He hired trainers. He marketed. He put in place business systems. He overcame his shyness and learned to ask for money.
And in 16 months from those "rock bottom" early days of NPE Program, revenues increased to the point where the bank agreed to allow Aaron to finance the gym's purchase.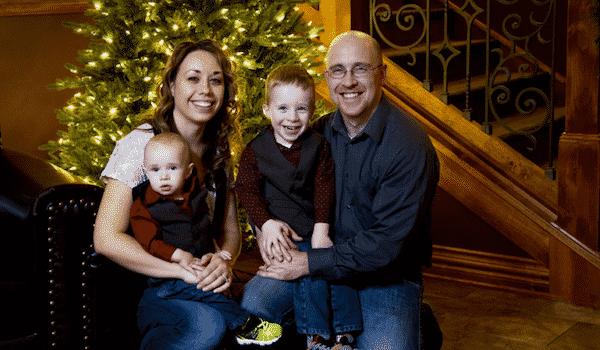 Aaron and his family
Success!
Today Aaron Cook, 31, of Simplicity Training/Main Street Fitness, owns a gym in Bozeman, MT and rents a second facility in Manhattan, MT. He employs six trainers. His revenues are $270k a year. He has had several Best Months Ever in 2017.
"Confidence comes with knowledge," says Aaron.
He still works hard, but he goes home at 5 pm each day. The constant stress (for he and his wife) is gone. He knows if something happens, he can take a week off and the business will continue. He can trust his team to run the business while he's away.
Right now, he's looking at a third location. His training team is going to handle the sales for that, so he's putting them through sales training. Growth continues and he's eager to continue.
"It seems like I'm just starting out," he says.