Donna Schellenberg - "Exhausted, She Changed How She Spent Energy And Doubled Sales In A Year"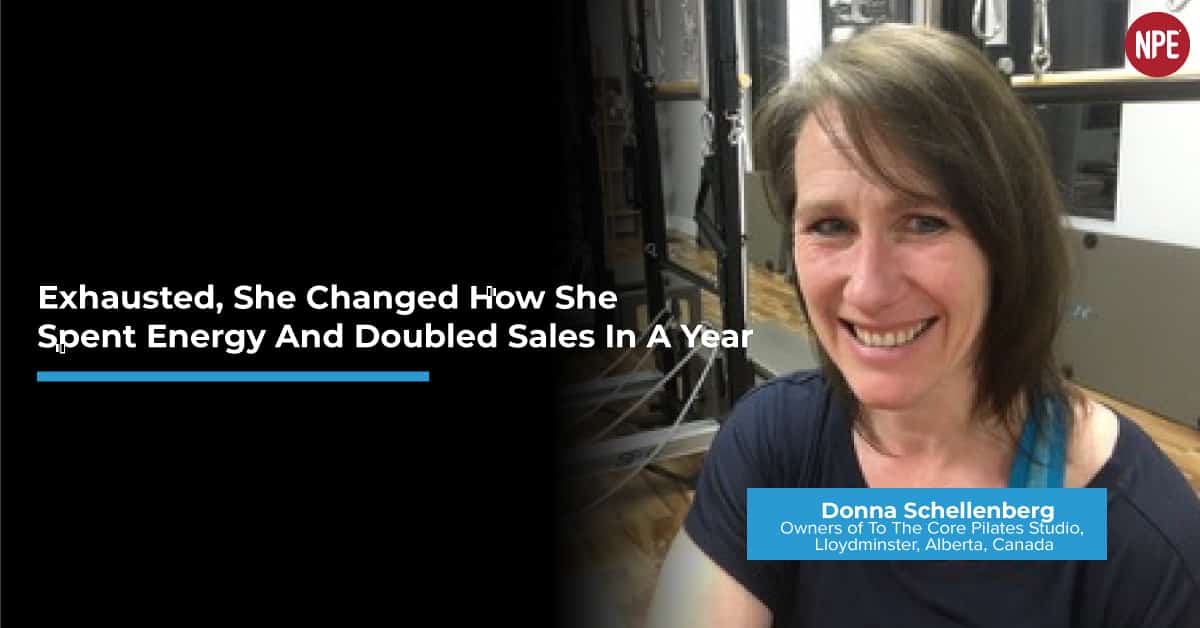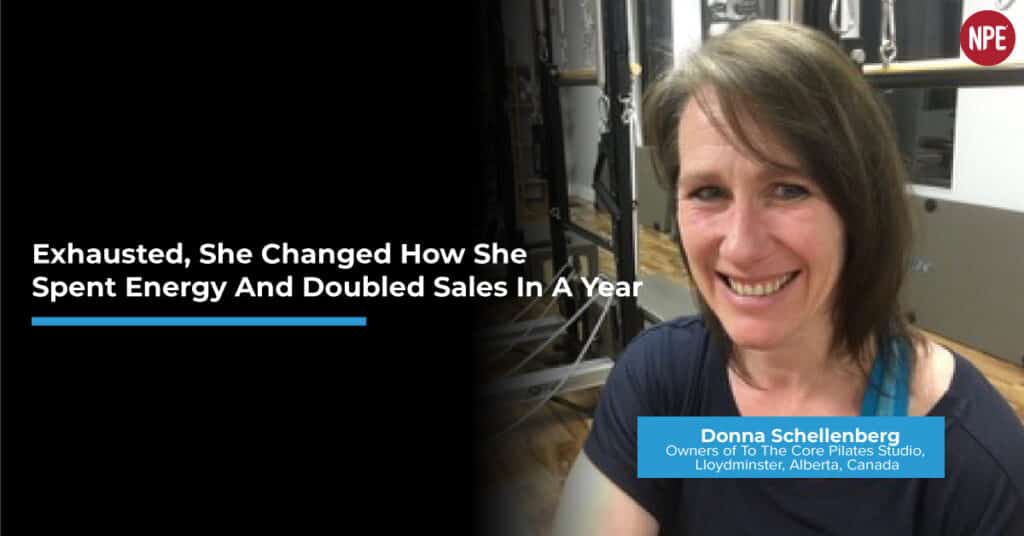 How far are you willing to go to meet your goals?
Successful fitness business owners usually say, "As far as it takes, plus a couple of extra reps to be sure."
But the willingness to go the extra mile can work against you. One more client, one more late night, one more consult…. And you work yourself to exhaustion.
Today, we have a transformation story for you about someone who didn't believe she should have to compromise time with her family to make her business successful. The willingness of Donna Schellenberg, To The Core Pilates Studio, Lloydminster, Alberta, Canada, to do what it takes was proven over 10 years of business.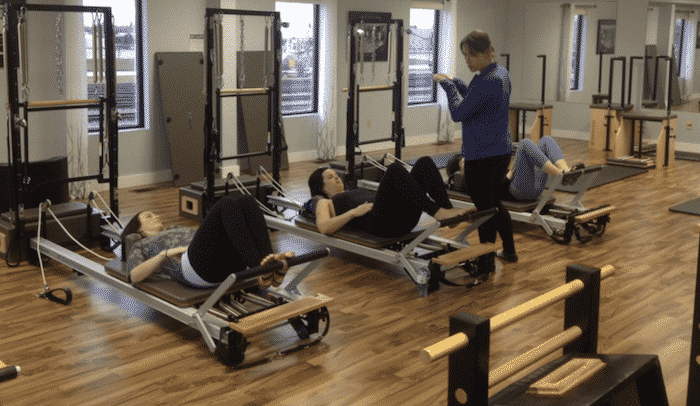 Donna struggled to balance her time with work and family
But as Donna put in more and more time and energy, she found herself working all the time. She missed too many of her children's activities and felt she had to choose: Either really ramp up the business enough to hire real help, or move out of her fitness studio and back into her basement.
NPE helped her double her business from $100k to $200k in a year, and also guided her on hiring and delegation. Now she has a thriving business with an excellent staff, and she has that all-important time for family.
Missing All Children's Activities
After 10 years in business, Donna found herself working in her fitness studio every day plus four nights a week. She anguished about missing "everyone" of her children's activities. She needed more help, but she wasn't sure what else to try.
"I was utterly exhausted," says Donna. "I had two choices. I had to figure out a way to expand and hire. Or close the studio doors and work out of my house instead–so I could have a life."
Previous efforts at the expansion path had proven treacherous. She couldn't find qualified instructors, so she hired untrained people and tried to mold them. She ended up with what her husband called "her projects." That sucked up more of her time for minimal results. In one case, Donna's efforts were repaid when after a couple of years a "project" left to start her own gym and took a bunch of Donna's clients with her.
Half desperate, she looks for help
One day in February 2016, Donna fired up her computer and began looking for marketing help, to take another crack at expansion. NPE turned up in the search results. She signed up for a consultation.
At the time, Donna's gross sales were about $100k a year. She laid out the situation to NPE, her desire to get unstuck, and her frustration with not seeing her family. The NPE consultant explained sales systems, marketing campaigns, and hiring methods (as well as other systems) that NPE could help show her to get her business moving in the right direction again and help her free up her time.
Initially, though, she balked at the price.
"I really, really debated because this is not cheap," said Donna. "This is an awful lot of money to do this if you're in Canada because of exchange rates."
It came down to commitment. There was an opportunity to have her life and have her business, and that would require the commitment to do the work and yes, pay NPE.
"I decided I would try NPE and here I am," said Donna.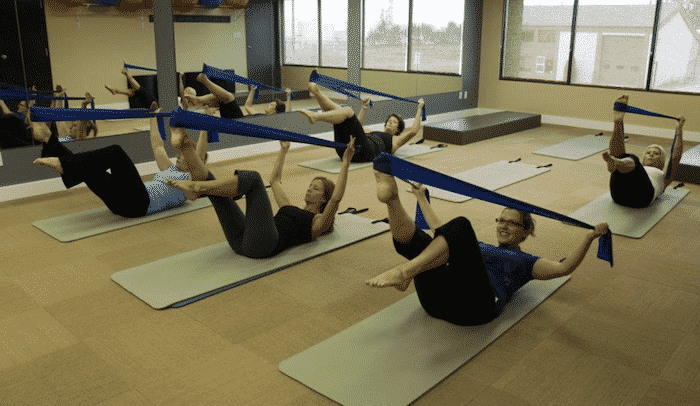 Donna found NPE so she can stop working nights without sacrificing growth
Assessment and vision
In Donna's case, her NPE coach assessed her business and identified the good elements of her business in place, but she needed marketing help, a more organized sales system, and to find ways to get good people to hire. Her coach then offered her a plan:
(1) Because she had a need for specialized instructors, she would be unable to find enough qualified people who were ready on day one. She would have to train new trainers.
(2) Hiring people would require her to generate greater sales to cover the new people's pay. That meant investing in more marketing and doing more consultations.
(3) She would need to grow her business and train her staff to the point where they could accept more and more responsibility, to free up her time both to work ON the business and to spend more time with her family.
This was in March 2016. She had her action plan and went forward:
Hiring: She wanted people with at least two years of education. She went to the exercise science department at a local university and posted a job ad on the department bulletin board. She identified the specific personal-character qualities she wanted. They sent their resumes. She invited those who seemed to have those qualities to an interview. Then she gave them a homework assignment: Come up with a nutrition and exercise plan for a specific kind of client. She wanted to find people with education in anatomy who could be trained in Pilates, and further, who take initiative. Most people don't take homework assignments seriously, but the ones who did work out well. They weren't an endless project. They were able to grab the opportunities, whether outside training or Donna's.
Sales and marketing: She was already talented at sales, but she learned NPE's AUTO-CLOSER® sales system and adapted it to suit her clientele. She reached out more for referral business through local chiropractors and physical therapists. (Pilates has a strong post-rehab element.) And she began to use marketing tools and templates to generate better leads.
Delegation: Her coach encouraged her to delegate, both administrative duties and sales/consultation duties. And as Donna put it, this was a topic that was returned to on many coaching calls. Donna says she has trouble delegating but has learned to do it more and more with NPE's coaching assistance (and lots of encouragement).
Success
To see her children and family more, Donna did not have to sell her stuff, move out of her studio, and return to her home basement. And she didn't have to keep working all the time and not see her children.
In fact, things got better for Donna more quickly than you'd think. She started in March 2016 and attacked the challenges. By July she was $25k in revenues ahead of her previous year's pace (which you may recall was $100k). As the year progressed, she consistently hit higher year-over-year numbers, beating the previous year's slow periods and busy periods.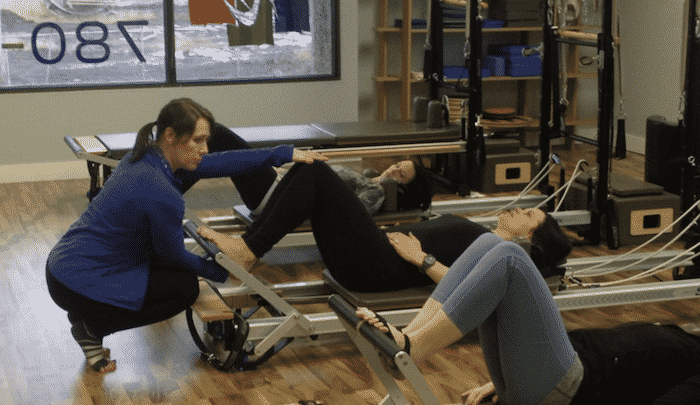 Donna delivers a great client experience as her business continues to grow
Within 12 months, she had almost doubled the previous year's sales and has hit $20k monthly revenues two of the five months so far this year. She had her best quarter ever.
She has added three excellent staff members and is looking for a fourth. They are being trained in AUTO-CLOSER®, so they can help increase sales, too.
She has one week of in-service training for her staff, where they shut down and work ON the business. And she re-opened her business in an expanded studio.
More important, with this past year, she has been able to spend free time with her family. She now has nights with her family. She's able to take a vacation and can make her children's activities.
For the future, she's looking at continuing to work the NPE tools and systems so she can delegate all of her training classes to her staff, so she can further grow the business and consistently hit $20k a month. And she's involving her staff more and more in sales and admin, reducing unnecessary expenses, and working on improving recurring revenue.
"I'm not working out of my house," said Donna. "I'm working in my studio. I still get to help more people than I ever thought I'd be able to. And now I have time with my kids. Signing up for NPE was a good choice."