Remote Coach & NPE Announce Partnership To Offer Personal Trainers the Platform and Skills Needed to Train Clients Online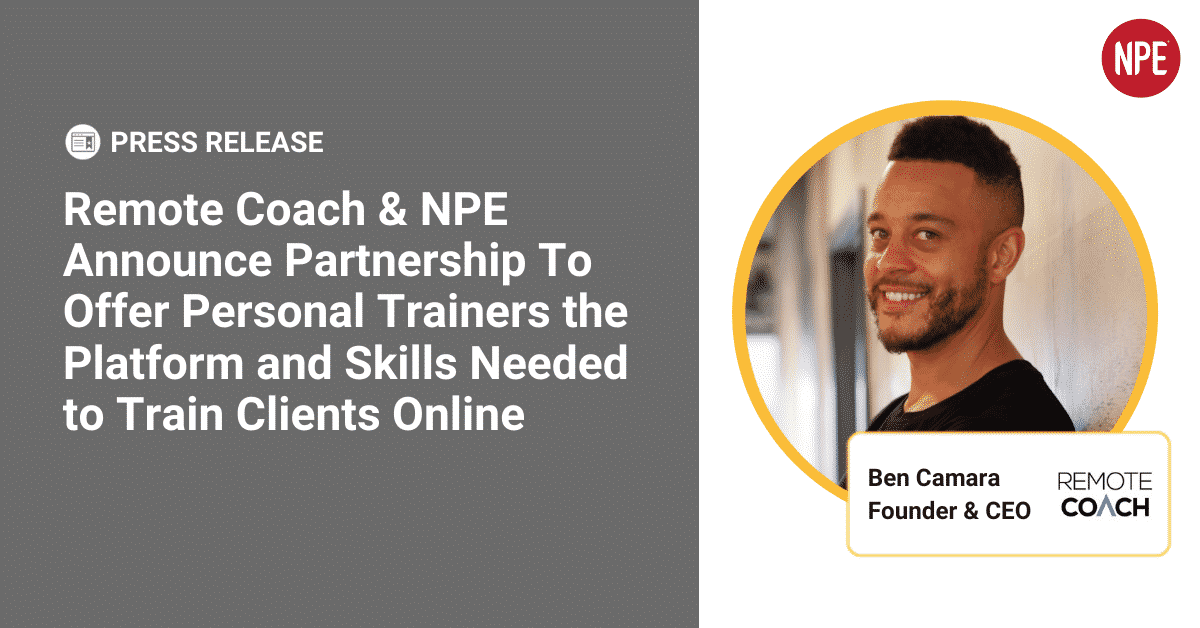 London, U.K., October 27 – Personal trainers seeking a digital platform to deliver remote coaching and the business education needed to build an online client base will be pleased to hear about the new partnership of Remote Coach and NPE. 
In the new digital world of personal training, where more and more trainers are looking to build a business online, Remote Coach has developed a platform designed specifically for personal trainers. Remote Coach has supported more than 6,500 live sessions and month-over-month growth in the number of personal trainers it supports. 
Alongside the need to now offer a virtual experience to their clients, Remote Coach has seen a huge thirst for education from trainers wanting to understand how they can build a successful, sustainable online business that can grow after the pandemic. 
That's why Remote Coach is delighted to have partnered with fitness business education provider NPE. NPE provides systems, tools, and coaching to grow fit pros into 6- figure business owners, and studio/gym owners into 7-figure business leaders. 
Since 2006, NPE has helped over 45,000+ fitness entrepreneurs in 96+ countries grow to the next level. We've been listed 8x on the Inc 500/5000 list of fastest growing companies, and we're a global team based in the USA, Canada, UK, and Australia.
"We couldn't be more excited to partner with Remote Coach," said NPE Founder & CEO Sean Greeley. "The work they're doing is breaking down huge barriers, such as people who struggle to get to the gym because of lockdowns, travel, busy schedules, and more. Remote Coach is connecting people who want to get fit and healthy with coaches who can support their fitness journey in a powerful way." 
Trainers coming through the NPE program will now be able to take advantage of 30 days FREE trial, and full access to unlimited training sessions for $24 per month. 
By using Remote Coach features, such as Apple Watch and Fitbit health data integrations, real-time HD video conferencing, and more, trainers can effortlessly connect with their clients and provide tailored fitness programs.
Remote Coach clients will have access to NPE on-demand training: "Conquer Marketing! The 1-Page Fit Pro Plan to Earn $5k-$10k/Month." Remote Coach clients will also have access to more NPE education training in the future.  
Ben Camara, Founder and CEO of Remote Coach, says, "Trainers are crying out for knowledge and assistance on how they can build a robust business, we're delighted that NPE can solve that problem". 
According to Remote Coach, the pandemic has drastically accelerated the adoption of their business. The app has already been downloaded by over 1,200 trainers who've actively been training on the platform. 
About RemoteCoach.fit – Remote Coach is on a mission to empower the world to get fit wherever and whenever they want. Leveraging the Remote Coach platform, trainers and clients are effortlessly paired based on their fitness needs. Using live video streaming, integrated health data from smart watches, easy-to-use interface, and cutting edge computer vision movement AI. For more information, visit: https://www.npefitness.com/partners/remote-coach/