How to Market and Find New Prospective Clients For ONLINE Training: Moving from Offline to Online, Part 3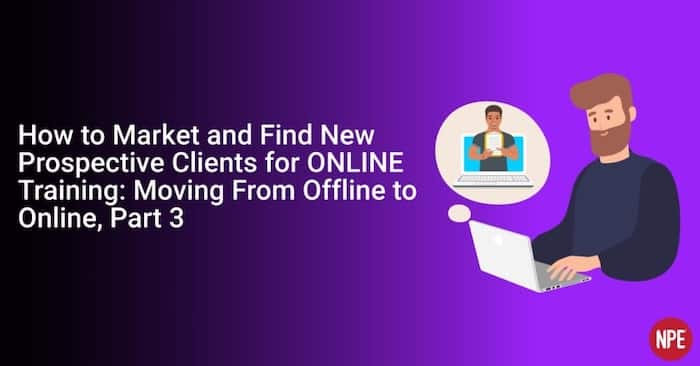 (Note: This is the third of a 3-part series on moving your services from OFFLINE to ONLINE. Part 1 showed how to create a great ONLINE service. Part 2 showed how to overcome 'I'm not interested in online training' objections. This article covers the marketing strategies you need to find and sign up new prospective clients online.)
Executive Summary
The strategies, offers, and messaging used to successfully market businesses pre-COVID-19 for face-to-face services will NOT work for finding and signing up new clients online. If you want to grow your fitness business, you must invest significant time and effort into developing a strategic sales and marketing plan. 
++++++++++++++++++++
We are in a new world. 
The strategies, offers, and messaging used to successfully market fitness businesses pre-COVID-19 for face-to-face services will NOT work for finding and signing up new clients online.
If you want to grow your fitness business, then it's time to level up your sales and marketing strategy and skill sets.
But the first thing you must do is get clear on how you must THINK about marketing your business. 
Don't make the mistake of assuming, "OK, I just need to promote that I'm offering online training now and we'll be good."
It's just not that simple and blind promotion won't get you very far. Especially now.
To be successful, you must invest significant time and effort into developing a strategic sales and marketing plan.  Here's what I mean by that…
Marketing Promotion vs. Marketing Strategy
There's a big difference between marketing promotion and marketing strategy.
Promotion is shouting to the world about your product or service like, "We're great. I'm amazing. You need this. Just do it. DO IT NOW!"
That's like the guy who's ringing a bell trying to sell sandwiches.
Don't be that guy (or gal).
Promotion can be helpful at times, but what is MOST important (and way more effective) is developing your strategy and plan.
Strategy is what the military uses to plan, fight, and win wars.
And you need to invest significant time and energy into planning THAT level of detail when it comes to the sales and marketing plan for your business.
The Stakes are HIGH
Your business needs more NEW clients to survive, grow, and thrive.
Win the war… and your business will grow and help more people. You'll take home more money and you can live your dream lifestyle.
But lose the war… and your business will die (often with a devastating financial impact that may include bankruptcy that can take years to fully recover from).
Make no mistake…. Starting and growing a business carries RISK.
And losing will hurt.
Which is why a lot of people don't ever start a business, or take a second or third shot at building the business of their dreams, in the first place.
They're scared to lose.
Nothing wrong with that.
But my point is that IF you're going to have a business, then you MUST be ready and willing to commit to learning, growing, and developing the plan and skills you need to be successful with finding and signing up new clients.
Are you willing to make that commitment?
If so, then let's carry on…
NOTE: Before we even get to marketing (and most people want to jump to marketing straight away) you must have two things in place. 
You must have a great product or service that delivers tremendous value to the clients you serve. If you're not yet delivering WOW and getting rave reviews, testimonials, and results with your clients… then reference Part 1 of this series.
You must learn and develop the skills required to effectively sell your product and service. This includes learning how to lead hearts and minds and overcome objections. I cover this in Part 2 of the series.
Ok with those things in place, let's continue…
Step 1: (Re)Define Your Ideal Client 
You may have an ideal client profile who you target for your marketing.
But that was an ideal client profile for your business a couple months ago.
Online can be very different. And you must get to know your ideal client for this new service offering.
One client of ours, for example, runs a CrossFit Gym in Australia.
When COVID-19 hit, he lost half his clients instantly. The half that left were folks who just wanted a place to work out … they were not part of the community that the gym had created. They weren't really engaged. And they only cared about where they could get in a quick workout each week.
But the other half he discovered were the ideal and amazing. They were a core group of clients, super-committed and engaged, who wanted more than a place to work out. They were excited and enthusiastic about the coaching, support and accountability, and community they were a part of. These new loyal customers have now become the profile for his new ideal client avatar. And he's rebuilding his business around them, stronger than ever before.
Is it time to revisit and redefine WHO is your best customer?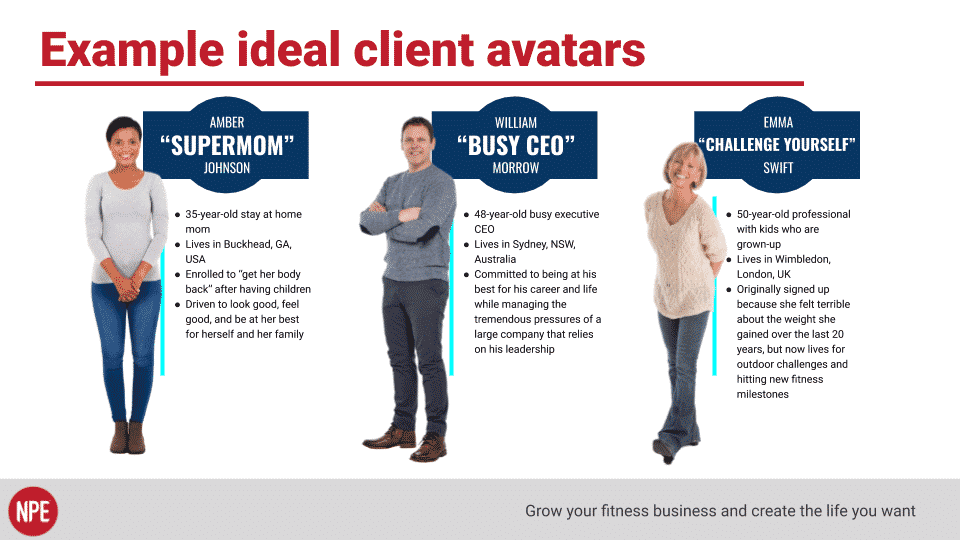 Here are the questions to ask yourself:
Who are they? 

What are their demographics-age, gender, other defining characteristics. Are they men or women (or both)? What age are they (20's, 30's, 40's, 50's, 60's, 70's+)?
What else do we know about them? What defines them? Are they stay-at-home moms, working moms, executives, business owners, seniors, athletes, kids, etc.?

Where are they? What's their geographics- where do they live or work?

For offline services delivery they're likely to be within a 7-mile radius (home or work proximity to physical location, but this will vary if you're in a densely populated city versus a country town)
For online services delivery this restriction is removed. But that doesn't mean you'll be targeting every country, continent, and multiple languages to get started. You'll focus on connecting with prospective clients that are already connected with your sphere-of-influence.

Why do they buy? These are the psychographics, which refers to the reasons why people buy.

What are their goals and desires?
What are their problems and challenges?
How do they feel about their challenges?
What does success look like to them?
What does failure look like if they don't overcome their challenges?
Knowing WHO is your ideal client will then inform every other part of your marketing strategy to follow. So if you're unclear on the WHO, take the time to get this right. Conduct client interviews, create a focus group, get to know them better than they know themselves. This will make everything else a lot easier in the next steps because you don't have to GUESS on who you're talking to, you will simply KNOW.
Step 2: Get clear on your sales strategy
Ok I covered some of this in part 1 and part 2 of this series. But i'm going to repeat myself here because most people don't really appreciate nor hear me clearly the first time.
To be effective in business you must 1) have a great product that delivers tremendous value to the customer 2) you must be able to inspire and lead powerful conversations where your prospect makes the commitment to the journey required to achieve their goals.
The sales process I'm referring to is the 7.5 steps in the AUTO-CLOSER®: The fitness industry's #1 sales system we've been teaching for 14 years now.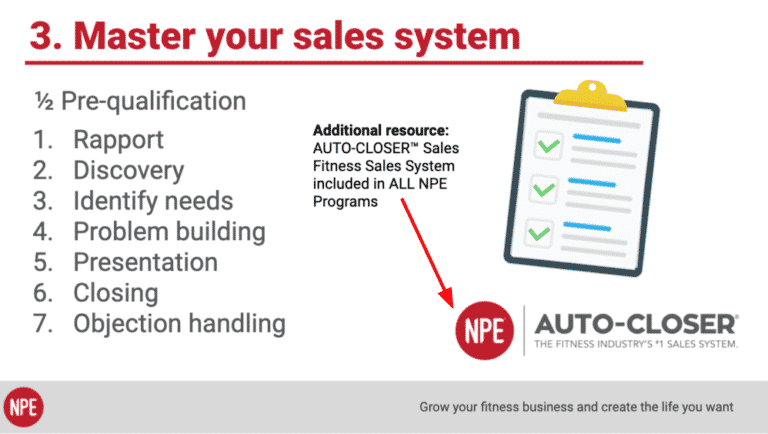 But sales process is different from sales STRATEGY.
Strategy refers to the plan of how you will lead a cold prospect to become a long term client.
Does someone call up, meet with you for free, and then join for 12 months?
Do they call up, make a small investment to come speak with you, and then get the chance to sign up for 12 months?
There are 4 main types of offers we teach in marketing fitness services offline.
But for ONLINE training, your best type of offer to use is FREE.
Offer a free trial or free session.
But before you can even MAKE a free offer… you have work to do.
Because nobody wants anything (free or paid) they don't appreciate or understand the value of.
And right now, because ONLINE TRAINING and coaching is such a new category… you have some work to do explaining what it is and how it works.
Said another way, the market (your prospects) are PROBLEM aware (they know they are gaining weight and losing strength), and they are SOLUTION aware (they know they need to eat better and move more), but they are not PRODUCT aware. They have no idea what online training is and how it works (Are you referring to watching YouTube videos of your working out? What is this? And why should I pay for it?)
They need to be EDUCATED and they need to EXPERIENCE it to understand and believe that it works, and that it will work for them. They need PROOF.
Here are the three steps to making that happen:
Step 2.1: You need to explain what online training is, how it works, and why it will lead them to success. Share stories and examples of people like them getting results. This includes sharing blog posts, content marketing, and social proof such as success stories.
Here are a couple examples from NPE clients on how they are using content marketing to educate their prospects (and clients) about WHAT online training is, HOW it works, and sharing examples of happy clients engaging with online training to get results.
In example #1, they are using long-form blog articles to explain what ONLINE training is and walk through HOW a session works. They even include video clips of actual sessions in this article (very cool).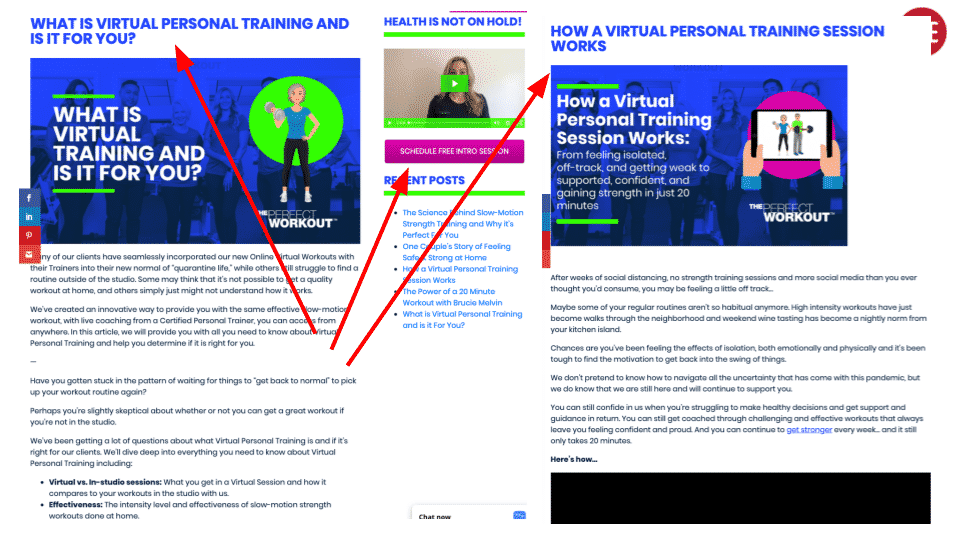 In example #2 they are using a social tile to explain (and draw strong lines of comparison) between working with a coach vs. watching online videos. By focusing on community, technique, custom program design, accountability, and nutrition, they are making a powerful argument for the value of coaching.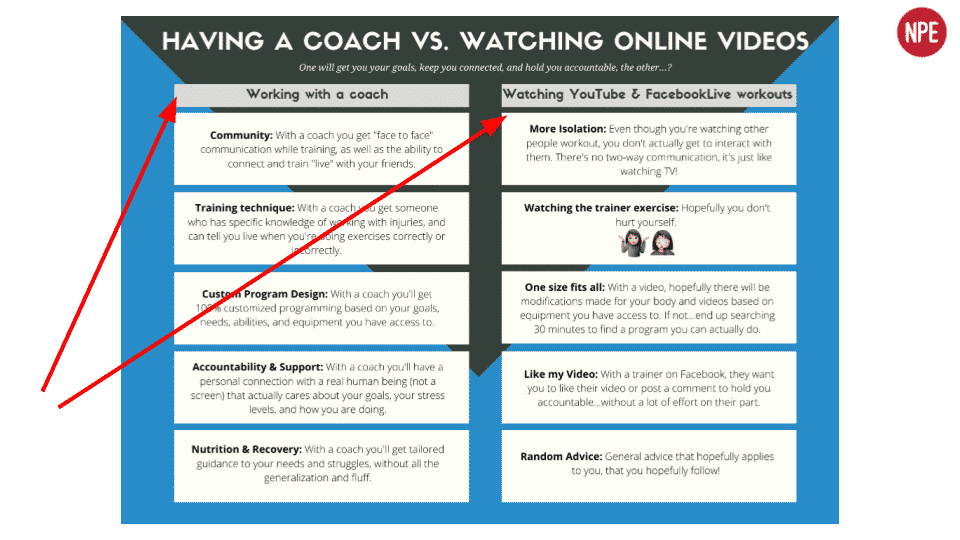 Step 2.2: You need to make them a risk-free offer to experience it and deliver WOW during the free trial or session. Set up a simple landing page (aka funnel) with your offer. Again, because online training/coaching is such a NEW category that the prospect doesn't understand yet (heck most of our industry doesn't even understand it yet!), then the easiest way to get people to take action is to extend a risk-free offer for them to give it a try (for the prospects that meet your ideal client profile of course).
Here are a few examples of that. Example #1 they are offering both online group classes (live) and remote coaching/programming services.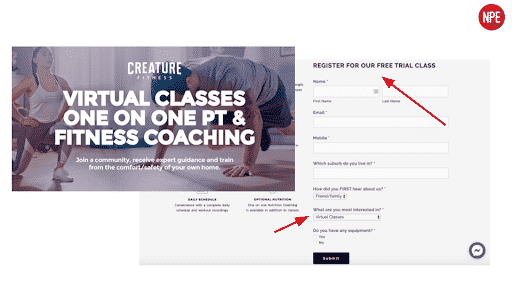 In example #2, they are simply offering a free session (for private personal training online).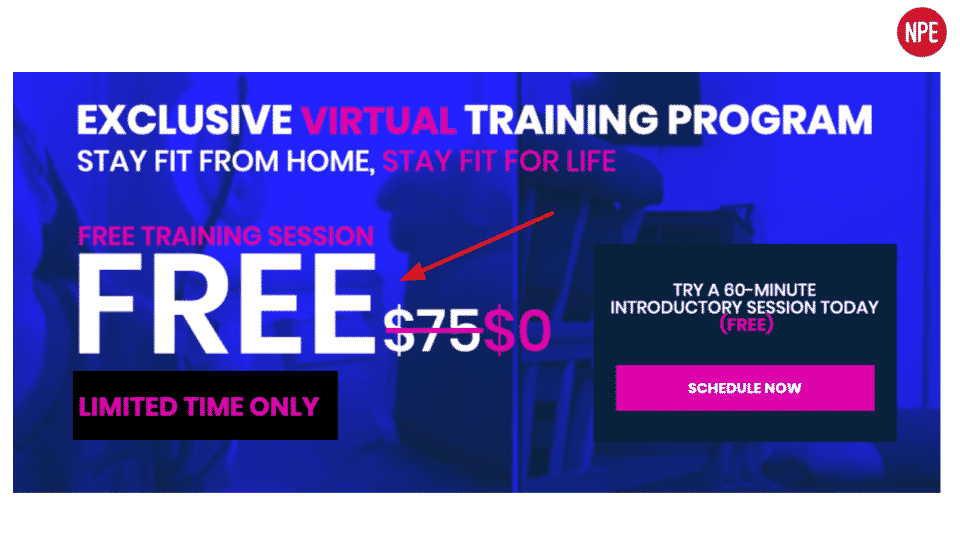 Now don't think that it's any easier to market FREE than it is a paid offer.
You STILL have to explain it, overcome objections and resistance to taking action, and more.
And that's why it's always great to set up an FAQ on the same page as your offer. In example #3, they have listed the most common objections they've been getting, and including answers and content to overcome this objection right on the page. They've also placed this right next to the question "How is Mint different?" where they position their credibility, authority, and reasons why a prospect should choose them over a competitor.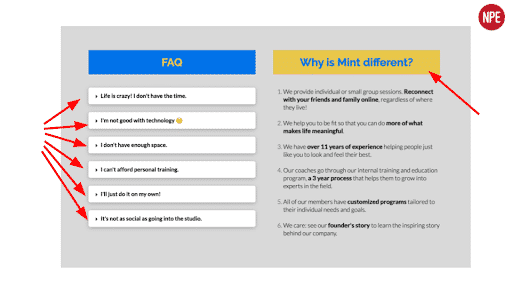 Ok with those things in place, then it's time to go get some traffic to your funnel/page/offer.
Step 3: Use Simple Lead Generation Strategies
Once you have your product, strategy, and messaging, it's time to go to market.
Most people make the mistake of trying to start here.
They won't do the work I've outlined in the previous steps.
Which is why they fail.
So please, DO THE WORK required to be successful when you finally go to market.
And if you're not willing to do that, then please don't waste your money on advertising and lots of promotion. You might as well burn money over the toilet in your bathroom. You will have the same result.
But when you are ready… don't overcomplicate things. Keep it simple to succeed.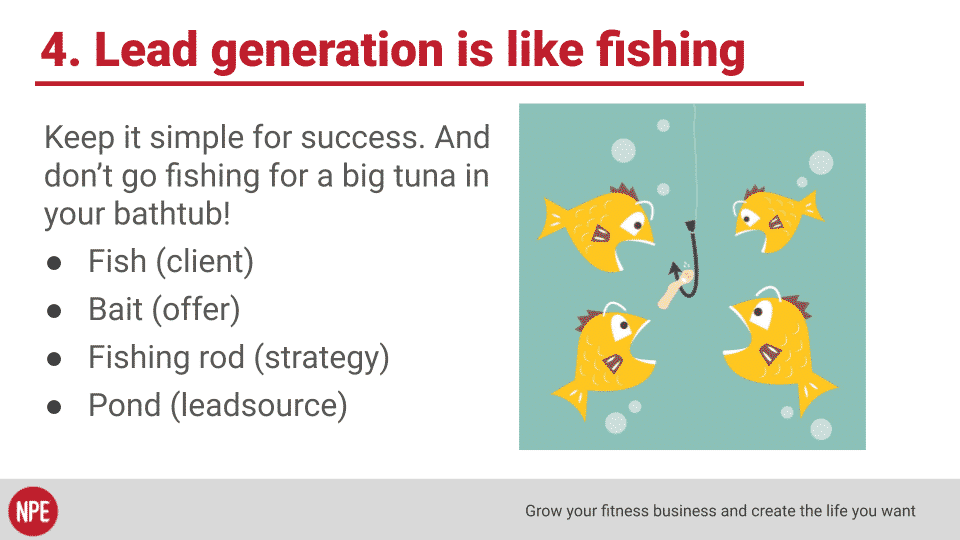 It's like fishing.
Know the fish you want to catch. That's your client.
Know the bait you're going to use. That's your offer (free trial, free consult, paid short-term programs, 12-week challenge).
Have the right fishing rod and tackle you need to reel them in. That's your strategy …
And go fishing in the right pond where the fish are hanging out. That's your lead source.
And before you even spend money on advertising or promotion, there are a LOT of easy easy wins you can focus on first for marketing.
Run engagement campaigns to most recently engaged clients.
Use reactivation campaigns for inactive clients that may have moved out of town you couldn't previously serve.
Create a Referral/Bring-a-Friend campaign to use with current clients who are LOVING your new online programs.
And get ready for organic– update the home page of your website. Let people know you're open for business and that you offer online training services. Just the fact that you're open, and everyone else is closed… means you're going to get more new business organically by letting your website visitors know.
Key takeaway: Don't overcomplicate things– start with one or two strategies and stick with them.
Summary
The world has changed. You need to level up your sales and marketing strategy and skills to compete effectively online.
Don't be a promoter. Commit to becoming a strategist to win the game.
Your business (and your personal goals) require that level of commitment to succeed.
Re-visit and redefine the ideal client profile for online coaching. Get clear on your sales strategy and educate prospective clients about online coaching (including lots of examples that show proof). Then use a free trial to get prospects to raise their hand expressing interest, deliver WOW, then sell your program.
And to fill the funnel, use simple lead generation strategies to attract your new ideal clients.
When you do this, you absolutely will create a powerful new revenue stream for your business that you can continue to grow for months and years to come.