NPE Signs Three Year Partnership With Fitness Australia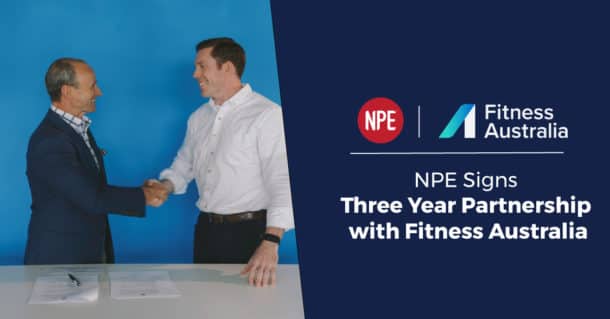 May 5, 2018
Global Fitness Business Coaching Company, NPE, signs exclusive three-year partnership with Fitness Australia, the peak health and fitness Association with over 25,000 Registered Personal Trainers, Fitness Instructors, Fitness Businesses and Suppliers Australia-wide.
The NPE partnership with Fitness Australia adds significant value to Fitness Australia's existing database of members who are wanting to learn how to better grow their fitness business in addition to the support offered by Fitness Australia. NPE team members are experts in helping fitness businesses get started, grow and scale for success having helped over 36,000 fitness businesses in 96 countries via online training courses, workshops, and one-on-one business coaching.
NPE CEO Sean Greeley has been helping fitness businesses for over 11 years and recognizes the overwhelming list of challenges fitness businesses face in an increasing competitive market. Greeley acknowledges running a business in Australia isn't as simple as registering for GST or remembering to pay taxes on time.
"Most PTs in Australia fail to make it pass one and a half to two years in the industry, as they burn out and fail as business people. Another trend we see is existing businesses reaching a point where they plateau or get stuck and this is where NPE can help make a difference. My team and I are passionate about coaching people to success in business and providing them with the necessary professional development." said Greeley.
"I think there's a lot of really enthusiastic Personal Trainers and Fitness Business Owners in Australia who really want the best for everybody, they're not driven by ego, they're driven by wanting to serve and make a difference in the market. They're committed to their own growth and development to become a better business owner, so they can in turn help more people, not just for their own personal gain and I love the values and the passion that I see in those business owners in Australia," said NPE CEO Sean Greeley.
"However, we often meet clients who are still running their fitness business like it's a backyard business and they need to learn professional business management skill sets and systems to be able to grow beyond what they can personally handle with clients and maybe one or two staff. Taking the next step, means having a new level of commitment and investing in professional development and education." said Greeley.
Lifting the lid on some common challenges fitness business owners and operates face, Greeley continues, "We've had a number of clients who were in bad leases, for facilities that were draining them financially…They weren't charging enough or packaging and pricing their services correctly, not enough profit margin, running unprofitable businesses. Not knowing how to sell or communicate effectively is also a common issue, not knowing how to generate leads in the market, or struggling with staff turnover, we've seen businesses with clients leaving because staff weren't taking care of the clients, all of those challenges we've helped people solve along the way."
The NPE partnership with Fitness Australia will include a number of initiatives, including; CEC approved business courses, including a newly relaunched popular sales course 'The AUTO-CLOSER® Sales System.' NPE will also be hosting a National Road Show in all major metro markets kicking off in June 2018 to increase the face to face time with Fitness Australia members and inviting new clients to local one day workshops.
"NPE is a long-time supporter of Fitness Australia. Now we're taking our relationship to the next level by giving Fitness Australia members access to NPE's expertise and tools. These will take the form of eBooks, business workshops, and online advice.
"We're super excited about this partnership because NPE brings a wealth of fitness industry specialists from around the world – people who have walked in the shoes of a fitness business owner, manager and trainer." – Bill Moore, CEO of Fitness Australia.
NPE will also be presenting at Filex this year (Saturday and Sunday, 21-22 April), inviting Fitness Australia members to attend workshops and information sessions. For more information on how to register, contact NPE office at (02) 8074 3506.
For more information or for an interview opportunity with Sean Greeley, contact:
Sandra Norris
Executive Assistant
Sandra@npefitness.com