OWNER INTENT: What Does Success Look Like for You as a Fitness Business Owner?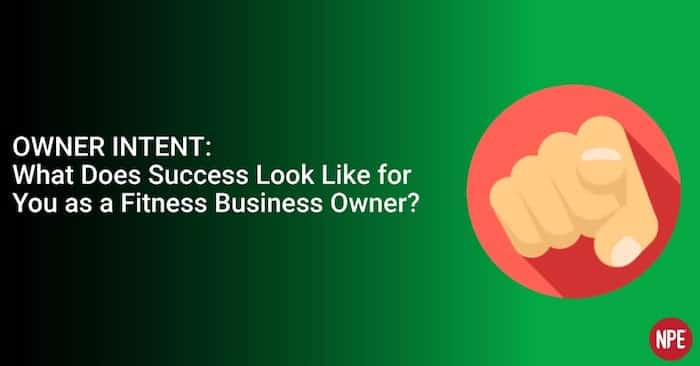 Whether you're a new start-up or an experienced business owner, sooner or later you're going to feel disoriented as you operate your business.
There are SO many things you COULD be doing or working on, and SO many ways you can get stuck working on those things, that it's normal to feel lost. And it's mission critical to find a way to guide yourself out of the fog.
There are lots of things that can help you correct your course: Your values, purpose, mission, financial statements, and any of the endless metrics or key performance indicators that are appropriate given your goals and business size.
But in front of ALL of that is your Owner Intent. This is your "North Star" in OWNING a business.
Your Owner Intent/North Star is necessary because your role as a business OWNER is very different from the role you (may or may not) play as a business OPERATOR. (And yes, you're an operator if you're  involved in leading growth and the day-to-day operations of your company.)
Operations can (and often will) make you tired (physically, emotionally, mentally).
Ownership has the power to make you rich (income, impact, freedom, and more).
Your business's operations should support your ownership intentions, not merely the operational work you have to do. Understanding the difference between operations and ownership is a simple yet VERY powerful distinction that matters. And matters a LOT!
Defining What Success Looks Like
Once you understand this distinction, dive in and start defining your Owner Intent. This is simply a written statement that defines what success looks like for you in owning THIS business NOW (with THIS business and NOW also being important distinctions). And it includes how you will measure success.
To get clear on your Owner Intent and Success Measurements, answer questions like:
What do you want your business to do for you?
How does owning your business serve you?
What desires/goals will it allow you to fulfill/achieve?
What personal income goals (if any) do you want your business to support? By when?
What are your rules of engagement as the owner of your business?
What type of impact do you want your business to make with its clients/customers? The industry?
Keep in mind there are no right or wrong answers to these questions. The goal is that you have simply given thought to each and gotten clear on your Owner Intent. That will in turn allow you to be a more effective (and capable) leader of yourself and others on the road ahead.
Here are three real-life examples:
Example #1: 'Be your own boss, Kaitlyn'
Kaitlyn is currently employed as a personal trainer for a local studio. She wants to start her own business because she desires more autonomy and wants to increase her income. After looking at what success looks like to her, and identifying her vision, values, and goals, Kaitlyn defined her Owner Intent as: 1) having full control of her future, and 2) increasing personal income.
Next she got specific about how she would measure success of achieving her owner intent. To Kaitlyn, having full control of her future means the ability to set her own rates, run her own billing, control her cost structure, and train clients the way she wants to program and deliver services. Increasing personal income means going from $3,000 to $6,000 per month.
Example #2: 'Get transformed, Mike'
Mike was overweight growing up, lost 40 pounds, and now loves how he looks and feels. He works a corporate job that pays well, but he's not passionate about his job. He wants to start a business doing work he cares about helping others achieve their fitness goals.
Mike defined "What does success look like to me?" as: 1) living life healthy and fit, 2) earning a professional income that meets his needs, and 3) making an impact in the lives of others through doing meaningful work.
Success Measurements for "living life healthy and fit" means having time for fitness each day. "Earning a professional income that meets his needs" means taking home $5,000/month in personal income. And "making an impact in the lives of others through doing meaningful work" means leading 12+ clients to achieve amazing body transformation results each year (as evidenced by powerful before/after photos).
Example #3: 'Freedom Lifestyle, Rodger'
Rodger is an existing studio owner. His business grew well initially, but now because of increased competition and trainer injuries (that have led to staff transitions), his business has lost clients. Rodger's personal income has dropped and now he's back training classes 15 hours per week.
Rodger defined his Owner Intent as: 1) Increasing personal income, and 2) Have more time and freedom. His Success Measurements for "increasing personal income" means increasing his distributions to take home $5,000 fortnightly (bi-weekly). "Having more time and freedom" means teaching ZERO group training sessions (so he has more freedom to work from home or step away on holiday with his family and not have to worry about the business falling over).
Where Business Owners Get Stuck
In theory this sounds like a simple exercise. But there are lots of places business owners get tripped up.
First, they simply don't get clear on their intent. They operate from a collection of vague answers, which often revolve around nebulous 'feelings' that can move or sway depending on whichever way the wind blows today. Don't let that happen to you. Invest the time to get clear answers. Have hard measures of success to know whether you're ON or OFF course with YOUR intent.
Second, they put too much pressure on their business to do too much, too soon. Know that ALL your goals in life don't have to be fulfilled by owning just one business… today. You just need good answers to two simple questions 1) WHY this business and 2) WHAT do you want from ownership (looking at your life and the world around you) right NOW?
Third, they don't evolve their Owner Intent statement when needed. We live in a dynamic world and your Owner Intent statement needs to evolve with you. You're always changing and so is the market (and environment) in which your business operates.
Summary
It's easy to get lost as a business owner. Things get complicated and feel overwhelming (especially if you're involved in day-to-day operations).
Your written statement of your intent with owning your business is what keeps you on track.
Take the time to answer the questions above. You'll get clarity, energy and power when you define your Owner Intent statement because you'll be leading yourself and others to the OUTCOMES that matter most.
Finally, remember as your life evolves and business grows… it's important to review and update your Owner Intent statement. When you're feeling lost, look up and keep your "North Star" in front of you to guide you on your way and ensure you get rich in your "return on investment" in the ways that matter most to you.