NASM and NPE announce multi-year partnership to help more personal trainers succeed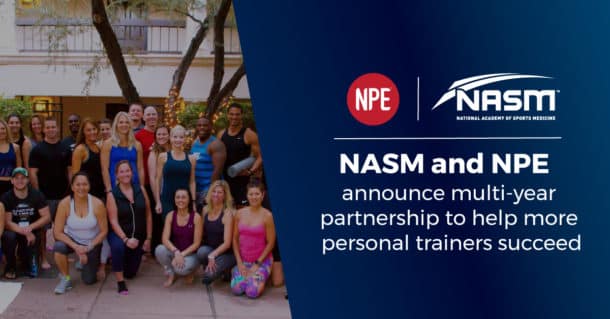 October 1, 2018
LOS ANGELES – The National Academy of Sports Medicine (NASM) and fitness business coaching company NPE have announced a long-term partnership to offer personal trainers business systems, training and resources to grow their client base and achieve success in the fitness industry.
The partnership pairs two premier industry leaders to provide immediate benefits to existing and future NASM-certified personal trainers. NASM will now offer NPE-licensed fitness business content through its NASM Business Accelerator Program, so personal trainers will have access to NPE's proven business-building systems through on-demand learning modules, tools, templates, and coaching calls.
Laurie McCartney, President of Global Fitness and Wellness Solutions at NASM's parent organization, Ascend Learning, says "We're proud to license NPE content and education as part of the NASM Business Accelerator Course. NASM's first priority is to deliver an optimal certification and specialization to our personal trainer candidates. Our second priority is to help them succeed in their careers, which means developing their business-building skills."
"Together, we're on a big mission globally for the years ahead," said NPE CEO, Sean Greeley. "We're committed to raising the bar of professionalism and success in the fitness industry. Thousands of professionals have followed our programs to create thriving, profitable businesses. This partnership enables us to reach more fitness professionals and support them in growing their client base, earning a professional income, and making a bigger impact in the world."
In addition, NASM certified personal trainers will have new access to NPE workshops, events, and other valuable training resources.
The NASM-NPE Partnership will further benefit new NASM certified personal trainers (CPTs) by offering them mentorship and application programs with top NPE clients, who can become "host facilities."
"This benefits NPE clients by giving them a runway to access the best interns and new trainers who can help with the current growth of their business," said Greeley.
Greeley will be speaking at the upcoming NASM Optima conference, October 11-14, 2018 in Scottsdale, AZ, and will be delivering new sessions on fitness business building strategies.
The earning potential for certified personal trainers has risen nearly 40% since 2010, according to data from the Bureau of Labor Statistics*. Together NASM programs and NPE fitness business education will help more personal trainers strengthen their earning potential while building strong fitness businesses across the industry.
About NASM
Since 1987, the National Academy of Sports Medicine® (NASM®) has been a global leader in providing evidence-based programs for fitness professionals. In addition to its NCCA-accredited Certified Personal Trainer (CPT) exam, NASM offers a progressive career track with access to continuing education and specializations including the Corrective Exercise Specialist (CES), Fitness Nutrition Specialist (FNS) and Performance Enhancement Specialist (PES).
Academic institutions nationwide incorporate NASM's leading fitness content into their curriculum as part of personal trainer courses (leading to CPT certification), and bachelor's and master's degree programs. The vision of NASM is to empower fitness and wellness professionals, supporting them in their goal of motivating clients to lead healthier lives.
NASM is part of Ascend Learning, the leader in providing technology-based education and certification solutions. NASM is also a partner of the Athletics and Fitness Association of America and Premier Global in the United Kingdom.
In the last 10 years, NASM has certified and re-certified over 190,000 personal trainers. In 1983, the Athletics and Fitness Association of America (AFAA) pioneered the scientific approach to group exercise by releasing the first nationally standardized guidelines for fitness professionals. It has since prepared over 350,000 instructors and trainers in 73 countries.
To learn more about NASM, visit www.nasm.org or call 1.800.460.NASM.
About NPE
NPE is the leading fitness business services company for fitness professionals and business owners to grow their client base, revenue, and profits. Our full suite of fitness business services includes:
* Digital marketing agency services
* Strategic consulting and mastermind groups
* Online education
* Live workshops and conferences
Unlike other thought leaders, education providers, mastermind groups, and marketing agencies that only offer "bits and pieces" of knowledge and support, we're the only ones that deliver a comprehensive and complete suite of fitness business services that covers everything needed to grow profitably and ensure long-term success.
The company was founded in 2006 and since that time we've helped over 38,000+ fitness professionals and business owners grow to the next level. We've been listed 8x on the Inc 500/5000 list of fastest growing companies, and we're a global team with offices in Los Angeles, London, and Sydney.
For fitness business education, news and promotions, register online at www.NPEFitness.com
For more information or for an interview opportunity with Sean Greeley, contact:
Sandra Norris
Operations Director
Sandra@npefitness.com
*Bureau of Labor Statistics, U.S. Department of Labor, Occupational Outlook Handbook, Fitness Trainers and Instructors, on the Internet at https://www.bls.gov/ooh/personal-care-and-service/fitness-trainers-and-instructors.htm (visited September 13, 2018). Mean annual wage was $39,410 in 2014 and $32,277 and rose to $43,720 in 2017, the last year statistics are available.