Maria Eriksson - "Broke Out Of Negative Mindset And Doubled Sales In 9 Months"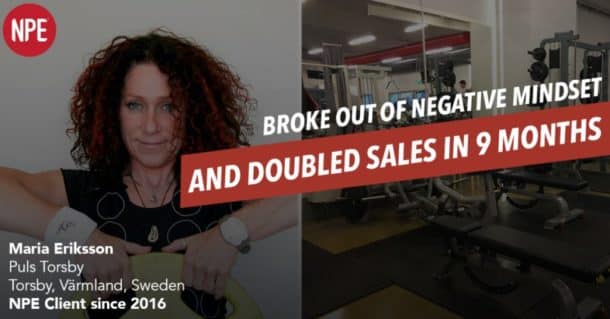 Cognitive psychologists will tell you that your ability to remain motivated depends a lot on who surrounds you.
Get happy, positive people around you and you're good. Get a bunch of excuse-makers around you, and you'll either change them or (more likely) they'll change you.
Problems start when it's just you and your inner voice … maybe a doubt surfaces … and fear hitches a ride. Maybe you get a real-world confirmation of the doubt. Then you've got a full-blown negative thought. As fitness business owners overcoming big challenges each day to continue growing, we need each other to fight that from getting worse.
Maria Eriksson runs a fitness business in Torsby, Sweden, where they have long, dark, cold winters. And when that turns around to summer, nobody goes indoors to a gym. Translation: There's no season that's motivating for clients to come into the gym.
Maria Eriksson changed her mindset, fought negativity, got nearly 25% more customers and doubled monthly revenue in just nine months.
Maria and a personal training client give a thumbs-up.
Wanted to help others
Maria Eriksson's interest in fitness sprang from a childhood medical ailment. She had been born with a crooked leg. The doctors operated on her twice, and she diligently did the rehab required.
During physical therapy, she decided that she really wanted to do something with fitness; she wanted to help others get healthy and stay healthy.
She paid her dues during nine years working and studying in Norway. She was part of a team that took a business from nobody and nothing to 1,200 clients and a great fitness facility. She'd worked every station in the gym, from marketing to personal training to group classes to repairing the equipment. Her boss said she should be running her own business.
For personal reasons, she returned to her hometown, Torsby, a small town in Sweden, and she decided to give her former boss's advice a try.
She believed she had something to offer beyond just a gym. She believed she had the ability to really help people improve their health … and she was frustrated with "pop up" gyms that didn't provide the support clients needed, and even could make things worse. And she had a dream of being part of a gym that would take off like the previous one did, and this time, it would be her facility.
Initial success, but …
The first two years were easy, Maria says. She opened her gym and word-of-mouth spread that there was something new in town. She got plenty of clients, and she opened a second location. She bought top-quality fitness equipment, and took out 750,000 krona ($82,500) loan to pay for it. She had assumed she could get out of a lease for the initial one.
But, she says, after two years the novelty wore off. She began to lose clients, and fewer people were joining up. She still had to make her loan payments, lease payments on equipment, and lease payments on two facilities. She began to wonder: Could she make her dream work in a small time, with multiple types of clients (group classes, over 55 and bodybuilders), and largely by herself.
And from that, internal doubts began to surface. She began to feel drained from doing it all alone, from cleaning the facility to leading spin classes. She had lots of ideas, but felt that there was a loss of focus. She struggled with perfectionism. And she spent almost all of her time at the gym.
She gets a call
Maria likes to do her homework, and in the course of her research, she had downloaded a business guide off the NPE website and had given her contact information. When NPE reached out in September 2016, she was particularly ready to hear what the NPE coach had to say.
"I need help!" she thought during the call. "I'll do anything."
The cost of not changing was less than the cost of taking the steps to transform her business. "I was like, 'Should I do this or not?' But then I thought, 'I need to get my head back on straight, where it should be.'"
Maria continues, "NPE reached out to me at just the right moment, because I realized I needed help to get this business up and running … I needed tools, systems that I could implement. The AUTO-CLOSER®sales system … it's really good. You could sell anything by doing the AUTO-CLOSER®."
The plan
She started in October 2016. Her NPE coach provided guidance and support to show that she was no longer all alone in this business, and gave her a simple plan:
Stay focused. Don't chase every idea. Schedule her time and stick to it.
Identify sources of negativity, such as perfectionism and fear.
Master the AUTO-CLOSER® sales system.
Implement the done-for-you marketing campaigns.
Eliminate unnecessary expenses to improve profitability.
Maria got down to work. She did the lessons, did the coaching calls, and implemented a pair of NPE marketing campaigns. She began upselling more, simple things like protein bars and protein powders.
"The coaching calls were very helpful with managing my time," says Maria.
"That really helped me in the beginning, running a better schedule of my time and not just running around … Now I plan my time, so 10-12 I'm doing cleaning if that's on the agenda. Then I'm going to do office work for two hours. And in that office time, I'm going to do my NPE lessons. I'm going to do my marketing strategy for the month."
"As a sole proprietor, I look forward to the coaching calls," says Maria. "I am constantly having ideas. I have great ideas for marketing and programs, or I want to design a new t-shirt for my gym, but I need to take care of my current customers. But my coach will listen and get me on track, saying OK, but you need to do your marketing plans for the next quarter. It's a good thing to keep me on track."
Her coach also helps her talk over things when she starts to feel "that negative" mindset returning, and bring her back to the positive.
Maria's group training class show enthusiasm during a workout.
"That's another thing that's good about NPE, you punch in your numbers every month, and that's quite fun, once you dare to do it," says Maria. "Being in control of that is rewarding. Before I was 'aware' of my numbers in the general sense, but when you have all the numbers down, that's the best way to plan … the best way to get rid of expenses."
Another key for Maria's plan was to focus on selling value.
"You're not selling memberships, you're adding value to people's lives and that's what you're selling," she says. "How can you put a price on better health … your life is so much better because my business is in town … and you can have the lifestyle you always wanted but thought you'd have to move to a bigger city to have that life. What's it worth to you?"
Success!
When Maria first took the NPE call in September 2016, she had 232 clients and her monthly revenue was 62,000 krona ($6,820). In the first six weeks, she learned and applied the AUTO-CLOSER® sales system and began executing NPE done-for-you marketing campaigns that she translated into Swedish. By late November, she hit 65,000 krona monthly revenue ($7,150).
By her third month, Maria reported a "calm mind." She said she was "very clear on what I needed to do." She hit 113k krona for the month ($12,950). By April 2017, she broke through 300 clients for the first time and brought in 120k krona ($13,750).
Almost from the beginning, her coach said Maria was crushing it …
By the late spring, Maria paid off her 750,000 krona ($82,000) bank loan. She cut other expenses, too, which improved her cash flow. And she got the sense of relief from being out from under a big debt.
Looking to the future, Maria is looking at growing her fitness business to 400-450 members and consistently hit 120,000 krona a month ($13,750). That's the "magic point" where she can hire an admin/part-time trainer (or both) and free up her time to work harder on her business and less in it. She says to get there, she's going to keep the positive mindset … prepare more customized messaging and memberships for three different categories — over 55, group classes, and bodybuilders. She's creating upselling plans for personalized nutritional plans.
Her success includes fears overcome: She was afraid of running out of energy and packing it in. She was afraid of competition who had poached a few clients. But now she remains positive and focused, building client experience to keep clients.
On the personal side, she's taking more time off. "I'm better at emptying my head from this thing (the business)," Maria said.
"I can do that now, instead of feeling guilty because I'm not in my facility … I can spend my time with my boyfriend or my family, I can post things on Facebook or on Instagram that shows that I actually have a life. My mindset is in the right place, so I can take time off if I want," she said. "I will take a vacation this year. I will take two whole weeks where I can just cruise around and let this business just do its thing."
Maria's weightlifting clients say Yes! to a pose down.
And what didn't happen …
Maria didn't scuttle her business, remain in a negative mindset, or lose her joy. She continues to help her clients change their lives. The village of Torsby didn't lose a fitness facility where the owner remained committed to improving their health, one class at a time.
Most important, Maria doesn't remain isolated in her struggle. She's got resources when she needs help, and she's got a coach to help her remain positive. She remains focused and looks forward to crushing her future goals.