NPE and WellnessLiving Partner to Help Fitness Businesses Predict The Future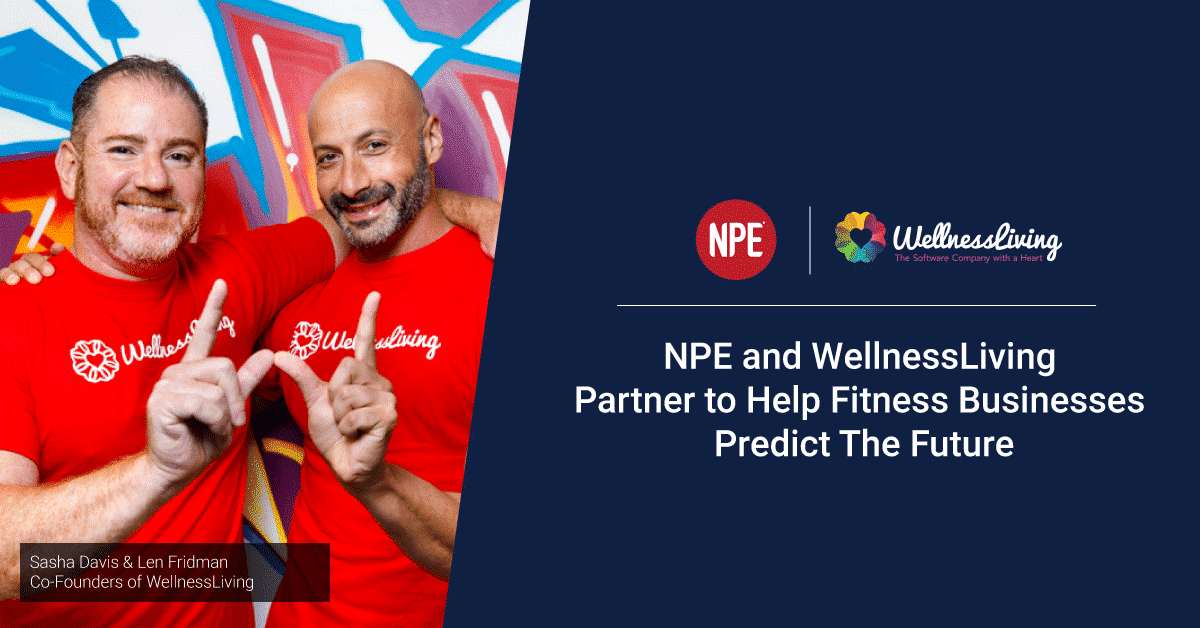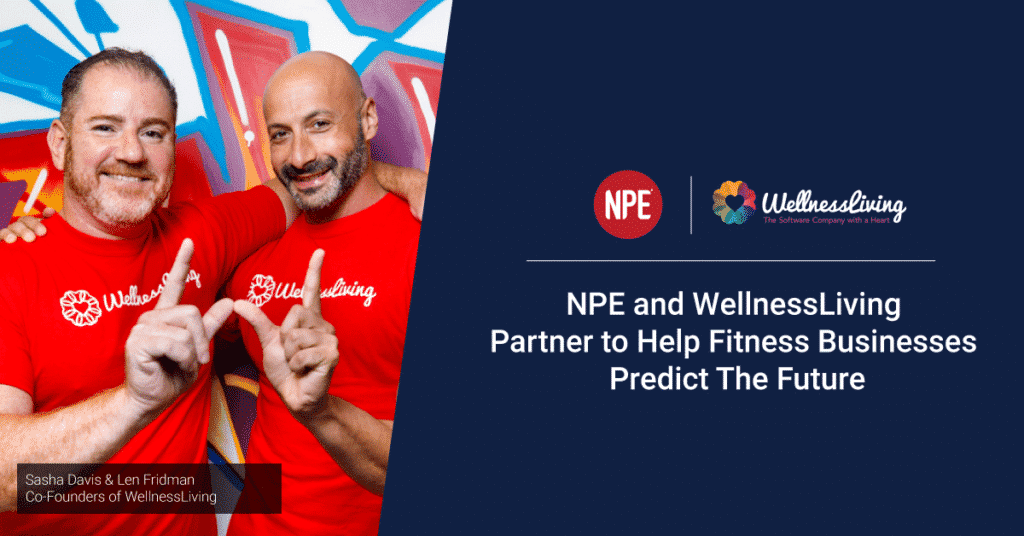 TORONTO and SANTA MONICA, CA, USA (February 12, 2020) – Too many studio owners miss signs that their clients are struggling, disengaged, and ready to leave. 
As a result, client churn often comes as an unnecessary surprise. Fitness business owners end up with shrinking revenues, lower cash flow, and increasing stress. Clients don't get the success with their program they hoped for when they first signed up.
To empower fitness business owners to better serve customers and create better customer journeys and experiences, wellness business-management software provider WellnessLiving and global fitness business-education provider NPE announced today a renewal of their partnership for 2020. 
Together NPE and WellnessLiving will help more fitness business owners leverage the latest and most powerful technology available to support small business owners with automating operations and strengthening their profitability.
"We're committed to accelerating success for small businesses in the fitness industry," said NPE CEO Sean Greeley. "Through education, new tools, and insights, we empower fitness businesses to make better business decisions. We're here to strengthen their operations, reduce client churn, and create better outcomes for consumers and business owners."
"We're excited to expand our partnership with NPE," said Len Fridman, the co-founder and CEO of WellnessLiving. "NPE provides incredible coaching and business education to help fitness entrepreneurs thrive. We are thrilled to offer that level of education to our customers. Together WellnessLiving and NPE align in our passion for helping business owners scale and reach new heights."
WellnessLiving streamlines processes for billing and scheduling, payroll, and other areas that are often challenging for fitness businesses. They plan to release in 2020 new technology in artificial intelligence (AI) that surfaces insights and predictions on customer churn and retention. 
"This is an area NPE has also contributed to with WellnessLiving," said Greeley. "We know for fitness business success, it's not just about tools and systems to acquire more clients. It's also about tools to streamline operations, reduce headaches, and ensure stability of key systems that support better serving existing clients and members."
All WellnessLiving customers are eligible to receive free NPE fitness-business training and coaching, including NPE's Best-Month-Ever Blueprint. The Best-Month-Ever Blueprint offers:
An assessment of your greatest areas of opportunity to grow your business–so in 90 days you're moving toward your Best Month Ever in total clients and revenue (or are already there).
Specific recommendations on the business strategy you can use to fast-track your success–so you don't waste your time working on things that aren't moving your business forward. 
Advice and recommendations on a personalized business plan for achieving your goals in 2020–so you can create momentum that will bring you closer to new goals in record time.
WellnessLiving members can register online to receive their complimentary Best-Month-Ever Blueprint now at: www.npecoachescorner.com/wellnessliving 
WellnessLiving becomes the Global Membership Management Software Provider for NPE. For a limited time through this partnership, NPE is now able to offer their community an exclusive 50% off WellnessLiving's Professional Plan plus 3 months FREE of a custom branded app at https://discover.wellnessliving.com/npe/
About WellnessLiving 
WellnessLiving is a business management software company that offers complete solutions to business owners in the health and wellness industry. Its software is cloud-based and easy to use, allowing businesses to attract, engage, and retain their clients. WellnessLiving currently boasts thousands of satisfied customers and 9.3 million users worldwide. It is a customer-focused company, with employees who are genuinely passionate about helping make running and growing your business easy.
The company was founded in Toronto, Canada, by two childhood friends who ran an outdoor boot camp and fitness internet marketing company from a small home office. As their business grew, they quickly realized that they needed software to help manage it. Their fitness studio clients complained that all the existing software on the market was extremely difficult to use and lacked the key features that they wanted in an all-in-one business management solution. So, the two friends set out to make a change and WellnessLiving was born.
About NPE
NPE is the leading business education and coaching company for fitness entrepreneurs to increase their profit, revenue, and happiness.
The fitness industry is littered with quick-fix sales and marketing programs that can permanently damage your reputation, brand, and business. At NPE, we take a different approach. Through the NPE 5 CORE DISCIPLINES™ we relentlessly focus on increasing profitability, revenue, and happiness with your fitness business to create long-term success.
Since 2006, we've helped over 45,000+ fitness entrepreneurs in 96+ countries grow to the next level. We've been listed 8x on the Inc 500/5000 list of fastest-growing companies, and we're a global team with offices in Los Angeles, London, and Sydney.
To learn more about NPE, visit www.npefitness.com or call 1.888.866.4998.
For more information or for an interview opportunity with NPE Founder & CEO Sean Greeley, contact:
Sandra Norris
Executive Assistant
Sandra@npefitness.com