NPE Announces Expanded New Lineup of
Partners to Help Grow Fitness Careers
and Businesses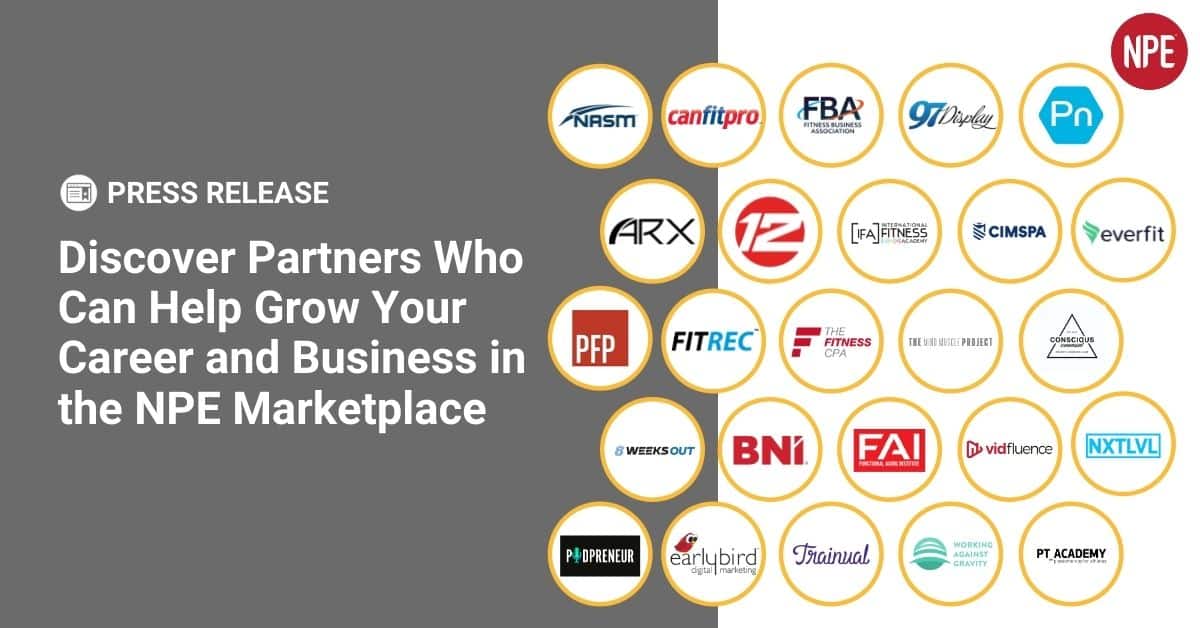 Looking for specific help in growing your career or business? 
Anything from getting a new certification to assistance with specific nutrition and exercise programming to hiring someone to manage your books? 
Then you'll be pleased to hear about a new, powerful lineup of partners we've vetted and who have joined the NPE Marketplace. 
NPE has expanded its partner base to offer fitness professionals and business owners a greater range of highly qualified partners to provide specialist services. 
Through the NPE Marketplace, members of the NPE community will be able to: 
Access a full range of NPE-recommended fitness business-building specialists who can help operate and grow fitness businesses across a wide range of service options.

Enjoy a variety of special deals and exclusive discounts for specialty business services negotiated by NPE.

Access fitness certification groups and associations who can help build expertise as a fitness professional and business owner. 
"We're really excited about this strong lineup of partners to help you – and we think you'll be excited about it, too," said NPE Founder & CEO Sean Greeley. 
"Building a successful, growing fitness business is difficult; it's even more difficult if you try to do it all yourself. That's why all coaches get coaches, and that's why you reach out to partners to assist … And that's why we've been busy vetting and enrolling a powerful new lineup of partners who can provide you as a member of the NPE Community with a variety of services — and get deals doing it," said Sean.
The lineup of NPE partners who can offer you a wide variety of services, such as:
| | | |
| --- | --- | --- |
| Video/Podcasts/Social Media | Websites/Digital marketing | Certification associations |
| Finance, accounting, and insurance | Business automation and software | |
Fitness professionals and business owners can find the new NPE Marketplace here: https://www.npefitness.com/marketplace/
About NPE
NPE provides systems, tools, and coaching to grow fit pros into 6- figure business owners. 💪 And studio/gym owners into 7-figure business leaders. 🚀
Since 2006, NPE has helped over 45,000+ fitness entrepreneurs in 96+ countries grow to the next level. We've been listed 8x on the Inc 500/5000 list of fastest growing companies, and we're a global team based in the USA, Canada, UK, and Australia.