Again Faster Asia Pacific and NPE Partner To Create More Profitable, Better-Equipped Fitness Businesses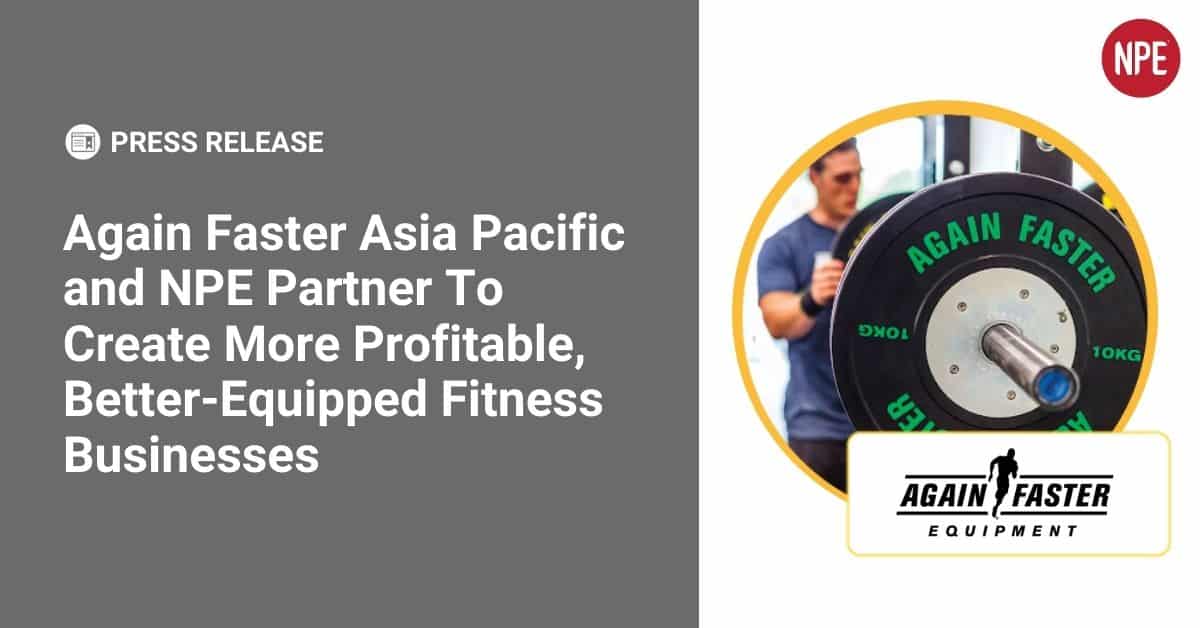 BRISBANE, Australia, November 24 – Again Faster Asia Pacific and NPE today announced an exciting new partnership to provide clients of both businesses with exclusive offerings of business-education and coaching and fitness-equipment purchases.
The partnership will give clients of NPE access to Again Faster's resources in Australia and New Zealand. These include exclusive discounts, partner offers, and more – giving clients who are looking to open their own facility world class equipment to pair with their world-class business education and coaching from NPE.
Gene Suna, Founder and Managing Director of Again Faster Asia Pacific said, "NPE is a perfect partner for Again Faster.  They have provided fitness businesses with coaching and mentoring since 2006, giving their clients access to tools and systems to grow their business."  
"Again Faster looks to continue our growth and further cement our position as a trusted partner for our clients, whether that be through equipment, fitbox gym management software, or
through programs that help businesses diversify their income streams
," said Gene. 
"NPE is a perfect fit for us to partner with. We look forward to helping NPE clients create amazing facilities so they can serve their communities and deliver health and wellness to the people of Australia and New Zealand," said Gene.
Again Faster Asia Pacific will join NPE's Faculty Program of experts who provide critical educational content to the NPE community.  Again Faster will also be presenting exclusive workshops and making special offers available to NPE clients supporting facility design, planning, and more. 
NPE Founder & CEO Sean Greeley said, "We're pleased to announce this partnership and add Again Faster Asia Pacific to the roster of NPE Faculty, who can provide much needed guidance if you're thinking of opening, expanding, or upgrading your facility. So many operators struggle to maximize their client experience and business ROI because they lack the experience in facility planning and design. The Again Faster team offers tremendous expertise to better support our community in this area."
NPE delivers the #1 suite of business and marketing systems, tools, and coaching to grow fit pros into 6-figure business owners. And studio/gym owners into 7-figure business leaders. 
Learn more about NPE.
Again Faster is a Brisbane-based, Australian-owned supplier of strength and conditioning and functional fitness equipment.  With nearly 10 years of operation, they provide solutions to every type of fitness business, through equipment, gym management software and much more.
Learn more about Again Faster.