Andrew Wyant and Sean Greeley Announced as Keynoters for SUCCEED! Community Event
"Headlining a game-changing, brand new virtual event structure"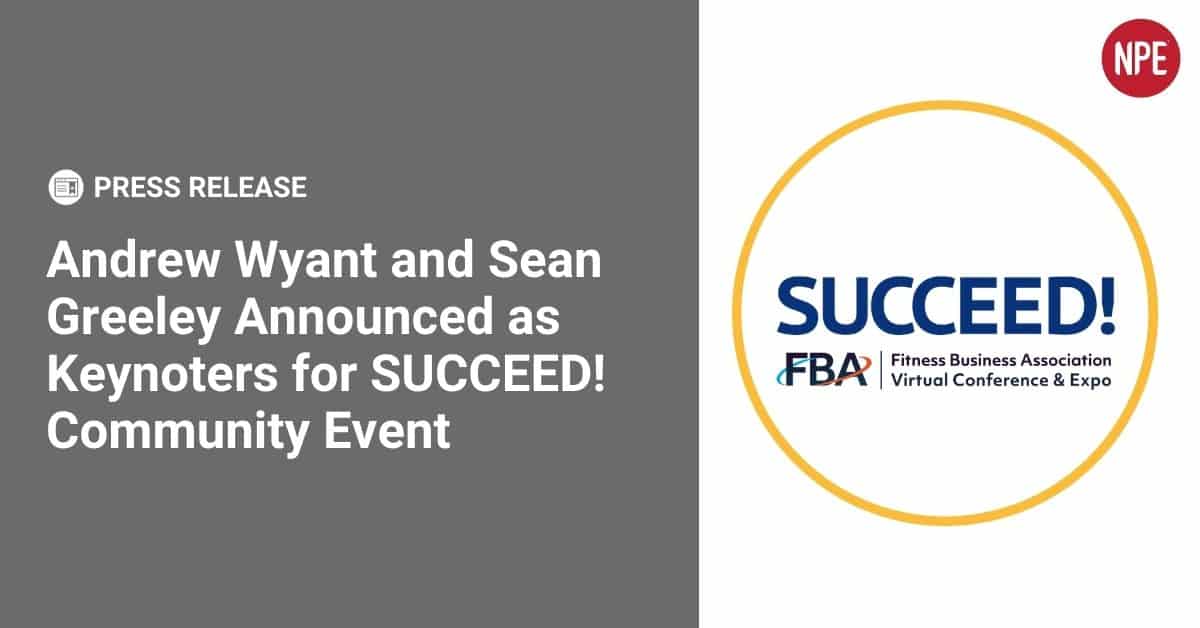 (MINNEAPOLIS, MN, May 12, 2022) – Two of the brightest minds in the fitness industry are bringing their expertise and enthusiasm to grow fitness businesses of all kinds to the brand new SUCCEED! Community Event – happening June 3-4, 2022.
Andrew Wyant serves today as the President of the ISSA after having helped successfully build and grow a series of businesses in a wide variety of industries. Since becoming ISSA's leader in 2018, the ISSA has grown by over 400% and has become the number 1 rated and reviewed personal training company in the world.
He is also a regular speaker on storytelling and the neuroscience of how the brain processes information to make buying decisions and was named Marketer of the Year by the American Business Awards in 2010. He was also the recipient of numerous other awards including Advertising Campaign of the Year for his work at LifeLock.
A graduate of the Wharton School of Business of the University of Pennsylvania and is particularly proud to be a volunteer and a board member of UMOM – one of the nation's largest and most successful organizations dedicated to the mission of ending homelessness.
Sean Greeley, NPE founder & CEO has an unrelenting passion for empowering fitness business owners to grow their business and create the life they want.
Sean Greeley is Founder & CEO of NPE. He is a former professional wakeboarder, award-winning personal trainer, and studio/gym entrepreneur who took his company to 650+ clients and 2 locations. 
Sean then survived a Stage IV cancer scare, during which time he sold his fitness business. After his return to health, Sean founded NPE and began to help other fitness entrepreneurs succeed in their careers and in starting and growing their business.  
Since 2006, NPE has helped over 45,000+ fitness professionals and business owners in 96+ countries grow to the next level. NPE has been listed 8x on the Inc 500/5000 list of fastest growing companies, and is a global team with offices in Los Angeles, London, and Sydney.
We couldn't be more excited to have these to heavyweights of the fitness industry keynoting our first ever SUCCEED! Community Event, said Josh Leve, FBA & SUCCEED! founder & CEO. "The deep wealth of knowledge and mission of both organizations (ISSA and NPE), align perfectly with the FBA and our SUCCEED! family of events. Attendees are in store for one amazing experience!"
More information about the SUCCEED! Community Event can be found at www.fbasucceed.com.
About the FBA
The Fitness Business Association (FBA) is the only membership community dedicated solely to fitness businesses of all types. FBA provides owners and fitness professionals a wide array of business-specific products, services, and benefits that enable them to more effectively manage and grow their businesses, building on the passion, compassion, and courage they've already shown. FBA educational offerings include SUCCEED! Fitness Business Conventions & Expos – both in-person and virtual.
About SUCCEED! Conferences & Expos
Launched in May 2019 as an in-person event, and continuing with four virtual events a year, SUCCEED! Conferences & Expos have drawn over 20,000 owners, operators, fitpros, and aspiring fitness business owners of all types. The next event is the SUCCEED! Community Event, June 3-4, 2022.
About ISSA
International Sports Sciences Association (ISSA) is a global leader and the pioneer in the personal training certification industry. For more than 33 years, ISSA has been committed to providing the highest quality certification programs by merging the gym experience with practical applied sciences and building trust in order to help people achieve their goals. ISSA offers 20+ personal training specializations including nutritionist, exercise therapy, and corrective exercise. To date, ISSA has trained more than 460,000 students across 174 countries, all while continuing to develop greater access to opportunities that promote a healthier world: www.ISSAonline.com.
About NPE
NPE delivers the #1 suite of business and marketing systems, tools, and coaching to grow fit pros into 6-figure business owners. And studio/gym owners into 7-figure business leaders.
Since 2006, NPE has helped over 45,000+ fitness entrepreneurs in 96+ countries grow to the next level. We've been listed 8x on the Inc 500/5000 list of fastest growing companies, and we're a global team based in the USA, Canada, UK, and Australia.