Wilbert de Veers - "When to Stop Playing It Safe and Start Taking Big Risks"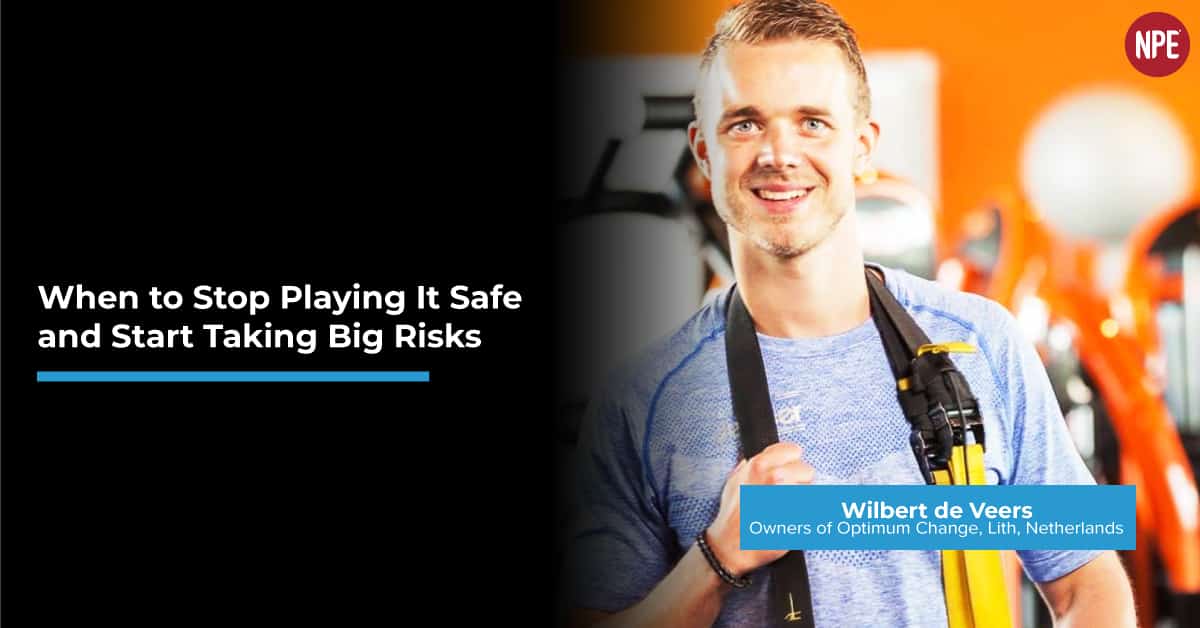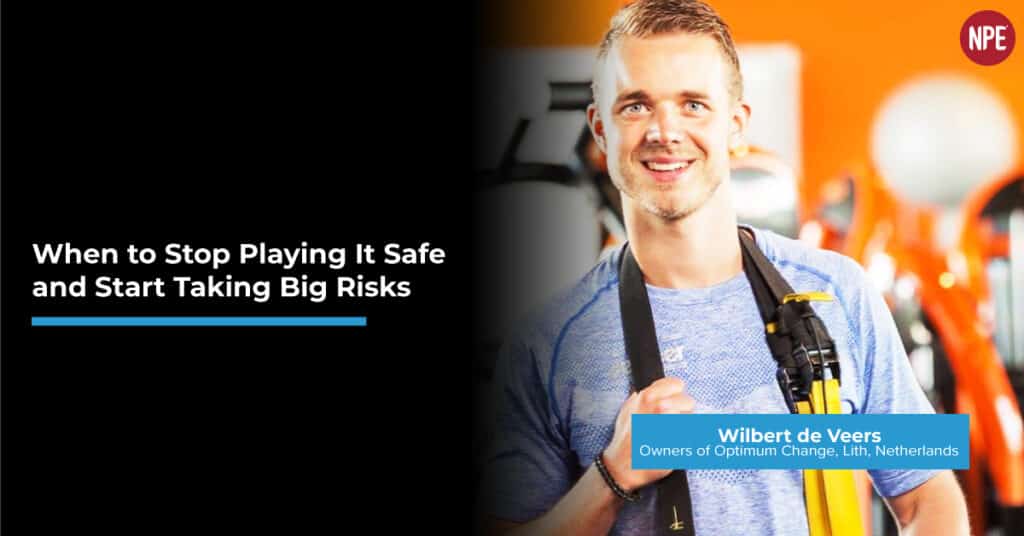 Most of us want security. But if you want to grow a business, you'll need to take risks.
You'll risk not being able to pay yourself. You'll risk not meeting payroll. You'll risk not making rent. And so on. It's your money on the line.
The business risk grows even scarier every time when you venture alone into the unknown. The way forward may be obscured, except for those who know the terrain.
Wilbert de Veer is an NPE Coaching PRO™ Program client (since May 2015) who owns Optimum Change, Lith, Netherlands. He's always been a careful, hard-working entrepreneur.
One day he woke up and found himself working 70-80 hours a week. The only way to break free was to change his mindset toward risk—and then step up and attack the challenges, and risk "losing everything."
And attack the challenges he has. He's gone from being a one-man operation working almost continuously for €5k a month to running a six-person team approaching €40k a month. As of this writing, he's getting married this week; he has time to take vacations while his business grows, and now spends more time with his family and friends.
The change didn't come overnight; it took hard work and tough decisions for Wilbert to grow his business and create the life he's always wanted.
Wilbert ignored doubters and started a personal training business.
Saw opportunity to help people …
Wilbert went to college and graduate school for sports performance because he wanted to train professional athletes. Hired by the Dutch national training center, Wilbert used data to analyze optimal performance and offer that information to coaches. Unfortunately, the organization needed to lay off some workers based on seniority, and that left Wilbert out in the cold.
He took a job in Lith as manager at a fitness facility. Part of his job was to onboard new members to the fitness club, take them through a workout, and check back every other month.
Some members wanted greater results and asked Wilbert to train them personally, once a week. He went to the boss, who replied, "We don't train famous people, and we don't live in Amsterdam, and personal training is only for famous people and people who live in Amsterdam."
Wilbert decided to start his own business.
"I really wanted to help these people," said Wilbert. "You can tell people how to train, and they do it right for two weeks, but then they start to get lost and don't know how to do it anymore."
Wilbert started renting space in another gym and signed up clients to cover about 20 hours a week. Within six months, word of mouth brought that number up to 40 hours a week.
"I was doing well," says Wilbert. "People were getting results. I was bringing in income."
… which became too much of a good thing
But 40 hours a week of personal training creates a problem familiar to fitness business owners: administration and preparation time. Wilbert ended up working 70-80 hours a week. His life with his fiancee suffered; they were not able to spend enough time together.
"Business-wise, it was all very good," said Wilbert. "But I didn't have any time for my fiancee, Lieke. I didn't see my friends anymore. All I did was: (1) wake up (2) work (3) go to sleep. I wanted something else, but I didn't know how to do it."
Wilbert racked up the hours while looking around for a solution. He signed up for an NPE course in the Netherlands, met an NPE coach, and decided to join NPE. He needed to take a risk by investing in NPE, but believed the NPE coach had shown a better way forward.
While committing to NPE would cost him money, the investment was actually less risky than doing nothing: "I wanted to learn," said Wilbert. "I was only giving personal training sessions. I didn't know what I was doing as far as running a business."
He built a great client experience … and had to grow the business from there.
Saw the path forward and saw the big risk
His NPE coach offered him a plan and started with this: Create a vision. What did he want from his business and what he did want in his personal life?
Wilbert wanted what many fitness entrepreneurs want: his own facility. On the personal side, he wanted more time with his fiancee and with his family and friends, and he wanted to take vacations and be able to take time off while his business grew.
So far, so good. Getting the dream on paper is great. But all the next steps involved risk. What are your commitments? What are you willing to do to achieve these goals?
"The first thing NPE told me was to hire another trainer," said Wilbert. "That allowed me to work on the business, instead of in the business. My total mindset had to change. I had to see myself as a business owner, not a personal trainer."
Next, NPE counseled him to raise his rates and stop getting paid-by-individual-session. Instead, NPE suggested he offer 3, 6 and 12-month packages.
"The hardest part was to learn to take risks," said Wilbert. "It sounds easy, but it's very difficult to do. Because everything costs more money. So you could lose it all."
His NPE coach helped him through.
"The biggest thing they did was keep a mirror up for me: What do you want? How do you get there? What do you need to get there?" explained Wilbert. "I need to have new employees, but it's risky because they cost a lot. What's the risk? What are pluses? What are minuses? Then make a decision that you think is best."
He said he was able to deal with the fear of risks because he wasn't alone with it.
Working the plan
Wilbert went ahead and took the NPE coach's advice and attacked the challenges: He hired that first trainer and became responsible for payroll. He raised his rates and risked rejection from clients. He offered the packages and risked losing existing clients. And he implemented the marketing calendar and campaigns, spending money to get more clients.
Guess what?
His clients had no trouble signing up for longer term commitments and he lost NO clients because of higher rates. He was worth it to them. His new trainer was crushing it. And marketing campaigns drove in new clients to cover the new trainer's costs.
"Don't be scared to grow," says Wilbert. "Take some risks. Hire some employees. Don't be afraid to raise your rates."
Wilbert's business continued to thrive, and after a year, he hired another. And another. Until Optimum Change has four full-time trainers, one part-timer, and a part-time admin.
But there was one more challenge: Wilbert wanted his own facility, and getting one made business sense, and what happened next is a small case study in the value of having someone accompany you on a journey.
He talked the facility requirements over with his coach and Wilbert decided that because of the nature of Optimum Change's offerings, he would need: (1) training space (2) office space for individual nutritional counseling (3) a kitchen for nutritious meals. And of course, cost limits.
Problem was, finding a facility with a kitchen, an office and training space wasn't easy. Two of three, easy. All three, no.
Wilbert started looking in March 2016. He founded two out of three over and over again. Spring turned to summer, which turned to autumn. Wilbert was eager to move and found something that was close. His NPE coach held up the mirror and urged Wilbert to hold the line on his requirements.
The coach pointed out Wilbert didn't need to move for his business; the facility was a dream that could wait until the right opportunity came along. He shouldn't get stuck in a subpar facility to move for the sake of moving.
Wilbert held the line and waited. A facility opened up in December 2016 that had all three requirements, and the cost range. He signed a lease, and the company moved in February.
"The searching part was scary," said Wilbert. "From the moment I signed the contract and said this is the facility, I wasn't scared anymore. Then I was like, I am going to do this and this is going to be a success."
Wilbert (right) now has six staffers and a new studio.
Success
The risks have paid off. Revenues have grown to nearly €40,000 a month.
He's gone from an overworked business operator with no free time, and whose relationships were suffering, to a successful business owner with a staff, a new facility, and most important—time for the people who matter most to him. In fact, he and Lieke were scheduled to be married May 19.
"It's much better when you have time together. We have time on weekends. We spend time with friends and family. For me, the main reason to work is for them, but when you don't have time to see them, what's the reason you work?"
Looking to the business future, Wilbert said: "I currently still train people 25-30 hours a week. And that's too much. My goal by the end of the year is to get down to 20 training sessions a week. In three years, I want to give a maximum of 10."
He plans to continue to grow his business, earning the freedom to enjoy the time with his family.