How To Get and Convert Fitness Sales Leads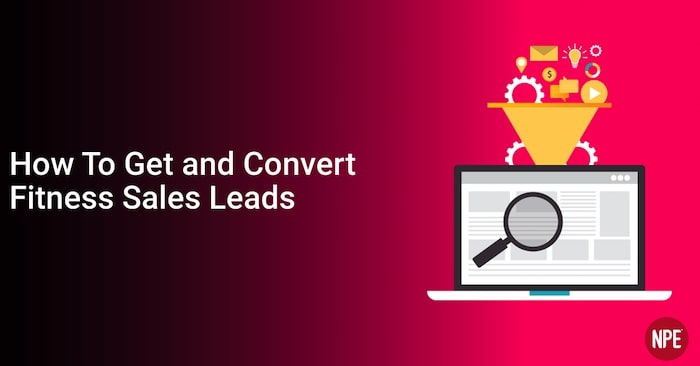 "I'm too busy! I don't have the time to invest in marketing…"
"I've tried marketing before, but I've never gotten good results…"
"I wouldn't even know where to start, it all seems so confusing…"
Sound familiar?
A LOT of fitness business owners have a hard time creating rock-solid marketing.
You've already got too much to do, and marketing can be confusing, frustrating, and downright overwhelming.
But it's something that you've got to get right if you want to keep new clients coming through your door.
So where should you start?
What can you do today that will start bringing the RIGHT clients in the door month after month?
In today's blog, I'm going to share with you the first three steps of the Fitness Sales and Marketing Lifecycle, and explain how each step can help you easily convert cold prospects into happy, referring clients!

Before you do anything, there are a couple things you need to nail down, otherwise you'll be wasting your time, money, and energy.
The key to any successful marketing plan is understanding:
The perfect client you want to attract
A positioning statement that distinguishes your business from competitors
Messaging that connects emotionally with your prospect
Compelling offers that give your prospect a reason to respond
If you don't know how to identify the type people that you're trying to bring into your business, you're never going to be able to generate creative that speaks to them and causes them to take action.
You can't just write words down or create a generic design. It's crucial that you understand these four requirement before you move on to copy or design:
Targeting – Defines WHO you want as your client, WHERE they live, and understanding WHY they buy.
Positioning – Is an expression of how your service and brand fills a particular consumer need in a way that competitors don't.
Messaging – Is all about the way you engage the conversation so that your prospects want to learn more and work with you. Themes, hooks, and your positioning statement (which defines how your company differs from competitors in your marketplace) are all part of nailing your message.
Offers – Can be both free and paid. Both have great value in list building and attracting the right qualified prospects to your business.

There are people out there looking for your help. They have a problem and you have the solution.
But if you're hidden, they're not going to magically find you.
You've got to show up. And showing up means reaching out to them and giving them a reason to visit your website, check out your social media channels, stop in your facility, and call or email for more information.
There are three main strategies and sources we teach our clients how to use to reach the prospects and targets they want. They are:
Advertising
Networking/Partnerships
Social Media

Advertising is great option for attracting prospects because you have direct control over it.
And it doesn't have to be expensive. You can start as low as a $/£10 budget.
When it comes to advertising, the most important question is "What can you afford to spend in profitably acquiring a new client for your business AND staying cash flow positive in doing so?"
But before spending any money on ads, you must:
Know Your Numbers

 – What's the average client worth to your business? How can you increase your average annual client value? How can you accelerate cash flow with new clients within the first 30 days?

Set Your Goals

 – How many clients do you need and how much can you afford in advertising spend to achieve a negative customer acquisition cost each month in your business?

Understand Your Target Market

 – Who do you want to reach? Where do they live or work? Why do they buy?

Craft a Strong Positioning Statement

 – How is your business unique? Why would a prospect be a fool to choose working with anyone but you?

Generate Creative

 – How are you inviting a prospect to move forward in your marketing lifecycle? What type of tone does your brand have and does it represent your message? Does the look and feel of the ad align with your target market and company positioning statement?

Choose Your Media

 – Do you want to use online media advertising (Facebook, Google Adwords, etc.) or offline media advertising (print newspaper ads, local magazines, radio, etc.)?

Networking isn't just about going to events and meeting lots of strangers.
You've got to take the next step and develop those relationships.
The goal of networking is to:
Identify and Develop Referral Partners – Find new people to start to develop relationships with that you have some commonality with. If you're going after similar types of clients, there's an opportunity for you to be able to refer them your clients and vice versa.

Build Your List of Contacts

 – This can include both referral partners and potentially new clients. Developing a good, strong network will help start to increase the visibility of who you are, what you're about, what your business is about, and what value it brings to the community around you.

Become the Go-To Person

 – When you can become not only known as a business owner but also as somebody who's connected and knows people, you become the go-to person. Others know you're someone who can help them and will have an answer. This increases your visibility and credibility, which will drive more business through your doors.
If you're new to networking, try going to BNI, Chamber of Commerce, Rotary, local business association groups, etc. to build relationships with like-minded professionals that serve your target market.

Social media has created a TON of opportunities for you to market your business, for little to no cost, and drive some serious results quickly.
Here are three tips to crush your social media marketing:
Share Great Content 

– The more great content you share via social media, blogs, email marketing, and more… the more valuable and engaged your prospects and network will become.

Engage Your Network

 – Don't just focus on reaching new people – be sure to engage your current community. The more THEY engage, the easier and faster you'll become noticeable to their networks… and chances are good those networks include many of your perfect client prospects.

Focus on Personal Connection and Building Relationships

 – Social media is simply a platform that offers a way to connect to people. And building relationships with people is what drives the growth of your business.

Alright, you've done a great job of identifying your target audience, you've generated intriguing creative and attracted traffic to your business.
But you can't stop there… you've got to take the next step and capture their contact information so you can continue the conversation.
They're not going to just hand over their information, you need to give them  a reason to.
Some of the best places to do this are your:
Landing page

 – Do the colors, image, and messaging on the landing page appeal to your target market? Would it make them want to give you their contact info?
Phone script 

– Is your script engaging? Do you know your target audience's pain points, goals, etc. and are you bringing those up when you speak to them?
In-person script and sign up sheet 

– Are you prepared if someone just walks into your business and is interested in your services? Having a script that you follow and a signup sheet to get their contact info is MUCH more professional than just writing their contact info down on a sheet of paper and letting them know you'll be in touch.
Getting these right is critical to growing your business. Keep track of how these are performing and make tweaks to see if you can get better results.
Maybe you need a new headline?
Or maybe you need to rethink the design?
Is your "call to action" compelling enough?
There are lots of things that you can test – and it's DEFINITELY worth the time and effort because increasing your conversion by just 5 or 10% can result in dozens of new clients and thousands in new revenue for your business each and every month.
Plus, once you have the prospect's contact info, you can add it to your database and communicate with them consistently over time, which is crucial to your success in the next phase.

You've attracted prospects and captured their contact information, but now what?
Convert hot prospects immediately! If someone reaches out to you about how to solve a problem or start attacking a goal right now, you need to immediately engage them so you can convert them into clients.
Nurture your unconverted leads who don't buy right away.
This is where a TON of fitness business owners fail because they don't put in the time and effort required to nurture.
But if you think that it's not worth your time to nurture prospects, you're wrong.
Dead wrong.
On average, 81% of sales happen after 7 or more contacts.
And 85% of the time, fitness business owners stop after just 1 or 2 contacts.
You could be missing out on a TON of sales because you aren't nurturing you're unconverted leads….or you're not doing it the right way.
You have to nurture and invest in the relationship with your prospect and give value early on. One of the best ways to do this is to implement automation in your business so you don't have to waste time remembering to reach out to clients.
You can easily create an automated campaign with these two keys to nurturing prospects:
Indoctrination

 – Think of indoctrination emails as sending a welcome to your prospects who don't know anything about you. You can have multiple emails in the campaign and include things like your story, social proof, etc.

Valuable Content 

– Providing good, valuable content to prospects is one of the best ways to establish yourself as an authority in the fitness industry and can include:
a. E-newsletters – Include a message from you, fitness tips, recipes, etc.
b. Workshops – Add them to your database when prospects register.
c. Facebook Live Event – Connect with your Facebook community through a Q&A session or discuss a topic you think your target audience will be interested in.
d. Blogs – Write an article about a new fitness trend, your top tips, etc. and put it on your website. Then you can share it on social media and drive people to your website when they read it.
However you choose to nurture prospects, make sure you communicate with them consistently over time. You can't make anyone buy anything. But you can stay positioned so when they are ready to buy, they come to you!

Rock-solid marketing isn't about finding the fastest way to get clients in the door.

It's about finding the best way to get the RIGHT clients in the door month after month.
And it doesn't have to be a confusing nor overwhelming chore that you keep pushing it off.