'Rebuild Your Business Better Than Ever' Online Training Series From Fitness Show B2B And NPE To Help Fitness Studio/Gym Owners Ramp Up Revenue Lost During Lockdowns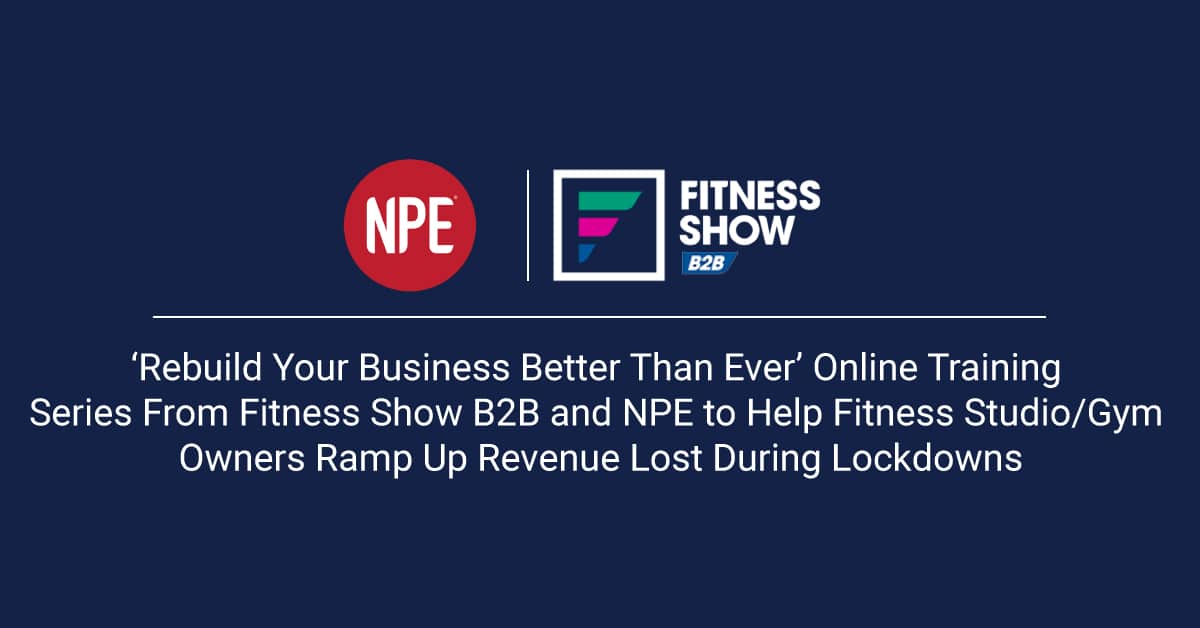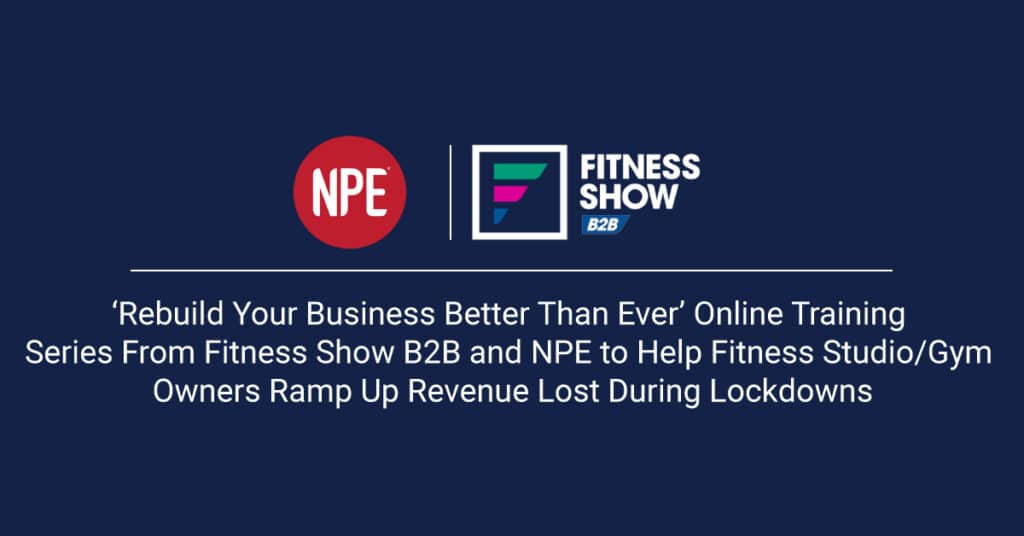 SYDNEY, Australia – The COVID-19 pandemic has damaged the fitness industry and forced many studios and gym businesses to close their doors permanently.
Businesses that are preparing to re-open must do so with half the clients and revenue (yet the same cost structures) they had 2 months ago.
To help rebuild the industry, Fitness Show B2B is partnering with fitness business education and coaching company NPE. Together, they will provide fitness professionals and studio/gym owners with the strategy, business plan, and tools they need to recover and grow again.
This starts with a monthly FREE online training series on how to "Rebuild Your Business Better Than Ever" available to all fitness professionals and studio/gym owners across Australia.
"We're on a MISSION to help 10,000 fitness businesses grow again," said NPE Founder & CEO Sean Greeley. "The public needs the fitness industry now more than ever to stay healthy and strong through these times. Strengthening fitness businesses allows the sector to powerfully serve those that need our help."
The first online training event will be Thursday 4 June at 12pm AEST: 'Don't JUST Re-Open Your Facility, RE-ENGINEER It: A step-by-step guide to upgrading your business model to deliver more VALUE to clients and increase profits, cash flow, and success in the year ahead.'
Fitness Show B2B Event Director, Cory McCarrick, said that the aim of partnering with NPE to deliver this series of webinars is to help fitness facilities in Australasia to not only survive, but to thrive!
"The impact COVID-19 has had on the fitness industry has been devastating following the closure of gyms in March. As Australasia's leading event for the fitness industry we believe we can play a part in helping fitness facility owners/ managers to recover quickly and to grow their businesses." McCarrick said.
"NPE have helped over 45,000 fitness entrepreneurs in 96+ countries and have proven systems and tools in place to help our fitness facilities to not only survive, but to thrive. I'm proud that we have been able to partner with NPE and offer this webinar, free of charge for the Fitness Show B2B community."
Fitness trainers and studio/gym owners who want to re-open strong, deliver more value to clients who need their help, and ramp up revenues can register for the online training series here.
About Fitness Show B2B
Fitness Show B2B is Australasia's leading trade show for the fitness industry taking place annually in Sydney. The event attracts buyers from various fitness facilities including independent gyms, boutique studios, gym chains & franchises, personal trainers, schools & universities and council leisure centres who come along to learn, to be inspired and to do business with world's biggest brands.
Fitness Show B2B 2021 has been revamped and will take place on 30 April–1 May 2021 at the ICC Sydney. Expect to see a wider variety of products and services, new educational opportunities, expert business advice sessions and live workouts using the latest commercial fitness equipment.
About NPE
NPE is the leading business education and coaching company for fitness professionals and studio owners to grow their business, take home more money, and live their dream lifestyle.
The fitness industry is littered with quick-fix sales and marketing programs that can permanently damage your reputation, brand, and business. At NPE, we take a different approach. Through the NPE 5 CORE DISCIPLINES™ we relentlessly focus on increasing profitability, revenue, and happiness with your fitness business to create long-term success.
Since 2006, we've helped over 45,000+ fitness entrepreneurs in 96+ countries grow to the next level. We've been listed 8x on the Inc 500/5000 list of fastest growing companies, and we're a global team with offices in Los Angeles, London, and Sydney.
To learn more about NPE, visit www.npefitness.com
For more information or for an interview opportunity with NPE Founder & CEO Sean Greeley, contact:
Sandra Norris
Executive Assistant
Sandra@npefitness.com