Ricky Berry – "Army Veteran Gained Confidence To Open His Own Business, Nearly TRIPLED His Business In One Year, And Has A Best Month Ever At £14k!"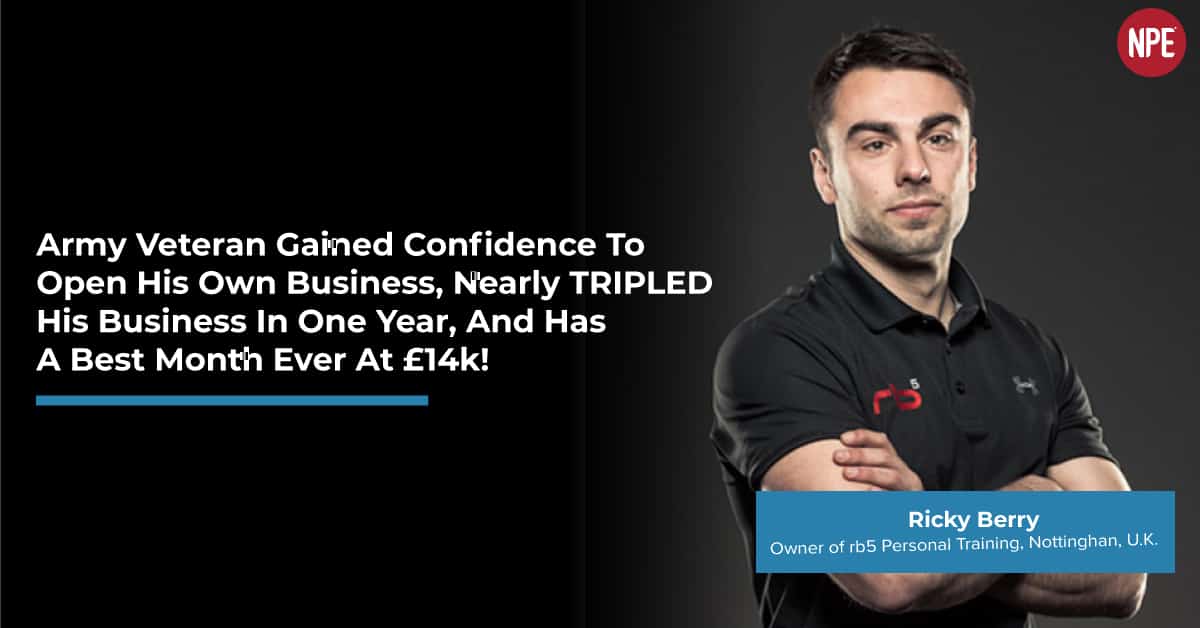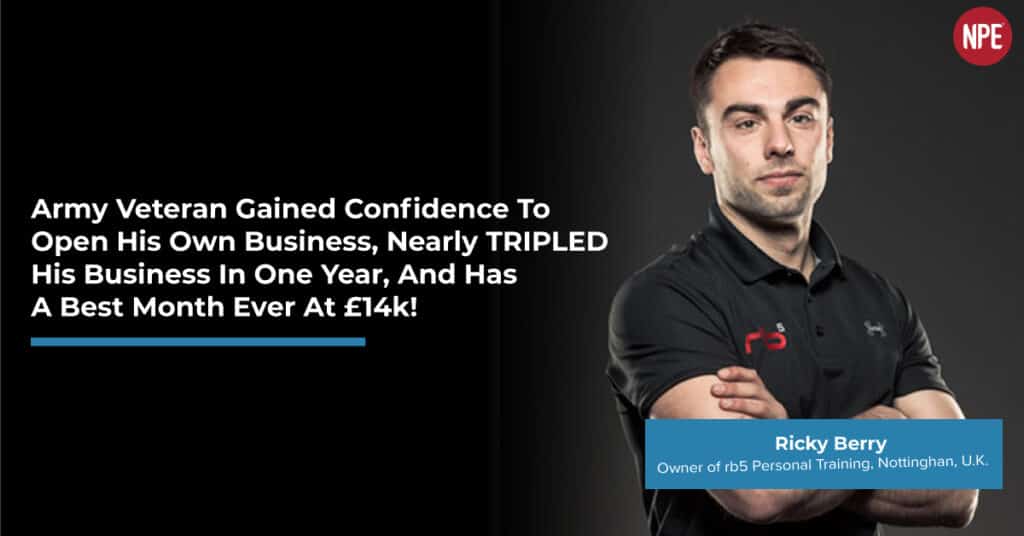 After Ricky Berry was medically discharged from the army due to torn ligaments in his ankle, he completed a personal training course and got a job at Virgin Active, the largest health club in the UK.
He quickly developed his reputation for helping people get exciting results and became a national group exercise lead trainer. When his job started to get redundant, Ricky wanted a change but was hesitant to become self-employed. In June 2013, he left Virgin Active and took his clients with him, one of which became his business partner.
He started holding small bootcamps outside and rented space in a local gym for personal training. Ricky kept his prices extremely low:
"I thought the only way I could keep clients was by dropping my prices and giving stuff away for free."
Ricky charged just £100 per month for four sessions of one-on-one personal training sessions and free access to the bootcamp classes. Ricky was only making £1100 a month – and he had to pay rent out of that.
His partner didn't want to make fitness her full-time job, and they were consistently getting into arguments so he decided to give it a shot on his own.
Around the same time, Ricky attended FitPro Live where he met Sean Greeley and learned about NPE. He put his name on the email list and went to the first UK MEGA TRAINING™ event in September 2013. Ricky was still scared to take the next steps on his own, so he got another business partner.
Three months later, Ricky finally had the courage to let his partner go and move forward with the business on his own. He signed up for NPE's ACCELERATOR™ program, started developing his vision, and used the Raise the Rates campaign to change his pricing:
"That was the second most stressful part ever in my life – going over it in my head, the sleepless nights – but I said to my clients, 'This is what's happening, the rates are going up,' etc. and I didn't lose anybody. We had 22 clients before and we had 22 clients after and the feedback was 'well, we expected you to raise it up because it was too cheap.'"
Raising the rates paid off. As Ricky worked through ACCELERATOR™, he went from earning £1100 per month to £2400 per month.
In April 2014, he opened his first studio and decided to #RiseUp and join the ACADEMY™ Program.
Although raising the rates was scary, Ricky's biggest challenge was staffing and letting go of his business. He took on a new trainer named Joe right away, but the clients didn't like him – they had only ever trained with Ricky and gave terrible feedback about the change.
But in June, Ricky had to attend a fitness residential in the south of France and he left Joe to run the gym:
"The feedback that I got while I was away was amazing – he just developed and flourished because I let him get on with it and wasn't watching over him all the time and when I came back, he upgraded two clients. The community and that negative atmosphere were gone. It was me and my fears that were holding him back and holding the business back."
With the help of two personal trainers and two admins, Ricky has been able to start reaching his goals and achieving his vision.
By April 2015, he had recurring revenue of nearly £7k – he nearly tripled his business one year after opening his studio doors.
But it's not just about revenue for Ricky:
"The finance is only part of it – it's more of the development of myself. I thought NPE was expensive, and it is expensive, but I wouldn't think twice about spending £5k on a fitness course. When it comes to business, personal trainers don't see the point in putting money into it because all they want to do is put all their money into developing as a personal trainer and they end up becoming burnt out like I was."
Ricky knows the importance of evolving from a personal trainer to a business owner. He used to have a vision of hitting £10k per month but says it's easy now and necessary because businesses need to turn over that type of money to be successful.
Although Ricky holds himself accountable, the contacts and relationships he develops from the NPE community have helped support his growth.
"If you're having a hard day and you look on the Facebook group, you can speak to someone who's having the exact same problems and you can speak to another person who's already been through it. That's not even the coaches, these are just paying members."
But Ricky isn't one to shy away from challenges. Last year, he did an ultramarathon (that's 52 miles!) in the French Alps. Thirty-two miles in, Ricky dislocated his ankle at the bottom of a mountain. He popped it back in, hobbled through the snow over to the other side, but couldn't make it the last ten miles.
He's going back next year to complete it.
As Ricky continues to CRUSH his goals (he just had another best month ever at £14k and has 81 clients), he's using the freedom he's gained to focus on new goals. He recently joined the NPE team as a Client Success Coach and looks forward to helping personal trainers overcome their negative mindset and see their value:
"Have faith in your own ability and believe you can make a difference in your clients' lives. Have faith in your vision – the worst thing that can happen is it fails. If it does, it's not the end of the world. Pick yourself up and go again."