Step 1: Prequalify the Prospect
Want More Clients for Your Fitness Studio or Gym? Fix this First
Duration: 10-15 minutes
Goal: to determine whether your prospect is qualified for your program before scheduling a sales consultation. 
This is the most critical step in the sales consultation process, and you'll see in just a moment why skipping this step can have catastrophic consequences.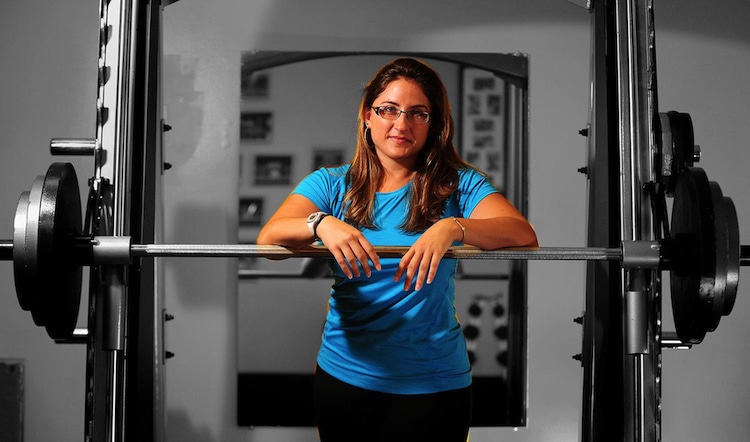 I taught my staff The NPE AUTO-CLOSER® sales process and saw immediate results. We had three months of double-digit growth and grew our average monthly revenue from $7,500 to $15k.
Katrina Cobb
ReFORM Studio
What Is Pre-qualification in a sales system?
Pre-qualification is the process of determining if:
Someone is the right fit for your studio or gym.

You're the right fit for them.
Although this is just step one of a seven-step process, proper pre-qualification is more than half the battle to winning new clients.
It's that important. Why?
Pre-qualification is how you will immediately remove the biggest objections from the table, so you and your team only invest time with someone who has the ability to buy. 
This step often gets skipped because you aren't sure what questions to ask and are intimidated by the possibility of hearing no.
BUT – Pre-qualification gives you the BEST chance of making the sale and setting up an excellent experience for everyone.
So… if you skip this step – nobody wins. 
The anatomy of pre-qualification
Pre-qualification is the process of determining if your prospect is ready to make a commitment. 
1. Get comfortable
It's important to make sure your prospect is comfortable, relaxed, and feels like they KNOW, LIKE, and TRUST you before you continue to engage in the conversation.
2. Learn about your prospect
To better understand how you can help your prospect, ask them about their motivation, their goals, and what problems they want to solve.
3. Give an overview of your services
Let your prospect know what you offer so they can determine if it's something they're interested in. Share how it works and the time commitment involved. Give them a range of prices so they get an idea of their investment.
At this point, there's no need to get into the nitty gritty of your packaging and pricing. You'll do that in Step 5 of the AUTO-CLOSER™ process. 
4. Determine if they can afford your services
Once you give them a range of your prices, ask if it's within their budget. They'll typically give you one of three responses: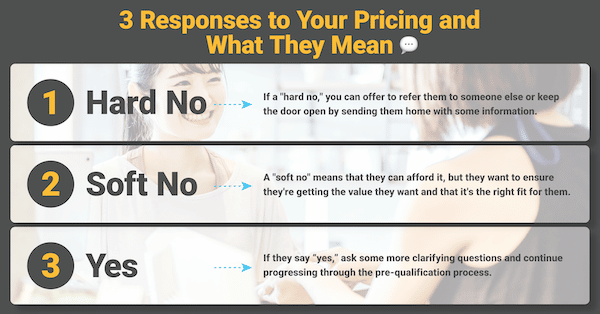 If the answer is:
A "hard no," you can offer to refer them to someone else or keep the door open by sending them home with some information and an invitation to speak again if their situation changes.
A "soft no" means that they can afford it, but they want to ensure they're getting the value they want and that it's the right fit for them. They may want time to think about it. In this case, schedule a time to meet for a further discussion around their goals.
A "yes", ask some more clarifying questions and continue progressing through the pre-qualification process.
5. Schedule the consultation
When you're ready to schedule the consultation, let your prospect know how long it typically takes, and have them choose between your next two available appointments. 
This allows you to maintain control of your calendar, control of the conversation, and it keeps things simple for your prospect.
6. Create the mindset
Once you've scheduled the consultation, let your prospect know what to expect to eliminate surprises. 
Here's how.
Explain that you'll ask more questions to confirm whether you're a good fit for any of the services your gym or studio offers.
Be clear that once you present the different program options, you'll ask for a YES or NO decision about committing. 
Assure them it's ok if they say no – but you will need one answer or the other. This becomes your upfront contract for making a decision and eliminates think-it-overs. 
The last part of setting the consultation up for success (for everybody) is to ask them if anyone else will be involved in making this decision. (We highly encourage any decision maker to be involved, so get that on the table before the consult.)
Finally, ask them if they agree to that.
Before you let them go, capture their contact information so you can follow up with an email or text message to confirm the details and to send any information they might need to review before the consult.
So there you have it; that's how prequalification works!
With this process, you've just accomplished:
Building trust early.

Creating a "decision-making" mindset.

Ensuring this person is the actual decision maker.
Remember, if you do this right, you're more than halfway to signing up a new client.