Steps 2 & 3 - Establish Rapport and Set the Agenda
How to Confidently and Effectively Sell More Fitness Programs
Duration: 3-4 minutes
Goal: to put the client at ease and build trust before getting into the sales conversation.
Once you do that, you'll want to give the prospect a brief overview of what to expect and establish your role in leading this conversation.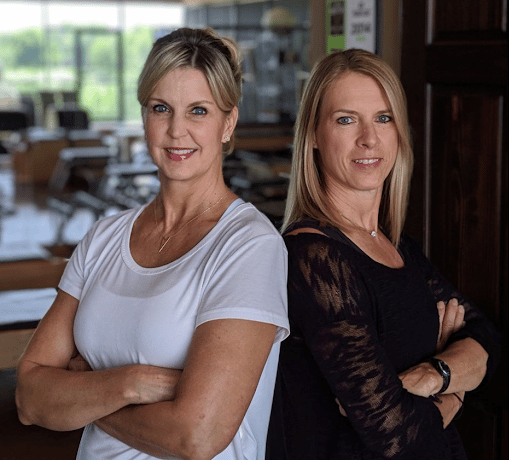 "In 3 months, we tripled our recurring revenue and doubled our total revenue. Over the next 18 months, we 17x our recurring revenue and tripled our total revenue."
Michelle Long & Cody Robbins |
Performance Pilates
Step 2: Establish Rapport
Ok, it's the big day, and you or your salesperson is about to meet your prospect face-to-face for the first time.
Let's get it right!
Whether you're meeting on a Zoom call or in person, your job is to be friendly, connect, and welcome your prospect into the conversation.
This part of the conversation is brief (1-2 min. max):
Greet them – SMILE!
Introduce yourself and share a little bit of your story.
Find some common ground.
It's important to build rapport quickly. And if you feel uncomfortable meeting someone for the first time, it's a good idea to have some conversation starters in your arsenal.
Here are some simple ways to get the conversation going for your first meeting:
Hi! How's your day going?

Did you find the place ok?

Was the traffic bad?

Did you see that game last night?

It's a gorgeous day. I hope to get outside and work on my yard. How about you?
Talk about anything other than what they are here to discuss.
This will ease tension and help your prospect relax as they get a sense of who you are.
Obviously, you don't want to bombard your prospect with a barrage of questions.
Simply have a little dialog to get things rolling and open the conversation.
Here are a few pointers to help you position yourself as confident and qualified to solve your prospect's problems:
Make good eye contact

.

Nothing says shifty or unconfident more than someone who can't look you in the eye. Making eye contact shows respect and lets your prospect know you're open to communicating.

Look professional.

You want to be paid as a professional, so it's essential to look professional.

First impressions are impacted considerably by how you dress and maintain basic hygiene (washed hair, freshly showered).

Just because you're in the fitness industry doesn't mean it's ok to show up to a consult sweaty and wearing workout clothes.

So, look sharp!

Be in the moment

.

Stay focused on your prospect. They should feel nothing is more important to you than the conversation with them at that moment. Have any papers you need ready to go, pens – anything that will save you from shuffling around the room or moving away from the conversation.
Show enthusiasm. Come to the consult full of energy, so they feel your excitement about the possibility of working together. Bring your energy up slightly higher than theirs (without acting like a maniac), and keep sending out positive vibes.
Don't be afraid to shake their hand

.

There's a lot to be said about a friendly, firm handshake… but a slackhanded one full of regret leaves an entirely different impression. So, take their hand, look them in the eye, and give it a firm shake.
Get rid of distractions

.

Your phone should be off, so you're not getting calls or texts during the consult. If the meeting takes place virtually, close unnecessary browser windows to avoid "pings" from incoming emails, texts, or messages. Close down all your social media apps and any other distractions that could keep you from being in the moment and focused.
Now that you've built a bit of a relationship with your prospective client, it's time to take charge of the conversation.
Setting the agenda should also only take a minute or two, max.
You begin by sharing the three goals you intend to accomplish:
Goal 1:

To discover what's brought them here today, their goals, and the greatest obstacle keeping them from success.

Goal 2:

To teach them about your methodology, why it's the most effective way to accomplish XYZ, and how it works.

Goal 3:

To review

your programs and share the packages and pricing best aligned with their goals.
Again, this is a quick rundown of how the consult will go.
Avoid asking if that's ok or if they have any questions. 
Instead, stay in control of the conversation by saying, "Let's get started."
Your clarity and confidence in setting the agenda matters. 
Now that the agenda is clear, it's time to get to the most important step in this conversation.